May 15 – 23, 2021
The Owens Valley River Basin lies between the White Mountains and the Sierra Nevada Range and at one time was a lush agricultural and ranching hub with ample water flowing from the snow melt off the Sierra's. There is a complicated history of the area formed around the battle over the water rights which they lost to the spawning desert city on the coast, Los Angeles, 300 miles away. It is a long complicated story with a whole cast of characters but power and political influence won out in the end. As a result, most of the good land and almost all of the water coming off the mountain snow pack is now owned by the Los Angeles Water District, LAWD. They took away the ability for ranchers to ranch, farmers to farm, and other business interests to use the Owens Valley limiting population growth. The environmental impact can be seen in many earth and concrete structures diverting the water from mountain tributaries leaving natural features like Owens Lake dried up and arid. Mono Lake to the north sits with water levels so low and saline levels so high that little lives in it. In fact, the salt concentration in Mono Lake is three times higher than the ocean. My take after spending some time here is that maybe them taking all that water to build their Eden for millions of people to live in the desert actually saved it from development making this the Eden that now exists east of the Sierras. 
Blog note: The "when in Rome…" principle will apply throughout this blogisode as we refer to specific highways. It seems in Caifornia they don't refer to any highway as a highway or interstate (I) in conversation but instead insert the word "the" in front of it. For example, they won't say Interstate 4 but will say, the 4. So for the purpose of TWT California blogs, we will speak California and call highways "the ##".
Travel Journal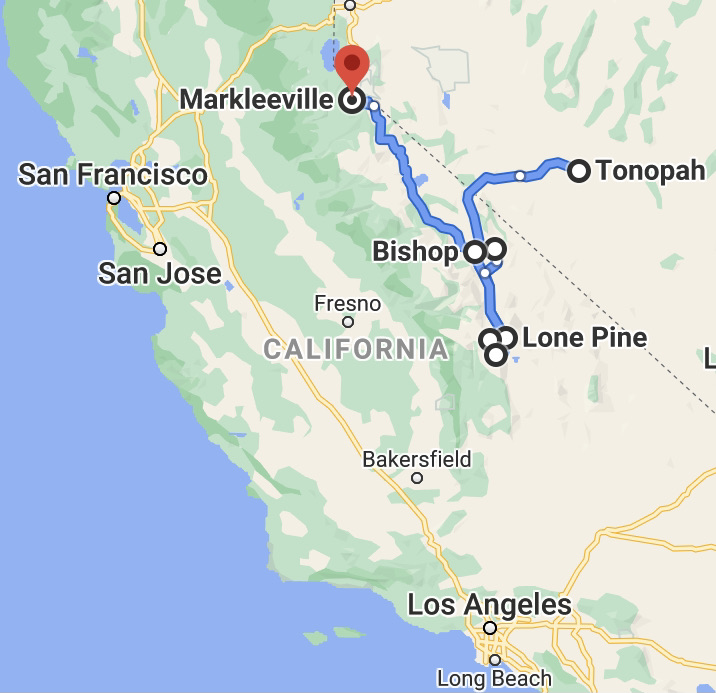 We rolled down the west side of the summit leading us out of Nevada with views of Boundary Peak (the highest in Nevada at 13,147 feet) to our left. The views ahead of us were of the Sierra Nevada Range which were simply stunning. They appeared high, rugged, and jagged with snow still covering the peaks, a range like something you'd see in the San Juan mountains of the Colorado Rockies, inspiring thoughts of high alpine funtivities. As contrast, the White Mountains running east of the valley were now more arid, rounded, mostly lower, and with less snow remaining. The valley we entered as we turned south along the 6 was flat and vast on either side with large mountain scenery all around the flat arid land.
Bishop, CA
Our first stop was Bishop, CA, a small town with all the necessary amenities, a nice Main Street lined with hotels, restaurants, movie theatre, barber shop, and other typical locally owned retail businesses. The 395 which is the 4-lane main thruway running north south along the eastern Sierra extends from LA to Reno, squeezes through the small downtown area making it busy at times.
We found our resting place at the Highland RV Park with a site sitting right up front and across from the offices, laundry, and bathrooms. We planned two nights so we could take time to organize our stay in the area as we knew very little about it. We got some good advice from a Golden friend about trails to hike and things to do in Mammoth but we wanted to ease our way in, get a lay of the land, shower, and do laundry.
Our funitivies while RVing in Bishop included an encounter with a wild herd of cows while on a morning run along an irrigation canal. The Bishop Canal Run, as the name indicates, ran along the bishop canal. There were a few signs stating it was owned by the LA Water District and even a couple posted indicating "sewer" along the way. But otherwise the water appeared clear, fisherman fished, and at one point we ran up on a herd of stubborn, arrogant black cows drinking from the canal. We stopped and waited a bit for them to move as we had a dog that would surely scare them. Our presence, however, only made them stop and stare at us longer to see our intentions and as the minutes clicked away it began to feel like I was having a blinking contest with them. I kindly asked Lysette to move forward and towards their rear to get them to moo'v away from the water and trail while I kept Toohey under control who was now getting nervous at the sight of these beasts. She obliged, and they did moo'v, but up from the water's edge onto the trail where they stopped again to wait our next moo'v. So I decided to shorten Toohey's leash and start a direction between them and the canal, sort of taking ownership the space to make them moo'v as the sight of an approaching old dog who barks at cows would certainly do the trick. As Toohey and I moo'vd past the point of being fully committed to this plan, I noticed some of the black Angus were much younger, calves, babies of the larger one who was closest to us, likely their concerned mom, the leader. As we got just about mid flank steak, she circled, lowered her head and started moo'ving, running towards us as though she'd seen a bull fight and wanted to stick us with her horns, which thankfully she didn't have. As she ran towards us, we dug deep for our extra speed, both of us with our tails and rear tucked tightly in. We quickly outran the cow looking back to see her now eyeing Lysette as she for some reason was still standing back with the small herd. But thankfully the cow, likely out of gas from her short chase, allowed Lysette to pass with a simple motherly glance. The remainder of the run was much more uneventful as we stayed away from the wild black cows.
Our first experience up in the Sierras at higher elevation was a drive to Lake Sabrina. The lake sits just west and a direct shot out of down town Bishop. The high alpine reservoir water level was really low, exposing rocks, trees and snagged fishing lines from previous fisherman. We walked down to the water's edge, found a stick, and our youthful Toohey magically appeared. He swam, jumped, and gnawed the sticks time and time again. It was fun seeing him with so much energy and happy.
We shared a few laughs with my dad who turned 1,000 months old in May this year. A landmark, sure, but calculating months for a child under 2 years old is cute while bringing this up to my dad wasn't as entertaining to him. In comparison, 1,000 months old is nothing when you consider that the bristlecone pines are up to 4000 years (48,000 months) old, the oldest living trees in the universe. With this as context, we drove south, then east into the Inyo National Forest on the White Mountain side of the valley to see the Ancient Bristlecone Pine Forest. The drive up the canyon was a curvy, uphill, narrow road that goes high above where most things can't live, over 10,000 feet. These trees have adapted to life where most can't. The Great Basin Bristlecone Pines have needles soft to touch but are gnarly in appearance. As we walked along the short trail watching them in amazement we started getting plummeted with graupel (a soft snow pellet that resembles the pellets that fall out of your damaged college bean bag chair) which, coincidentally fit nicely into the holes in the top of my crocs which made my feet really cold.
On our way back to camp we took a short 20 mile drive south towards Death Valley to see what was deathly about it. Our effort never got us to the desert floor but we did happen upon an unexpected strand of Joshua Trees (which are actually succulents) where we stopped so the photograph department could roll some film.
We decided on a gravel bike ride from the rv park the next morning based on advice from the camp host, an avid cyclist. The valley where Bishop sits, is surrounded by large swaths of undeveloped land marked with a river and canals running through it with gravel and paved roads scattered everywhere. Besides the 395, most have relatively low use making them great for riding. We set off after I got directions from the camp host and quickly could only remember the first three rights. From there it was an interesting bit of route finding. At one point while pedaling along a gravel path running alongside a canal in the middle of nowhere, we approached a large bull lying in the green grass just to our left. We took caution before proceeding as the previous day's cow conflict was still fresh on our minds. But after a brief risk management discussion to include our limited options, we moo'vd on and thankfully he barely gave us a look. Other than that and Lysette getting her chain wedged between her crank and bike frame, nothing much exciting happened. We enjoyed the time out on our bikes with amazing scenery all around. Oh, and the California Wild Rose bushes were in full bloom not only giving a beautiful visual sight but also the lovely fragrant scent.
One last comment on the town of Bishop. They use an old-school air raid siren to alert volunteer firefighters and first responders. They test it everyday at noon which seemed to have gone unnoticed the first day but that night it woke us around 2AM having us wondering if the cows were stampeding, the weather was turning, or some other emergency alert was indeed underway. The horn is located across the street but sounded like it was on top of us. Apparently, the device alerts the emergency personnel as to what it going on and how to respond. For us, squatting under our dinette at 2AM was a good time to research all this while fearing the worst.
Lone Pine and the Alabama Hills
Our decision based on weather for the week was to move south to Tuttle Creek Campground. The campground is tucked between Alabama Hills, a well known boondocking spot, and Mount Whitney Recreation area, the main trailhead for summiting the tallest peak in the lower 48. The drive south to the area was about 50 miles along the 395 through the Owens River Valley. The campground sits along Tuttle Creek with arid desert landscapes all around. Some type of purple flowers were in full bloom and red Indian paint brushes could be seen along the wetter creek side areas. Our spot, No. 17, backed up to the creek with a nice little open spot for Toohey to access the cold mountain runoff and a great place to rinse the dust off my legs and feet. Our views from camp were of the massive granite shear rock faces of the Sierra's to our port side and the arid White Mountains and desert plains to our starboard. In short, it was an amazing place to set up and at the low cost of $8 per night.
We took a drive up the steep road to the Mt Whitney Trail Parking lot to check it out. Lots of bear warnings based on recent bear activity were posted everywhere. You need a permit to access the trail and a day or two to summit depending on your pace. They also provide free human poop bags for those heading up so you don't leave any solids which is a great idea based on the high usage of this trail. Even though we didn't hike the trail we completely enjoyed the views along the road. We took a few more turns along the way back to camp to see the Lone Pine campground which had much smaller sites and cost $22 per night making us feel really good about our choice. We also drove an OHV road out to a point that we thought might give us access to another stream running out of the canyon but the stream was dry.
The remainder of the night was hanging around camp. We talked with our neighbor who was full of ideas for the area, while Toohey played with his yellow lab mix. It was fun to see him running off with her to the creek just being a dog. We watched the sunset and as the night sky fell, saw aircraft lights flying in formations which we presumed were either military aircraft or hold over alien spirits from our time along the Extraterrestrial Highway in Nevada. It was all pretty cool either way.
Tuttle Creek Bike Ride
Alabama Hills was named for a naval ship during the gold mine rush of the late 1800's and is an interesting earthly rock attraction sitting between the basin floor and the high peaks of the Sierra's. The place made its mark as a movie set for quite a few Westerns, so many in fact, that there is a movie museum in the town of Lone Pine. The hills are filled with huge sandstone brownish boulders jetting up from the ground, giving images of the heads of a whales, sea lions, or manatees poking their head up from the water. Cycling Tuttle Creek Road was recommended to us by a fellow camper cyclist as a good, fun ride, providing the quintessential visual experience of the Alabama Hills area along the road. The ride from our camp was all downhill. It was fast, curvy with glimpses of wildflowers blooming along the roadside and the sounds of Tuttle Creek flowing next to the road along several places. We quickly left the canyon as the road flattened out a bit until it intersected with Whitney Portal Road. From there, we rode into Lone Pine then south along the 395 for a few miles before turning back at the Death Valley road and visitor's center. The cyclist had suggested this as a loop ride ending with the climb up Lubkin Rd but we opted instead to ride back up Tuttle Creek Road to spend a little more time enjoying it. The steep part of the climb was only about 3 miles but extremely interesting to see, slowly and anaerobically. The sights were now of the Sierra's peaking through and over the spaces between the boulders at various turns in the road, giving a unique contrast to the landscape features of the area.
With wind forecasted for the afternoon, we took care of some business around camp before heading to town to pick up a few items, then a last minute decision to drive up the long steep Horseshoe Meadows Road to Horseshoe Meadows parking lot. The road was reported to us as the number two ranked cycling climb in the state. We found it long, edgy, and steep windy road that introduced us to some high mountain entertainment in the Sierras for the next day.
The Toilet Situation
I have to discuss a situation that occurred, an uncomfortable public bathroom conversation that you are welcome to skip if you don't want to play along. Using public toilets is a big unavoidable part of our life as our little trailer is without this handy feature. Tuttle Creek CG has 6 or 7 toilet houses with two pit toilets each, scattered among the large campground with doors facing away from the road for added privacy. Since there is no camp host, the BLM sends employees 50 miles from HQ in Bishop to maintain them. The situation involved a disgusting, yet talented, unknown human who somehow placed a beefy turd underneath the back of the toilet seat, only noticeable if you lift the seat which most modern, well-trained men do when using a restroom. I vowed not to enter the room again until it was cleaned, as it was beyond gross.
That afternoon, a BLM truck driven by a young female BLM employee showed up at the toilet house. I watched with anticipation as she spent time at the toilet house, presumably cleaning the toilets to our delight. She left and made her rounds to the other toilet houses. I told Lysette I needed to go number 1, using this opportunity to check to see if the toilet crime scene had in fact been cleared. Low and behold, she must not have lifted the seat as the massacred smooshed brownie was still there, now drier than before and upon further investigation, splatter patterns could be seen on the inside of the seat, but definitely and boldly on display. As I left the toilet room I saw the BLM truck rolling down the road towards me so I waved her to a stop. Adlibbing my presentation but definitely wanting to set a positive tone I said, "this place is wonderful, clean, and wow, the Sierras are amazing." She responded, "thanks." I then told her, apologizing first, in the middle, and last, about the crime scene in the toilet. She seemed shocked by the news and said, "how could I have missed that?" 
Side bar: Being a BLM employee has to be pretty cool. You get a neat uniform with a patch, a hat, and you get to drive a nice new Chevy Silverado to gorgeous places like this. Cleaning bathrooms has to be the short straw in the office, a punishment for not laughing at the BLM manger's joke, or maybe you are simply the lowest BLM rank. In fact, my guess is if they could get a camp host here with the duty of cleaning the duty, they'd never step foot in one of these rooms without their own personal need. So the fact that she responded, "how could I have missed that", to me was no surprise. My guess is there isn't a place on their annual performance review on pit toilet cleanliness so why go looking for "shit" like that? Now, back to the story.
I apologized to her again, lying a bit to soften my position as the situation informant, telling her that I assumed there would be a vendor cleaning crew coming in and that by informing her of the crime, she wouldn't have to personally do the dirty work, all the while knowing it would be her, this cute petite BLM female employee with a long thick flowing ponytail, that would have to deal with it. 
I left her to walk back to our camp to update Lysette on the unfolding story as the BLM employee pulled over to inspect the situation. About an hour went by while we took care of a number of things, carefully watching to see if positive changes were occurring at the toilet house, feeling some level of comfort knowing the truck was still there meaning she was likely letting the large amount of disinfectant to work or scrubbing the equipment. Another car appeared and parked, a nondescript black Jeep Grand Cherokee. Being nosey and certainly providing enough space and time for them to have made significant progress, I decided to walk over. As I rounded the corner of the building I saw the, now two attractive BLM females standing about three feet from the the open door as if there were standing guard over a murder scene. I laughed and said something profound like, "that bad huh." They, appearing a bit dumbfounded, told me that it had hardened and wouldn't come off so they didn't know what to do. I jokingly asked it they were calling in a Hazmat team or something and they said, "we don't have the tools, you know with COVID protocols" and then she paused before saying it, "there are poop protocols." We laughed a bit longer, talking about crime scene tape and other childish humor which is right in my wheel house. I walked back to the truck thanking them for their service to the park system and wishing them hazard pay for this. Another 30 minutes or so past before they left and we'd learned their solution. They locked the door and posted a sign saying, "toilet closed". One toilet down for the rest of us to share for the weekend.
Mountain Meadows
We woke early the next day with images of high mountain meadows nearby so we grabbed necessities for breakfast at the trailhead and drove back up Horseshoe Meadows Road to Horseshoe Meadows parking lot to run Horseshoe Meadows. The plan was an early start to run an out and back along the connector trail to the PCT through the Golden Trout Wilderness Area. The trail passes through a large mountain meadow complete with a small stream full of what I'd learn later were small Golden Trout. The trail went up through the hillside on the other side of the meadow climbing to the top of a saddle where we could see another meadow down the other side and where we decided to turn back. This was also just past the point where the connector trail we were on intersected with the PCT.
We headed back following the same trail down. At one point, I got ahead of Lysette, losing sight and sound of her so I stopped. It also seemed like the perfect place to get a kiss from Lysette, as she never kisses me while in the Golden Trout Wilderness Area. But she wasn't there and after a few minutes of standing there oddly in the middle of the woods, puckered up for my kiss, I gave a few loud "hoo" calls ("Hoo" is our call to let the other know we are around without disturbing the peace too much). In any event, she never responded. I started worrying while slow running back up trail stopping every so often to give another "hoo" call but with no return. I got to a switchback and just below a trail directional sign, on the other side of a carefully placed large tree trunk to obviously block the trail, I noticed an old trail heading south. My options were to check for her down there or to let her continue to bleed out while lying injured further up the main trail. At that point I decided on one last "hoo" call and I got what I was looking for, her responding "hoo," seeing her teal green jacket come around the corner up the old, obviously blocked trail. She wasn't after all bleeding out, she had made the wrong turn after high jumping over the large tree trunk placed to obviously block the trail. She reported that she was running along wondering to herself how I had gotten so far ahead while noticing lots of pine cones covering the trail that she hadn't remembered on the outbound, so she stopped and checked her trail app to see she was off trail, which she was and so turned back. I got my Golden Trout Wilderness kiss and we continued the run from there together back to the truck.
While getting ready to move the truck to another spot to relax and cook breakfast, we started a conversation with a gentleman who we'd seen at our camp the night before. He reported that he was traveling with his daughter who had just graduated college and they were about to go on a 7-day backpack to a place his dad had taken him years before. She eventually came over to the conversation and was a well poised beautiful young woman who was coincidentally hoping to move to Denver once she got a job. Her father was going to the coast after their trip where he had a camp host job waiting in San Simeon State Park. We enjoyed an easy, fun conversation before we left them to prepare for their trip and for us to cook breakfast.
We drove back over to the trailhead after breakfast and hiked with Toohey a short distance to the stream running through the meadow. The day provided clear blue skies, a little wind, and Toohey played in and out of the stream as we followed it along through the meadows. It was fun watching the small colorful Golden Trout scurrying to hide as we approached and on occasions could actually see their remarkable colors. It was a good day in the mountains.
Mobius & Heart Arch
This was a short hike inside the Alabama Hills area. We made the drive over to the trail observing the large amount of weekend campers who access this area. Mostly though, the trail was lightly used. The trail winds through interesting boulders, many worn with caverns and holes giving it the feel of a natural play ground of sorts. Toohey enjoyed one of these, surprising Lysette as she walked past. When we got to the arches we shared time with other selfie takers to get the photographs before finishing the loop hike back at the parking lot.
Manzanar National Park, Inyo County CA
1 Camp
36 Blocks
10,000 People
Theodore Roosevelt signed Executive Order 9066 which incarcerated people from Japanese descent into these camps scattered mostly around the west from 1942-1945. Manzanar was one of these places that in total, imprisoned upwards of 120,000 people to include US citizens, business owners, woman and children, out of fear that Japanese, Germans, and Italians living in the USA could be dangerous during war time. In hindsight, this was fear mongering in a time when tensions was heightened based on the bombing of Pearl Harbor and the USA's involvement in WWII. President Jimmy Carter had a commission research this during his term. The report found that the acts were based on fear and racism. President Ronald Reagan signed the Civil Liberty Act of 1988 which officially apologized admitting that it was race based and paid all surviving who where interned $20,000, eventually totaling $1.6 billion in reparations cost.
The park has an auto tour which we did, stopping to go inside several reconstructed blocks that included replicas of living quarters and the block managers office, the woman's latrine, and a mess hall. There were information signs throughout that provided interesting information, quotes from those living there, giving voice to their experiences.
This camp had 36 block houses which were initially communal living. There were school houses, mess halls, laundry, gardens, post office, and cemetery not to mention all the housing and building for the government and soldiers. There were eight guard towers armed with machine guns. There was one uprising where the interned people gathered to protest the arrest of a prisoner that eventually ended in a soldier firing his machine gun into the crowd killing two. Other than that, the prisoners lived peacefully through heat, cold, dust, and worse, their treatment as criminals only because of their birth record. It was an eye opening trip learning more about the injustices that occurred to these people, the life they lived while being interned, something that must have been shocking, frustrating, and tough to comprehend.
Tuttle Creek Hike
We left the internment camp and drove back to Lone Pine where we found a small restaurant for a late lunch. Following lunch we made our way back up through Alabama Hills to the Tuttle Creek Trail Head. This trail runs uphill into the canyon following high above Tuttle Creek. The view down the drainage was a contrasting river of green against the granite rocks, dirt, and spotty green of the foliage up the mountain side. The payoff for the hike according to the ranger who told us about it was a stone cabin called Ashrama. We made it about a mile and half in before seeing it up another steep uphill sitting on overlooking the canyon. With snow steadily falling and a tired dog, we decided to turn back.
Ashrama was reportedly constructed by a couple and their followers in the 1920's after they leased the land from the National Park Service. It is quite interesting to read about how they constructed a road and building along this steep canyon with the intent to write, pray and meditate. The place is considered historically significant and is still visited by those seeking solitude and prayer. The link below is provided for further reading on the subject.
http://www.franklinmerrell-wolff.com/educate/ashrama/
The snow was still falling when we returned to camp but soon gave way to a nice sunset and clear skies, giving hope that the day tomorrow will be a nice one to stay outside.
Gravel Biking Alabama Hills
There are many great bike riding opportunities in the area, from dirt roads to paved big climbs up Whitney Portal Road and Horseshoe Meadows to flat along the 395. We chose to drop down the Tuttle Creek Road that we did previously then back up Whitney Portal Road to Movie Road where we did an out and back. We'd learn later that that Movie Road connects with several other gravel roads back to the 395 making a much bigger loop. Our ride was around 20 miles of ups and downs with ample views of the interesting rock features throughout Alabama Hills. There were loads of other folks out there wheelin' in jeeps, camping, and rock climbing which seems to be the big interest in this area. 
The afternoon was mostly lazy with a drive back through the hills on the way to town to pick up a big salad for dinner. While driving back from town we crossed paths with the friends we'd met at Horseshoe Meadows as they set off on an eleven mile hike for a 7-day camp-n-fish. We'd wondered out loud to each other over the last few days about how they were doing as we watched the dark snow clouds blanket the mountains. Well, the roadside conversation gave us the cold details and lack of fishing as they made the decision to get out of the mountains after a few freezing days huddled in their tents. They are both fun, full of energy and life, and as this was only our second conversation, we felt as though we'd been friends for ages.
This spot on the Eastside was a fun move keeping us from the colder snowy weather north and allowing us to get to know this section of California which we greatly enjoyed. It was interesting from the people we met, those PCT through hikers we talked to as they came into Lone Pine for a rest day, and the educational opportunity of visiting and learning about the internment camp. There is so much to do here from high mountain stuff to playing in the desert areas of the Alabama Hills.
Update: We are currently in Pismo Beach California with the Hunt clan celebrating the nephew's graduation from Cal Poly which is just up the road in San Luis Obispo. As a quick catch up since the events in this blog, we have camped north of Bishop, found some amazing trails to run in the Sierras, visited Yosemite, soaked in hot springs, learned about Mark Twain's impact on frog jumping competitions in Angel Camp, watched elephant seals snooze on the beach, and eaten at an all you can eat sushi place with the family. There is so much content beneath that last sentence that it'll take a few more blogs to get you fully caught up so please stay tuned. We plan to move north from here continuing up the coast of California to the Redwoods National Park before making any more life plans. Until then…