May 12 – 15, 2021
On May 15, 2020, we left our home in Golden, Colorado with basic necessities and a few toys. Our toys included an inflatable stand up paddle board, two bikes, and running shoes. The requirement for bringing stuff was that it first should meet Maslow's hierarchy of needs pyramid of basic psychological necessities such as clothes, toiletries, and beer. Second, it all needed to fit in either the 12 foot A-liner, or the bed or roof of the 2000 Tacoma. Our goal was to live simply while exploring the country. We wanted to live life differently and we packaged it all up emotionally and financially into what we called a gap year.
We celebrated the one year anniversary of our gap year on May 15, 2021 as we left Nevada and landed in Bishop, CA. The interesting thing about Bishop is that a year ago it was one of our first destinations but suddenly was not an option as much of the state, BLM areas and campgrounds, were closed down due to the fear and unknown of COVID. So, we did what people who don't plan do while traveling during a pandemic and changed directions. The map shows our basic route over the last 12 months. We now have finally made it, fully vaccinated, into the town of Bishop, California.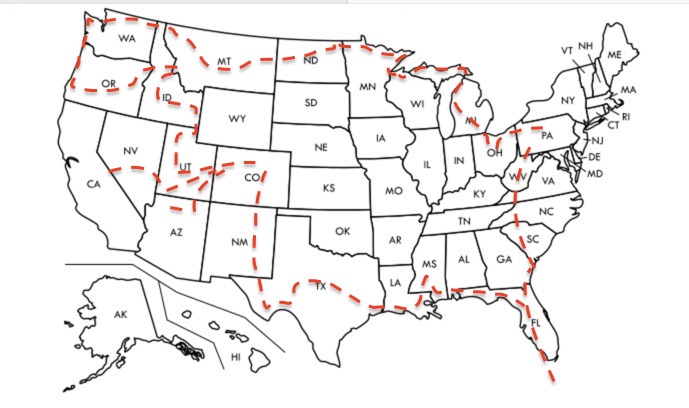 During our gap year, we found a country that remains an extraordinarily beautiful place, landscapes that continued to shock the senses at every turn. A place full of amazing humans freely living their lives as they choose to live their lives. We left the television and news behind for the year, mostly staying away from politics and the noise of the day and not surprisingly, we simply found happiness.
Traveling has also been extremely educational. We've read and learned about the areas we traveled, we are both much better at our country's geography as a result of our route finding. Our curiosity of seeking to learn the history of an area has provided personal growth. Common questions arise often about what makes the extreme geological earth features look as they do, understanding the people who settled areas of the country, appreciating their hardships and controversy to get there, and many times wondering why the name of something like a town, road, or earthly feature was given. We've taken lots of time to talk to each other mostly in complete sentences, and better understand who we are as individuals and as a team of non perfect humans traveling with a wonderfully gimpy old dog.
We've also learned that we are not alone or unique to living this lifestyle. We've met so many who have shunned the daily grind and the traditional for full time traveling, living simply within their means and without debt for many more years than either of us can imagine. They are all remarkably happy people who took the risk and are enjoying the rewards of owning their time versus things.
The time and places we've traveled have allowed us to stay in touch and reconnect with family and friends. We have always made a point to contact those we know who live close to wherever we are to at least say hello. And in some strange encounters, we've actually accidentally crossed paths with friends along the way.
While discussing the year, we both agreed the greatest gift to the TWT team was a year where we'll always look at the last 12 months as a great life adventure, a happy year. Happy gap year anniversary to us!
Nevada Facts per Wikipedia:
Nevada is Spanish for snow covered.
Officially know as the silver state from mining silver but is actually the 4th largest gold producer in the universe.
Prostitution is legal in the state.
Nevada, along with West Virginia were given statehood by the Union during the Civil War.
More interesting information about this state can be found by visiting https://en.wikipedia.org/wiki/Nevada.
Travel Journal
We left St George and the wonderful state of Utah heading north along highway 18. We stopped at the Meadow Massacre memorial to pay respects then through Enterprise, UT and finally west on highway 56 Into Nevada where it turned into highway 319 through the small hamlet of Panaca, NV. Our destination was set for Cathedral Gorge State Park with a distance just under 100 miles from St George. They advertise this park as a first-come first-serve campground which is right up our "lack of planning" alley.
We pulled into the park around high noon to find several vacated spots. We opted for the one on the outer side of the loop with a couple of tumbleweeds stuck beneath the picnic table. A few fellow campers stopped by to strike up conversation as we got our hard-sided tent on wheels set up and prepped. After a short lunch and lounge, we decided to go for a walk along the nature trail to the park's slot canyons.
The park sits in a valley surrounded on the west by a typical desert sage brush covered ridge. On the east and north sides are all types of hoodoos that look like drip castles you'd build at the beach with wet sand. They were in fact formed by erosion as this park, sitting in a large valley between several mountain ranges, was at one time a lake bed. As the water dried up, the erosion began, eventually creating a state park in Nevada with really interesting hoodoos and slot canyons for us to enjoy. The government thought it was also pretty neat so they sent the CCC in the early 20th century to build infrastructure leaving some interesting stone structures.  
We got to the drip castle slot canyon area by following the short nature path through a sandy, scrub-brushed and juniper lined trail. The slots sit on the other side of the day use and picnic area parking lot. The slots are short and as mentioned, hard mud features much different than others we've seen that were rock or sandstone. Toohey, who tagged along for the hot walk, enjoyed the cool air they provided.
We left the slot canyon area and headed back to camp for a cool down and to feed the now hungry pooch. After relaxing a spell, we decided to take our bikes out for a ride along the Juniper Loop trail which from camp appeared to be a double wide gravel path. That quickly ended, turning into a single wide path. We stopped at the intersection with the Hawk Rim Trail which wasn't on our map. We made eye contact with an approaching cyclist coming down it, quizzed him, and he confirmed it was fun and rideable for us on gravel bikes. So we set off.
The loop was fun, going counterclockwise took us on a slow grade up and along the western rim of the canyon where the views of the park were pretty cool. The trail eventually dropped down along some easy flowing single track where the greatest fear was soft sand or the frequent lizard running across the trail. Did I mentioned this place is packed full of really active lizards? We ended on the camp road where we slowly rode back to our site, popped a beer, and enjoyed the evening as the cooler desert temperature descended on us. We enjoyed a conversation with a neighbor when he and his yellow lab Carly came over for a chat. She was a gentle soul of a dog who had great patience with Toohey. Our neighbor has been a full time traveler for a few years staying winters down near Big Bend in Lajitas, TX and other months in Hurricane, Utah. We ended the evening under clear skies, big stars, no noise, besides those made naturally, and cool temperatures, making sleep amazing. 
The morning run was the Juniper Loop, advertised as a 4-mile loop but ending short of that mark. We added on the Miller overlook run for another mile but still came up short of the four miles making me wonder what they are using here in Nevada to measure distance. The run was up through the valley along a dry wash then turning back south along the hoodoos lining the canyon. The Miller trail addition was an out and back trail that went up to the top of the north rim of the canyon providing more beautiful views of the area.
The original plan to move today quickly broke down into staying another day which was fine with both of us. The camp is quiet and just feels good and relaxing. There were a mix of campers, many fulltime and some snowbirds slowly working their way back north from southern Arizona. The place and the people just seem to give off a good easy vibe here. Around noon, the team decided to make the drive north about 11 miles to the small mining town of Pioche. The mining town has an interesting history of lawlessness and murder following the discovery of silver. The town boasted of a million dollar courthouse building that started with a bid of $27,000 in 1871 issuing bonds for the construction. What followed was a series of cost overruns, multiple bonds on top of bonds, then when it was finally all paid in 1937, two years after the structure was condemned, the cost was estimated to be close to $1,000,000. It now stands, stabilized, as the town's history museum and a good lesson on the ultimate cost of debt.
Then there is Boot Hill cemetery stocked with men who were reportedly buried with their boots still on. The cemetery tells of 75 bodies buried before any died from natural causes. We walked the cemetery, reading wooden markers describing how many were shot, one killed from a dispute over a dog. Other history suggested that mining claims weren't handled well in the town so miners hired guns to protect their rights which led to lots of shootings. The sheriff reportedly collected over $40,000 a year in bribes. With the richness of stories around this place, it is crazy how unknown and dilapidated it all appears. I guess everyone still migrates to the big town down south with visions of winning. 
One of the fun things about traveling is meeting interesting people, some of whom we've mentioned in other blogisodes. We met one such couple here, traveling in a 1984 Avion trailer who spent time sharing their stories. They lived twelve consecutive winters in the Baja peninsula of Mexico, camping on the beach for $1 per day, and fishing. They stopped going there a few years back since their spot had gotten so busy and is now mostly developed. She loved sharing photos on her phone and even took me inside her trailer to show more photos framed on the wall of them during their time in Mexico. They now spend their life floating north and south between Parker, Arizona and Ely, Nevada, following the appropriate temperatures and living in each spot for as long as the park or BLM land will allow. They met while in grade school where they quickly became friends for life. She was a happy personality, full of life, and best, loved our dog. Her husband, a bit more reserved, also enjoyed the conversation, freely sharing his wisdom of life and travel. Listening to their stories about their journey provided spark and energy to the life we are living, giving a nudge to the curiosity of what lies ahead of us on our journey.
Our target from here was one night in Tonopah, a small mining town in west central Nevada, and then on to California where we'll stop at the town of Bishop to stage the next move. But first, we must cross 150 miles of desert with a big gas-void section to include the mysterious extraterrestrial highway. The drive started out through some interesting mountain canyons along highway 93, cruising the small town of Caliente, over a mountain pass into a large expansive desert basin. We saw a huge dust cloud in the distance and wondered for a few miles what we were seeing. As we got closer, we realized it was a desert race, we'd eventually learn was a two day, 600 mile endurance event with participants on equipment ranging from motorcycles to heavily modified desert racing trucks. Our route happened to follow support teams of the event as they moved in and out of dirt roads where they staged pit areas. From the cab of the truck, we witnessed small vehicles in the distance moving at high rates of speed with a dust stream trailing behind and with some having a team helicopter buzzing a few feet above. This event would provide a great distraction to the long day.
The drive also provided a series of summit passes, about six throughout the day where we slowly climbed to a distant mountain, passed over the summit and back into a large desert basin. One such desert basin provided a stop along the extraterrestrial highway 375, in the small, single wide trailer town of Rachel. The Al'E'Inn is the featured event here with the Saucer Burger and rhubarb pie as the leading acts. The small retail place is combo restaurant, alien gift shop, and hotelier. A mom in front of us with 5 small kids purchased green sunglasses, stickers, and got an authentic alien abduction certificate that the clerk simply wrote "kids" as there were too many for her to list. Where else can you go to have your kids legally abducted? There was a bar with full liquor offerings, small gift shop, and table seating. The folks running the place weren't killing anyone with kindness but used their dry humor which actually worked with the ambience of the place.
Outside the retail establishment were a couple of large unleashed dogs that sniffed Toohey's butt, an old wrecker toting a flying saucer, and aliens painted on the three dumpsters. Behind the building were mobile homes advertised as hotel rooms where you might have to share a bathroom with an alien guest. They have camp spots and other trailers strewn all over the arid landscape. The property does interestingly enough, border Area 51 so the UFO alien threat is legit. Quirky at best. The link below is to their web site if you are interested in a family vacation there or just happen to be in the neighborhood. http://www.littlealeinn.com
We untethered our saucers and launched back onto the highway and over another pass. We'd see more of the race event. The race was fun and exciting but my favorite entertainment was the Nevada open range cattle signs posted along the highway. As comparison, most free roaming cattle signs have the lethargic looking hornless cow just standing there reflecting more the life scene you see when approaching a free roamer. The Nevada cow is way more flamboyant, more proud Spanish bullfighting image with sharp horns, chest out, tail high, and almost smiling in a cartoonish manner, daring the passing motorists to get too close.
We did see a small patch of interesting trees along the way which turned out to be Joshua Trees. These ancient species are actually succulents that only grow in this area of the world, seemingly placed here by aliens. Not really, but why not. This land just outside of Area 51 is actually the only place in the universe to have both species of the tree.
After a few more ups and downs over mountain summits, we finally made it into Tonopah, NV where coincidentally, the race also staged its mid-point finish. We found a dry camping spot at an otherwise full RV park and set up camp. We then ventured into downtown where we found food and beer at Tonopah Brewery. We talked to a table of motorcycle racers whose team is apparently doing quite well. One athlete reflecting on his day's adventure spoke of coming up on an accident on a 100 mph stretch of dirt where a competitor had wiped our, spreading him and his gear over 50 yards of desert. He stopped to help and call for rescue as the guy was pretty broken up but according to him, nothing appeared life threatening. They gave us some more details on the event and one guy happily invited us to be support for the Baja race event which is quite intriguing. 
The evening was noisy with other crews coming into our RV park for a night of cleaning and working on their vehicles. The highway was right behind us so that was a steady production of noise. But being in the middle of all this was admittedly fun. 
https://www.legacyracing.net/baja-nevada-alamo-to-pahrump
Update: We are currently playing in the Owens River Valley in California (several LA hipster rock climbers referred to it as the "East Side") that sits between the Sierra Nevada and White Mountain ranges. We've used Bishop as a center point for the valley running north south. We just completed 5 days of dry camping south of here in the Alabama Hills area near Mount Whitney as the weather was warmer, staying above freezing at night. We plan to move north to camp around Mammoth Lakes tomorrow through the Memorial Day weekend as the weather now appears a bit warmer at that higher elevation. The most exciting thing to report is that I have had more people reach out their car windows to give me the surfing hang loose sign while saying things like "right on dude" while driving or cycling down the roads. It honestly makes me feel cool. So whatever I'm doing "right on" now will hopefully last a few more days as it is good for the ego.