February 22 – March 2, 2021
The TWT team would like to thank all of you for your comments. We get many in the blog itself but more who send us text, emails, and even call from time to time. We have one friend from Savannah who is an engineer for a business jet manufacturer. He keeps up with our travels and emails us with suggestions and comments on places to see, eat, and drink. If possible, we try to heed his suggestions as the guy has traveled seemingly everywhere in the world and, in fact, we narrowly missed him while he was in Theodore Roosevelt National Park during our journey. He usually sniffs out amazing food and drink along his travels. His recent email to us, knowing we were somewhere in Texas, suggested a stop over in San Antonio. He went on to explain how he spent time there observing the chicken wing test. Many of you might guess this has something to do with the heat of a customized fried chicken wing smothered in buffalo sauce but it is actually a federal standard requiring that jet wings get shot with a 4 pound chicken, dead but thawed, sauce on the side. The speed has to be 300 knots at impact. The folks who enjoy this lifestyle use a 20 foot long 6 inch bore canon to fire the chicken and the components must "resist" the impact. Pretty cool and all, but the most astounding thing about this recent email chain with him was that we have actually found real estate in the world that he has yet to visit, the mountains of West Texas. In some ways I feel like we need to spike a TWT ball or something here. But most likely we'll just return the favor of travel information if he ever asked. Thanks for all the scoop and keep it coming!
We totally enjoyed our time in Fredericksburg, the place is scenic, interesting, historic, and the people were amazing. By contrast, the drama of the storm and the damage it wreaked statewide sucked, yet certainly made it memorable. Our time there will go down as one of our favorites so far and a place we need to return to with some unfinished business.
We said goodbyes to many of our new friends and fellow winter storm survivors at Lady Bird Johnson Park as we slow rolled out. We made our way through some farm and ranch roads until we hit I-10 where we did the thing we don't do, and headed straight down the interstate in a westerly direction. The drive though was interesting with lots of high rolling bluffs, trees turned to shrubs, and as we got to Fort Stockton, it was high, dry desert with lots of scrub brush, earth covered with grey and tan soil and rocks, and all topped with a huge sky filled with arid air and big blue sky. 
TWT Geology Lesson: The 100th Meridian
This longitudinal line on the map was first used by Geologist John Wesley Powell in 1878 to mark the contrast between the humid east and desert west based on annual rainfall amounts. During the mid 19th century, settlers were moving west to start a new life living off the land by farming and ranching. East of this mark provided enough rainfall for certain crops. West of this line was arid and seemingly lifeless to the west bound settlers. It is hard to image what these early settlers must have thought as they crossed into these desolate looking landscapes, especially after what they left behind back east. For us though, packing all the comforts of home into our wagon train (along with lotion and saline nose spray for dryness) we were stoked with the prospects for furthering our adventures.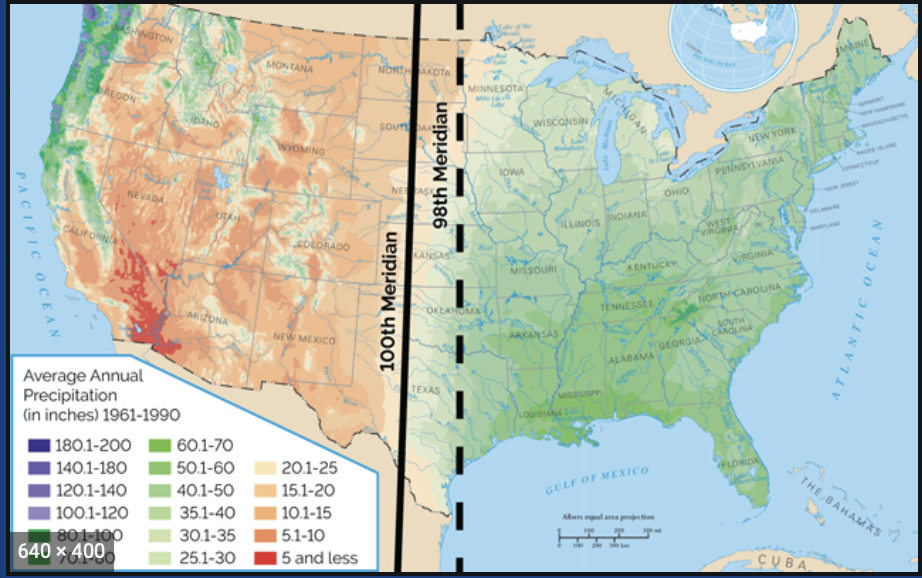 Fort Stockton, Texas
The town of Fort Stockton was once on the edge of civilization west of the Mississippi, a place where the US constructed a fort, in land that could be equated in todays times to the unknowns of landing on Mars, and looked sort of similar. The strategic position of the fort was to protect and support the movement of goods and people through the area, those who were willing to risk it all to settle west of the 100th meridian.
We pulled into Hilltop RV Park which sits along I-10 with views over the plains to, I believe, the Davis Mountains to the west and the Chisos Mountains in Big Bend to the south. We set up camp in a pull through spot, No. 4. It was flat and level making the set up easy and fast. Once we were settled, we made the team decision to go explore the town with the Annie Riggs Museum as the destination.
Annie Stella Frazier Riggs was born in the west and ended up in Fort Stockton after the Civil War where she bore ten children with two husbands (the first died, well both eventually died, but she split the conception of children between the two). Her second husband, Barney Kemp Riggs, was once imprisoned for murder but pardoned while in jail for the act of bravery for saving the warden's life during a riot. Barney Kemp was eventually shot and killed by his son in law and Annie Riggs used proceeds from the estate to purchase the hotel in town which she ran until her death. The hotel now serves as stop 1 for the TWT team in Fort Stockton.
We continued our drive through the small downtown, following the historic driving tour signs which included stops at an old saloon, the fort, a swimming hole called Comanche Springs, an old church, and the original jail. We stopped in the center park to feed and walk Toohey. It was a quick tour of the place but certainly one worth a drive and some cool western history. Beyond the history, the town is a stop in the middle of nowhere Texas, a holdover for those driving I-10, working a project in oil & gas country, and/or a place to stage a trip down to Big Bend. For us, the staging part was somewhat of a planning error as we still have three days in Alpine to prepare our trip to Big Bend, so this turned into a nice blip on the journey.
The remainder of the night was at camp, watching a beautiful high desert sunset across the plains. The noise though from I-10 was relentless and as loud as anywhere we've stayed and the RV park was well lit.
Alpine, Texas: The Lost Alaskan RV Park
While brainlessly motoring along I-10, I saw the sign just before a highway bridge that named the dirt beneath a "draw." My curiosity began, as I have before with slough (slew), creek, and bayou, wondering how a draw is different. I submitted this to the team Geology Department who in turn responded with, "you should GTS" (Google That Sh&t). So I did, and learned that a draw, or re-entrant, is a geological feature formed by two parallel ridges or spurs with low ground between them. Okay, I did terribly in science while in school, but doesn't this sound an awful lot like a slough (slew), creek, or bayou without the constant of water? Obviously those being more geographically appropriate to wetter climates aren't nearly as close a definition as an arroyo, wash, river basin, dry creek, all terms used to describe dry areas where infrequent rain provides water flows creating a temporary river. We'd also learn about a "pour" which is where these draws, et al, reach the end of a slight run and fall off a cliff of sorts creating a temporary water fall in the desert. When the water flow is gone it leaves a spout of sort, smoothed down by the wear from the water. So, to summarize, a draw, although defined by water is mostly dry, located in arid climates, and floods when it rains creating a temporary dry slough (slew) bed.
Our drive to Alpine, included a route requiring about 47 more miles west along I-10 then south on Highway 17 through Balmorhea and into Fort Davis. As we drove through Fort Davis we noticed a fun little historic town with an old frontier cavalry fort, now museum. There is a state park and there are a few other RV parks located here. The intersection of Highway 18 is also in Fort Davis which is what we took for out final push into Alpine Texas. The drive was great as it was beautiful arid ragged mountains, taking us through canyons and large jagged rocky outcroppings. There were rest stops along the way that folks we've met have told us can be used as one night only camping spots which is intriguing, maybe as a necessity on the return trip, as we have yet to make a reservation beyond Big Bend. All in, the place, the mountain scenery, was a relaxing boost to the teams morale. A place where the feeling of being back in the mountain west provided excitement and enthusiasm of what's next, the possibilities of exploring the area, and imagination of adventures to come.
The Lost Alaskan RV Park was located on the north west side of town just off Highway 18 as we drove in. Lysette took care of the registration where they assigned us to spot C-8 next to the bathroom and laundry facility. It was a large, wide, gravel covered, flat site with lots of little birds aka Little Brown Jobs or LBJ's as the team birder refers to them.
With the day young, our mission was to find the Sul Ross Desk Hike on Hancock Hill. Knowledge of this hike was based on a Google search of places to hike in Alpine and the only one listed outside the national park. Our effort to find the hike was easy but required a quick introductory trip through the town of Alpine to get the lay of the land. 
Alpine's downtown west of the railroad tracks consisted of small 19th and 20th century buildings constructed in the normal square pattern similar to most downtowns. As many old towns did with the advent of automobile traffic, they split the traffic direction between two roads with each one going in one direction the opposite way. They have avoided traffic lights by adding four way stops at each major intersection. As we were looping around the east side of town I glanced down a small road to see railroad tracks and some artsy small structures on the other side. And magnets for artsy small structures, the team found our way there, to the other side of the tracks, to a spot called Murphy Street. Apparently back in the day, the Hispanic and non white residents were not allowed to cross the tracks without proper US identification and never after dark. This street became the business center for those living there and also, and due to fires on the white side of the tracks, are the oldest historic buildings in Alpine that still remain and are more typical of the early settlement of the town. 
We did a quick driving tour of Murphy Street with team consensus that a return trip was needed. From there, it was easy to find Sul Ross campus with the tagline "the Frontier University of Texas" as it stands prominently up on the northern hills surrounding town and by far the largest structures in Alpine. We had learned from our research that the trailhead for the desk hike was around the backside of the dormitories.
The write up and reviews on various sites discussing the hike indicated that it isn't a well marked trail with a few folks having spent hours searching and never finding the desk. But with our handy Hiking Project App, Lysette at the helm, and really not that complicated, we started up the hill. The mostly uphill hike was packed with small rocks, lots of large prickly pear and devil's rope cactus, banana yucca, spanish dagger, sotol, bunch grass, and junipers. Looking up along the hills was a mix of shades of greens, browns, rust, all with the back drop of an amazing rich blue desert sky. There were views downhill of the town on one side of the hill and large expansive western plains surrounded by the West Texas mountain ranges on the other side. 
The hill that the hike was located on is called Hancock Hill. The trails led us up and around to the backside of Hancock Hill, behind some outcropping where we found our first trail treasure. The bike tree is a dead tree with about 4 old bikes in various forms of decay and one small tricycle chained to it. While photographing that, we looked to our right though a few more scrubby trees and saw the hike's signature event, the desk. 
The story of how the desk got there was no real surprise given the proximity to the campus and student dorms sitting at the base of the hill.  A student apparently looking for a peaceful, quiet place to study, moved the large metal desk there. The cool factor moved with it and the place eventually became a hangout of sorts for other students, locals and traveling teams with a sporty brown dog. Sometime later a person, likely another student, placed a notebook and pen in the drawer which became a place for signatures, doodles, and other interesting comments and drawings. The nice thing we noticed was even though this is a student hang out and major hiking stop in this small town, it was clean, free of litter, toilet paper and with the exception of the signature drawings on the desk, no graffiti. Well done decent humans of Alpine.
We spent a few minutes at the desk enjoying the afternoon before heading off the mountain. The return trip went off in another direction on new trails, through some private land forming a loop back to the car. By the time we got back, Toohey was out of gas and drank an entire bottle of water. The sun plays havoc on our cool brown hiking dog.
We drove home making one last stop for provisions. The rest of the evening was hanging around camp, cooking a nice ground bison stir fry, and planning for the next few days of the trip. 
The next morning began with a nice run into town and around the city park followed by some down time at camp. When it was time to go, we both had one specific place in mind, historic Murphy Street. In review, this was the hispanic side of the tracks where the Mexican cowboys, Vaquero, would stay when passing through the area. There were mercantile, liveries, saloons, and rooms for them here. This small area of Alpine has the oldest western structures as the other side of the tracks burned. Also, there is a small artist community with Tom Curry, a well known artist. His studio with home sitting behind were constructed of papercrete which is a masonry stucco look but uses recycled paper as the mix. As his wife explained, others have used grasses and hay but this isn't good once the livestock figure out your walls are food. He does illustrations, editorial cartoons, and apparently has a pretty large following. There are sculptures and other ornamental objects to include his home and studio. We met him briefly as he was raking rocks in the courtyard behind his studio and wasn't all that chatty. His wife on the other hand, was full of life and provided an upbeat conversation to include things to do there. A great team of artist and sales. We left their studio and wandered the small community before heading off for other activities.
If you can't tell by all the descriptions of people we've met along the trip, RVer's are mostly really interesting and friendly folks. Many times all you you need is eye contact and a smile to open your life to their world. While enjoying our evening at camp this happened. We first met the man member of our new neighbors. He was curious about where his wife was as their RV and truck doors were locked with him on the outside and her gone. We spent a few minutes talking to him before she came walking up quickly explaining she didn't have keys either. With no sense of urgency, the four of us hung around for a few more minutes talking and sharing life stories, We would learn that they are from Shreveport, LA, he retired 15 years ago from State Farm and that she liked to dance. They were an extremely fun loving couple who were open, laughed a lot, and seemed to enjoy the company of others. They were on their way to meet other couples for a reunion in Big Bend National Park and were here for one night. After a few minutes, we said what would be a temporary goodbye before they realized they had no way inside their 5th wheel rig except an unlocked window located high over the hitch. This window providing the only opportunity for entry was to the bedroom, which would be akin to a second floor if a fifth wheel had a second floor. Seeing this unfold, I walked my small two step ladder over with the slight chance it might work. She gracefully thanked me before climbing onto the top step only to find she couldn't pull herself into the window. She was able to get the window open and screen moved. I suggested that I give it a try but the window was still too high. So we set off in the campground to locate another ladder, quickly finding one from another RV couple. The guy came around and retrieved it from under their RV in a storage area beneath the chairs. When we pulled it out, we found it still wrapped in its original packaging. But with wrapping now discarded, she climbed up on onto the top plastic piece which wasn't a step, and made another attempt. Ladder safety is something I have taught throughout my career in safety and risk management and we were definitely doing the unsafe thing. But me standing nervously below her, spotting her for the catch if needed. Finally, the decision was made for me to make the maneuver into their rig. This option ended with a successful roll onto and off the foot of their bed, a quick walk down the hallway, through the kitchen, and the door for a successful unlock. 
We'd spend a few more minutes with all couples (TWT team, neighbors, and unwrapped ladder owners) standing around laughing and telling life stories before we headed off. We would see our neighbors one last time the next morning to see them off when they graciously offered up some homemade muffins which we gladly accepted and later enjoyed. They were the type of people who you spend very little time with yet feel you know based on the openness and the sincere quality of conversation you share. These types of wonderful people have turned up at every corner of our trip, each one making some level of impact on our lives, ever so small but huge in quality. 
Today was our big push to get ready for our move into Big Bend National Park and our four nights of dry camping and exploration. There were many things that we needed to do to include laundry, topping off the propane tanks, fuel for the tuck and spare gas can, and provisions from the grocery, liquor, and supply store. But first we had one item of unfinished business in the small town of Alpine and that was to see the murals painted by local artist. There are page size colorful maps of these murals which we sort of used as a guide to find artist alley. We quickly parked, got out and strolled the alley with Toohey tethered to a short leash. The art installation reminded us of the one we strolled in Hattiesburg MS. This one, however had lots more southwestern flavor. While Lysette was photographing a mosaic display around a doorway a young woman appeared from the door with her 1-year old daughter. She apparently grew up in Alpine before moving away to San Francisco and has now returned. She introduced us to her daughter and then told us she was the daughter of the mosaic artist whose work we were admiring and offered to walk us down the alley for a guided tour.  Also her father was responsible for the bike tree along the desk hike mentioned earlier which included her childhood tricycle. It was fun and we greatly appreciated her time. 
Beyond the alley were a few other murals with one large painting used to explain the history highlights of the town and some of the characters.
Brewster County is the largest county in Texas
The town was named Osborn then Murphyville before Alpine in 1888
Dan Blocker who played Hoss on Bonaza was a Sul Ross Alumni, not to be confused with the student who moved the desk atop Hancock Hill.
Herbert Kokernot,Jr. built Kokernot Field, a baseball field that would later be used for his start up minor league team the Alpine Cowboys in 1947
Camel Exiditions were run out of Fort Stockton south by the US military in 1859-60 to see how they would perform in this hostile environment. 
We enjoyed the town of Alpine. It has a nice small town feel and is pared among other fun and interesting towns to include Marfa, Fort Davis, and Marathon, all located in the Texas Mountain region. The town has a western feel, ranching blended with art and quirkiness. All combined for a worthwhile, unique experience, especially when considering a trip down to the remote area of Big Bend National Park.