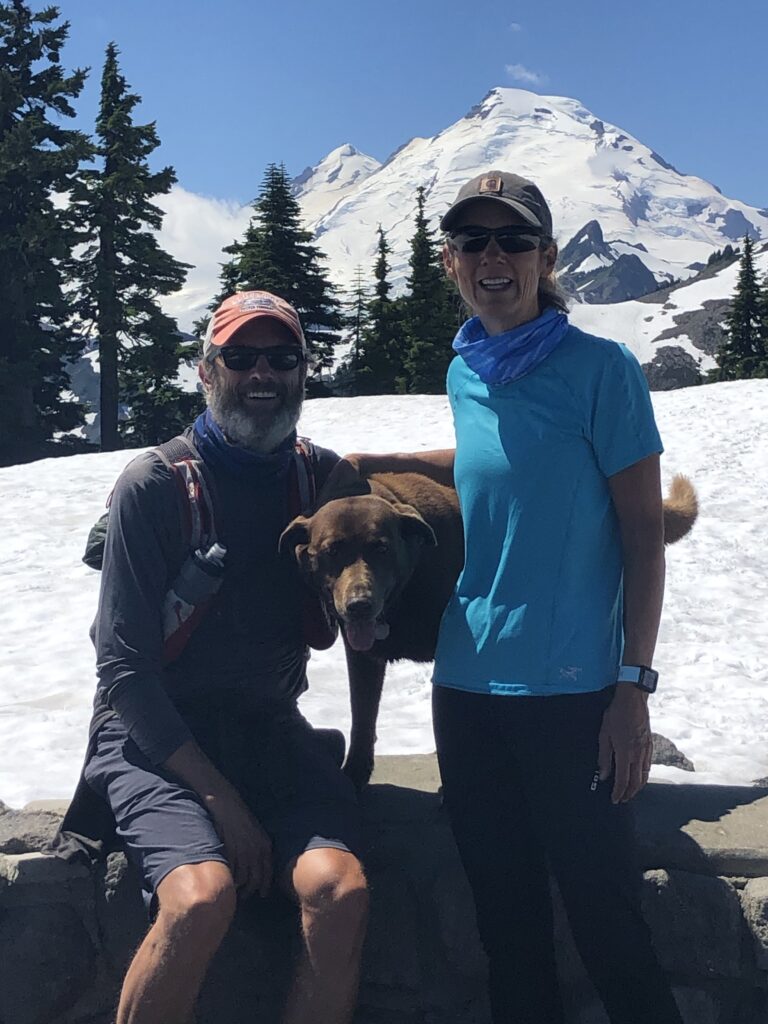 Today was going to be a big push north into Washington with the destination of a horse rescue farm just outside of Port Angeles, WA. We set our plan in motion crossing the vintage looking metal expansion bridge over the Columbia River and into the state of Washington. Our first introduction was a drive that wound along and through the Willapa National Wildlife Refuge during a low outgoing tide. To the left of the Tacoma were curvy strands of low dark water, seemingly stagnate with exposed smooth brown mudbanks extending out from the water's edge, up to the tall, slender green marsh grass. A scene much like I grew up with on the tidal creeks and rivers around Savannah. The marsh grass scene continued until it was gently interrupted by the highway we were driving, separating it from the mountain topography and rainforest ground cover, making for an interesting contrast. This was unexpected and visually pleasing to see in the Pacific Northwest, especially after leaving the drastic landscape of mountains seemingly falling into the sea in Oregon.
A very unimportant note is what was just described is called a slough (of which I incorrectly pronounced sluff, but is accurately pronounced, slew), in the south, we'd refer to it as a creek pronounced crik.
The pace north was steady with a few brief stops along the way, but mostly moving with the destination in mind. The first stop was in the small oyster farming town of South Bend. This place has a public common area along the tidal creek, or slough, where they proudly displayed the World,s Largest Oyster and information on the town,s WWII hero who fought in the South Pacific and was reportedly mentioned the Tom Brokaw book, The Greatest Generation.
Our next stop was in the Olympic National Forest after seeing the sign for the World's Largest Cedar Tree. From oyster to cedar tree, we were obviously onto some big stuff. We stopped in the local ranger station and made the turn back to the main road not quite getting there to witness it. Our turn was based on the fear of the never-ending style road where we couldn't turn the rig and that would add too much time to our journey. We did, nonetheless, respect the legend of the tree.
Highway 101 has a short stint along the beaches of the Olympic National Park where we stopped at the first pullout and walked through the forest, down the cliff, over the dead logs and rocks, to the grey sandy beach. Toohey chased a few sticks into the surf and rolled in the sand.
Our last stop of the day was a roadside pull out along the crystal clear waters of Crescent Lake. We found a pullout, shuffled across the road to a small rocky beach. Toohey and I swam, he chased sticks, and we enjoyed a short reprieve from the final push of a long day driving.
This lake was big, surrounded by mountains, not the high snow capped peak variety but what some would call foothills with large treed forest of firs, pines, and vegetation typical to the areas we've been describing. The water was clear, cold, but manageable. There were others here enjoying their personal slice of rocky beach. At both the east and west ends of the lake were major beaches full of humans on devices to include blow-up rafts, SUP's, and many styles of motor boats, all out enjoying the sun and water.
We dried off and made our final short drive to the horse ranch. The directions were spot on, down several rolling hills on small, sometimes one lane roads. Lysette opened the two ranch style metal gates allowing us to turn left onto the property. A corral with three horses was to our left and to our right was a large concrete retaining wall with more corrals on top. In front of us the gravel drive led to a ranch house and slightly to the right, more fencing and pastures, leading down to a forest of trees. Behind the horses to our left and across the corral was a lady, arms waving in a friendly style, suggesting a warm welcome and hello. She approached commenting on the coolness of our rig which is always appreciated. We exchanged pleasantries, then she gave us the options of where to set up.
The horse ranch provides home to several full-time tenants, living in RV's and other dwellings, and of course, the horses and dogs she has lovingly and passionately rescued and care for. She has an energetic positive personality and from the look at everything we just drove into, is doing a wonderful job loving this place. She told us of her lifelong dream to build this ranch and her work each day to keep this place going to benefit the animals. It seems she has nailed it.
We ultimately chose a site through several fence openings in the lower pasture. She offers three dry camps total in this area and two other campers showed, filling it to capacity. Next to our camp, about 20 yards, was another pasture where four horses grazed while we were there. Toohey was mostly neighborly with them especially after he realized that they didn't really care about his grunts and threat posturing. A lone deer crossed through, grazing and peering at us frequently, but Toohey never quite caught on to her passing. Our neighbors, not too close, were quiet, early to bed and blending into the environment well.
The $26 AirBnB listed camp sat beneath a couple of tall pine trees and was based with flowering grasses alive with honeybees buzzing and doing their honeybee thing. There were a couple of other tire tracks that had pressed down the grass but otherwise, the pasture appeared mostly untouched by humans. The areas surrounding the pasture/campsites, just beyond the electric fencing, was mostly forested trees making a relaxing backdrop to our camp.
We unpacked the chairs to help support us as we relaxed with a few beers and mugs of wine as we enjoyed the early evening sun set. We enjoyed the space but never quite unwound as we would be leaving early for the ferry ride to Whidbey Island. In fact, we never unhitched the home from the Tacoma and lived this short time a bit physically off balanced, never quite leveling the home. We both agreed that we would love to stay here longer and experience the farm and surrounding area, but for now, we are off.
The link to the horse farm should you be traveling the area is.
https://www.airbnb.com/rooms/27429407?source_impression_id=p3_1596032445_zNJPQm6t9n%2B1CUcQ&guests=1&adults=1
Our phone alarms woke us to a nice morning. We used the lime green pickle shack to hide us from onlookers in the field for our morning constitutions (feel free to message us if you are interested in the entire story here as its a great laugh) and set off. We drove the short distance to the Port Townsend ferry dock, queued up the rig and went for a brief walk into Port Townsend while waiting on the inbound ferry. The ferry ride was a first for Toohey and the rig. The clear sunny morning provided a great opportunity to stand on the top deck and see Mt Baker and Mt Rainier, both off in the distance, a scene that never gets old. These tall volcanoes viewed from sea level and extending over 10,000 and 14,000 feet, are spectacular. They look so odd in the distance when related to the large body of water and the much smaller foothills where they rest. Simply majestical.
We disembarked the ferry and were off to our good friend's house just outside of the small town of Langley, on Whidbey Island. Her patch of land sits among lots of healthy mature trees which is expected given her love for nature and living things. She passionately cares for her trees much like our host at the horse rescue the previous night cares for her animals. The yard is beautiful, natural, and fits the land.
Her home, which she recently did a major addition, sits naturally in the space, blending with the land where it exists. The structure is a wonderful cabin with lines that extend upwards into the trees and around a tree. The siding is lapboard wood and shingles that blend naturally with the trees under which it all sits. It feels as though the earth and the trees standing around it created it for her to occupy.
The interior of her home has large windows and doors bringing the outside splender inside for you to enjoy. The windows are like picture frames filled with the lush green foliage outside. It is full of character, resembling the owner, tricked out with hardware she salvaged from her family farm house in Iowa including large pocket doors, the trim, doors, and wood flooring, all making it feel like a perfect match to the personality of the wonderful human occupying it.
Our hostess graciously allowed us to set up home in her driveway, we felt we were cheating her out of some amazing space, but she insisted. We didn't argue. We joined her in the afternoon for a walk around her patch of land to talk about the trees, bushes, her plans for the park like area, and to eat some of the indigenous blackberries along her fence line. We were occasionally joined by small black tail deer eating the healthy green leaves.
Following lunch, we headed to a dog friendly beach along Double Bay Beach located on Useless Bay to walk to let Toohey play in the water. We came back to relax a bit then dinner on her back porch with another local couple. We enjoyed halibut cheeks, salad, and the company all while socially distancing well and maintaining mask.
Our camphost had to work the next day so Lysette and I decided to go for a bike ride. The island is rolling hills with small farms and little coastal communities, all hugging the inland coast of the pacific northwest. One write up on the island claims it provides much of what you get on the San Juan islands without the hype. We dressed, pumped air in the tires and made the decision on a route that would begin with a stop, 3 miles away in Langley, to watch our dinner guest from last night do a swim off the city beach. As we approached Langely, my rear derailleur would, derail. The catastrophic event was beyond my bike mechanical capabilities to repair. We chained our bikes to the sign post and walked down the steep hill to the bulkhead and beach where the swimmers were to set off.
We arrived at 11am as scheduled and after a brief chat with him and three other swimmers, they started their event. A short distance away they were accompanied and pestered by a curious seal which became a source of entertainment for us.
Afterwards, Lysette rode home to get the truck while I sat Googling Shimano rear derailleur repairs in a small shady park. We made it home and with the bike shop closed today decided to run back into Langley and take a dip in the water. The day heated to a warm 79 degrees as we set off. The out and back was separated by me getting in the water, while Lysette contemplated it. We made the run back, stopping a few times to eat blackberries.
The afternoon was completed with a short stressful trip to the grocery store, a walk around the neighborhood, dinner on the back porch, and an early night in preparation for a big day.
The big day was a drive about 3 hours to the Mt Baker ski area and a hike up to Artist Point. Along the way, we stopped and walked the Deception Pass bridge. Deception pass is an interesting area where the tides squeeze water through tall rock cliff walls creating spectacular water displays. The walk is tight with a death by fall to one side and death by large truck mirrors on the other side, but we survived it.
The drive through the Northern Cascades was beautiful so time flew by. Our next stop was at the parking lot for our hike. The other people there were for hiking and yes, skiing in July. We headed out, Toohey grabbing a quick drink of water out of the small pond next to the lot. We followed the trail up several steep snow banks, a well placed ladder, and finally near the crest were we were met with snow. Lots of snow. The road and trail would peak through in spots but mostly this was a snow hike. We put on our traction to help with walking, our hostess used snow shoes, all while we slowly trudged along. The views of Mount Baker and the surrounding rages were breathtaking. We had Mt Baker to the south and panoramic mountain views that were just stunning in all directions. Toohey thoroughly enjoyed the snow taking time to roll, chase snow balls, drink and swim in the small ponds still partially covered with ice. This all made for a perfect introduction to the Northern Cascades and one tough to beat.
One the way home, we stopped by and unsuccessfully looked for a small patch of old growth conifers that Lysette's niece had showed her a few years prior just off the road near mile marker 44. From there our host drove us to Bellington and along Chuckanut Highway which hugs the coast and then back onto Whidbey Island. She showed us some other nuggets of island cuteness and back to the home. Tired from the day, we did the night thing and set off to sleep.
Today began with some yard work. Our friend whose driveway we have assumed for our home had recently cut down some dead trees. Lysette and I used the tree saw and some back to cut and organize the debris into large, medium, and leafy pieces. We did this while waiting on Lysette's niece who lives in Seattle to visit by ferry for the day. This niece is a part of the brew mentioned in a previous blog, sister to the nephew who stopped by with his tarantula while we were camping in the Sawtooths. In short, she is one of those great humans.
We finished a big section of debris reorganization just in time for her niece to show. We distance hugged, said lots of pleasantries, then made a plan to scoot down into Langley, rent some kayaks and paddle along the shore line. We rented two sit on top kayaks and since they have a No-Dogs-Allowed in their boat policy, Toohey and I inflated the SUP to join in on the ride. We launched and made a 90 minute journey out and back along the shore. We enjoyed seeing several seals swimming about, a lone doe walking along the beach, and as with every event here, spectacular views of the North Cascade mountain range. There were a few large pleasure boats out sending frequent swells our way but otherwise it was a pretty calm day on the water.
The bluffs sit high, maybe 100 feet up along this stretch of the island with homes sitting on top. Some have verniculars running down the steep cliffs to homes sitting closer to the water. These seem to be quite the engineering and construction marvel as without some level of technology and big budget, the homes would be extremely difficult to build.
We returned to the beach, which was much narrower by now based on the incoming tide, turned in the kayaks, packed up the SUP, and headed over to the local bike shop to get my bike derailleur repaired. Following that, we stopped in the local grocery store called The Goose to pick up a picnic style lunch consisting of drinks and snacks which we enjoyed down on the shore front park in Langley. We huddled around a bench sitting under some nice shade and just in front of the bulk head wall railing that was still being warmed by the sun. The small waves roll up the thin beach area consisting of a rock sand mix. We chatted about all kinds of interesting stuff, snacked, watched a group of swimmers return from a long swim.
It is always great to spend time with family but for me, I always leave wishing for more. Especially in these crazy times where smiles are hidden by now trendy cloth face mask and hugs are taboo. We said our goodbyes, captured a selfie for the family, and set off for our home which was waiting patiently for us in our friend's driveway. Exhausted from the day, we all pulled camp chairs to her front yard and along with a local well fed squirrel, a few birds, and one passing doe, enjoyed a fun conversation until it was time to crash, and crash we did.
With my bike's derailed derailleur back in working condition, we decided to take it out for a spin. Our direction was a wander but mostly to hug the island shore in a counter clockwise rotation. We passed through downtown Langley and hooked up with Saratoga Road. The ride consisted of rolling hills, fast quick downhills and short steep ups with frequent curves, making it a fun ride, especially for the ADHD type that I am, needing constant change. There was shade with sporadic views of the water and the distant mountain range. We gawked at interesting houses, enjoyed the good road surface and healthy bike lanes, giving the infrequent car plenty of room to miss hitting us.
We turned back on East Harbor Road, then sliced through the center of the island on Gross Lake Road and finally Bayview which returned us to Langley. It was great to be out and enjoying the day and yes, the gears shifted and responded to each changing grade with precision to help round out a great ride.
Following the ride, we ate lunch and started discussions on the next move. When and where. We checked the weather conditions of towns in the direction we planned and after seeing 105 degrees east of the Northern Cascades, started thinking about staying here for a few more days. The weather here is amazing, reminding me of why I love summers in the coastal area of the US. The average temperatures, while blazing hot just east of here, are highs in the low 70's over the next few days. It is sunny and warm enough to enjoy the cool water. There are shady hilly trails sitting beneath large evergreens, many trails with access to the beaches, great roads to ride that are fun and interesting, good seafood, and of course, a wonderful, fun, and interesting hostess. All this quiet quaintness while sitting a 15-minute ferry ride from a mass of 4 million humans.
Our dinner was baked salmon, squash and zucchini, and a salad enjoyed while sitting on hostess's deck beneath the natural surroundings. We discussed our thoughts with her and she agreed staying until Monday worked for her also so we could accomplish some other outdoor stuff that we have yet to experience, and she said she loves the company. So the decision to stay and enjoy a few more days of what this area has to offer was made.
We set off early the next morning to take the ferry back to the Olympic Peninsula and a hike referred to as the mystery forest. The drive went through Port Townsend about 40 minutes then off on forest service road 27 and then a turn of which I have no idea. We arrived at the trailhead, geared up, and set off. The trail followed the Big Quilcene River. The trail featured old growth trees hundreds of years old. These mammoth beasts of wise old trees were amazing, sitting in a forest with younger trees, shrubs, wild flowers, berry bushes, and a carpet of moss blanketing decaying fallen trees and rocks. The Big Quilcene River was much smaller than the grand rivers, more like a large stream. The flow was healthy and the small waterfalls along the way, perfect. The hike was interesting as our host was well educated on the trees and vegetation to include which berries to eat along the way to include the Salmonberry.
We drove out of the parking lot and back down to the main drag looking for a second short hike to buy time before our 8:45pm ferry reservation. After several attempts which didn't allow dogs, we decided to enjoy Port Townsend. We walked out on a short peer to watch the start of a sailing regatta, anticipated the haul of a crabber, and stood helplessly as a woman's bike repeatedly got blown over in the wind. We extended our walk around the town, peering at wooden boats, sailing vessels, and motor yachts.
We then drove up to Upper Port Townsend and then a drive around around Fort Worden, which is now run by the state. The park made famous by the movie An Officer and a Gentleman is now used as a campsite, event center, and rentable officer's housing. There is also a small taproom set up with patrons socially sipping beer outside. Other than humans, there were many deer out in the dusk. The tour ended with a drive into the small portside hotel where the soldier in the movie committed suicide after being denied by the girl.
Port Townsend is an old city that has retained its Victorian architecture giving it pleasing character. The Main Street is filled with small boutique hotels, restaurants, coffee shops, and retails shops. The Upper Port Townsend neighborhood had a small retail street and houses with frame clapboard siding and many with porches. It sits high on a bluff so many of these have wonderful views, south across the waterway, facing Mt Rainier.
The ferry ride and drive home came and went much as the day seemed too, fast.
Today was Saturday and why is it I always think of the Bugs Bunny, Road Runner cartoon which was the hour of television we watched as kids before spending the rest of the day playing outside. Well, those days are past so instead we opted for just outside. Our hostess had a plan for the day and we complied. First stop was to drop off recycling. Very important and busy place. Then we moved to the local Farmer Market. It wasn't dog friendly based on the cooties thing so Toohey remained behind to protect the assets while we checked it out. There is something magical about a farmers market, the people, the vendors. Seeing all the fresh produce, creative people talking about their products, and plain ole people watching.
From there, we went to a coastal hike called Ebey's Landing Trail. The hike starts at beach level and quickly goes up to a cliff overlooking the beach and water way to your left. To the right is a flat bit with a small farm providing the typical patch work of greens, yellows and tans depending on the crops being grown. It is always cool to see this maintained along the high rent real estate where land meets large open water.
The hike quickly goes up higher along the cliffs, weaving up and down towards the pine tree-lined edge. Toohey was feeling the heat and sun of the hike so we took a few breaks in the infrequent shade to give him water and let him cool down.
As quickly as we went up, we went down, the trail dumping us on the beach about 2 miles from the car. Toohey quickly cooled down by chasing sticks into the cold water and I followed with a cold water dunk.
The final leg of the hike was back along the beach, mixed with sand and small rock and lined with large and small driftwood logs.
Visually this hike is awesome with views of the farm, large waterways, Mt Baker and Mt Rainier, on our clear sunny day. When we first got up to the cliff both mountains had a cloud base giving the image that these massive volcanos were floating in the sky. It was pretty awesome to see. Oh and we also saw an otter on the beach and lots of humans.
It was another great hike made possible by our amazing friend. From there, we did the natural thing which was to go to a local winery, the Spoiled Dog Winery. Tastings were done in small tables sitting in a grassy yard surrounded by the typical forest of trees. Where there weren't forest of trees, there were vineyards. We sipped wine trays while having a fun conversation. We purchased some wine and headed on.
The evening was met with good food, drink, conversation about lots of stuff, and capped off with watching the Officer and the Gentleman to see the fort and city we explored in Port Townsend the day before.
A few comments on our hostess/good friend. We give her the honorary title of Camp Hostess with the Mostess. This title is one we haven't given out to date, likely will never again, and don't take this lightly. She was so gracious to us while we were camped in her driveway, sacrificing her privacy, sharing not only her land, but the beauty of her trees, house, person and time. And during this time of the covid. This Hostess with the Mostess took her time to take us on numerous hikes with amazing old growth trees, to snow covered Mt Baker, to adorable little communities, and to introduce us to really interesting people. Every morning she shared a super healthy green smoothie whipped up in her kitchen to make sure we could keep up with her. All of this while maintaining some level of social distancing and best, deepening our friendship.
As a person, she has lived an interesting life. From growing up in an Iowa farmhouse to trekking in Nepal, cycling solo in a zigzag pattern across the US, and in Ireland, summiting most of the highest peaks in the northwest and several other adventures we have yet to learn. She is extremely knowledgeable about her environment, the trees, bushes and flowers, and since they didn't get us sick, wild berries. She has a great love of living things, and our favorite trait, her story telling that is illustrated with her hilarious mannerisms and usually provides insight into her humble nature, and best, her amazing laugh. So with this, this hostess gets the badge of Camp Hostess with the Mostess. A serious heartfelt thanks from Lysette, Toohey, and me!
As if we hadn't been treated to some awesome stuff already, our hostess drove us to South Whidbey State Park, Wilbert Trail for some more amazing old growth trees that were saved by a community movement, and a 500 year old red cedar tree, of which we weren't allowed to hug. I guess really old trees are something like cute puppies where everyone wants to touch them, except that too many hugs over 500 years could damage the roots of a tree or maybe wear the bark off. Either way, it is good to protect these awesome wild and natural things as they would otherwise be a table, bowl, or something on the mantel (or the mantel) in some rich celebrities house. The place was lush, green, and a fun final hike with our friend in the place she calls home.
Our last night's dinner was a strip of wild salmon seasoned to perfection accompanied by a big ole salad. Before getting started, we held the ladder over the sink so she could paint a very high unpainted section of her kitchen wall (for the record, this maneuver went against 33 years of my ladder safety knowledge) and hung some screens. We sat separate, but around her kitchen table to share this dinner and conversation.
The next morning we said our goodbyes as she had to go into Seattle early for work. We gathered the rig and headed north and east. North got us through Oak Harbor, over Deception Pass, and into Burlington for a stop at Fred Meyers for provision. We fueled the Tacoma, then for the first time on our journey, headed due East which will be our windward direction for the next few months.
The drive along Highway 20 takes you over two passes which are relatively close together. Rainey Pass is the first and provides a cross over for the Pacific Crest Trail and then the second, Washington Pass. We stopped at a pullout for the views at Washington Pass and the views delivered. The rocky sections of these mountains are ragged with a slight light brown and maybe a tint of reds. There is a feature that we have heard others comment as the Liberty Bell but never quite saw the image of the bell and wondered what the native Americans would have called the rock feature.
But the most impressive thing at this stop was an interaction with a young family. We pulled the rig into the trailer parking and two spots over was another A-Liner. This is exciting thing in the RV community and is usually followed with a rush of hope for contact with the owner and interesting conversation. As the family passed, eye contact was made engaging the communication. What made this interaction more interesting had nothing to do with the A-Liners, but the small world moment that occurred where he knows and is following the same education and career path as someone we knew who use to live in Golden. Crazy but fascinating. And without the short conversation starter around the A-Liner, we would have never had a chance at making the connection.
We moved further east a few miles to the Klipchuck Campground, about 1.2 miles off Highway 20, site number 26. The campground is a National Forest Campground and at $10 per night, provides community water and pit toilets. The spaces are wooded with healthy trees and large enough providing some room between you and your closest neighbor. There is a camphost so the toilets are maintained and cleaned and clean they were. The entire campground is first-come, first-serve and getting here on a Monday late afternoon gave us a pretty large choice of sites. By nightfall, the place was almost full.
Over dinner, Lysette identified a loop hike that as it was described, seemed amazing. So we decided to forgo a big breakfast in the morning for an early start to beat the other humans.
The hike was to referred as Heather/Maple Pass Loop. The signs at the trail head also referred to Lake Trail or Rainey Lake Trail 310, which is actually the start or finish, depending on the direction you go. We set off counter clockwise which is advertised as the more interesting based on views on the way out and a lesser grade. This choice proved to be nice as the views start up before mile 2 and are show stoppers the entire way around. Once on top of the pass, you get panoramic views of mountains as far as Glacier Peak to the west. The wildflowers provided the full spectrum of color you'd find in a new exploding box of crayons. The mountain heather which is purple and in project status for being rehabbed was in full bloom adding a carpet of color to contrast all the others.
The trail and the direction we went heads off up a rock face wall keeping Lake Ann on your left. Once she is in sight, the trail continues to climb up to the ridge where you follow in a loop keeping her to your left along with the valley you came from. There are amazing mountain views in all other directions. On the other side of Lake Ann, you drop into the adjoining valley descending quickly keeping another lake to your right. The majority of this hike is at or above treeline and just under 8,000 feet. The trail was easy to follow, and an early departure is suggested to avoid the crowds that followed us. We highly recommend this hike to anyone traveling through the Northern Cascades on Highway 20, who likes to gasp out loud (GOL) at mountain views, and who chokes on their words when they hit the ripe wild flower season on a pretty sunny day. This place was perfect.
We returned to camp tired, dirty and hungry, sat, ate, typed this, and sun bathed for the afternoon. We also met a new neighbor who had the same bike as Lysette and stopped by to discuss this. He was from Seattle, camping solo, and just up here for a few days of cycling while his wife stayed home for work. When he learned of our trip he asked if we'd mind an evening conversation after his bike ride into Winthrop so he could ask a few more questions. We gladly agreed.
After dinner and with bottle of water in hand, he walked over with his camp chair and sat a socially acceptable distance away. We enjoyed learning as much from him and his travels and adventures as he did from us. He is IT trained and has spent years in that profession moving into a management role. He has the travel, early retirement bug, using the same words and phrases that he could have borrowed from our conversations late last fall as we started our planning. Like our planning, he is in the constant stage of exploring the fears of financially being able to make it work. As it turns out, and based on our early travel experiment, this will be small in retrospect as compared to the actual lifestyle. Based on his fitness level, years of camping and adventures he shared, the travel piece would be an easy transition for his wife and him. We thoroughly enjoyed our time talking with him, shared blogging information, and wish him the best as he continues his journey, whether this includes full-time travel or whatever his future holds.
Move day fun day, we woke up and did the morning thing, which included some blogging while drinking coffee and a short run. With the rig all hitched up we headed east on 20. Our first stop was soon after, at the small community called Mazama and the Mazama Store for gas and ice. We also used this time to update emails, text, and do a bit of research on our days destination.
We continued to focus on the national forest areas around Republic. The area, known as the Methow Valley, sits at the eastern end of the Cascades amidst the Okanogan National Forest and Okanogan County. The first two towns we motored through were Winthrop and Twisp. Winthrop had a coordinated western theme along its small main drag and beyond and reportedly has a fun rodeo event each year. Twisp, its much smaller neighbor to the east and didn't seem coordinated at all, which is likely the appeal to the small art community. Both are charming little towns sitting along the Methow River.
As we progressed deeper into the valley and north through the town of Okanogan we ate apples while we drove through large apple orchards. These green orchards of trees were surrounded by mostly arid hills of tan and brown grass appearing extremely dry.
Our apples were delicious and now gone as we stopped in the town of Tonasket for fuel and a right turn. From here we made a quasi decision on a potential stop off 20 where some local intel referred us to lakes along forest roads. The one we eventually chose was the 1st, some 20 miles later, leading us to Lake Bonaparte where we found the Lake Bonaparte Campground. We chose site No. 15 as it had a slight view of the lake with a short open trail to the lake.
The day was a hot one, actually one of the few we have had driving with the AC on. We quickly drew up our swimsuits, pumped up Toohey's SUP, and headed for the lake. We would spend the remainder of the afternoon wet, swimming, and floating on the water, just perfect for a hot summer afternoon.
The last SUPing moment came with the splendor you look for while just being in the moment. We had opened a beer and poured a glass of wine and were just hanging out, talking lakeside. Me, sitting up on the bank on a large gnarly log, Lysette and Toohey, on the paddleboard floating just off the bank. The paddleboard was positioned with the end out as the path meeting the lake where we launched was thin, bordered by tall grasses and bushes. Lysette sat mid boat with her legs portside and her feet providing anchor to the lake floor. Toohey, in his normal position, sprawled on the bow of the board with his head down on his front paws, listening to the blah. The sun, hovering just over the mountains, provided backdrop to the lake, and the lake surface with small ripples from the wind created by the warm air meeting the cooler water.
Lysette looked up shore to her left spotting a family of ducks trying to move along the shore towards us, but mother had placed them in a holding pattern as we sat in her normal training path. So, Lysette and Toohey floated out on the SUP to make way for mother duck and her gaggle of a dozen, at best count, ducklings to move along the lakeshore. We say a dozen as counting ducklings was made difficult by the fact that they were fishing for small minnows, each, with no rhythm, taking time to dive deep under the water to fish. Some came back with something small wiggling in their bills before being choked down. The attentive, nervous mother, (likely tired but not knowing that complaining about it is an option), stayed behind while trying to keep control of all this with frequent head turns, changes in her float speeds to move the group forward, and on occasions, a dive herself possibly to see if her ducklings were in fact, fishing correctly.
While I sat there simply enjoying all this uncontrolled excitement, I catch a glimpse to my right, not 3 feet away, of a ground squirrel silently standing in his hole peering out at me. He stood there, straight, appearing not to want to make eye contact with me, but that eye contact with a ground squirrel is mere speculation on my part, as judging eye contact with a ground squirrel is difficult, as his eyes are not on the front of his head but on either side. He, or she, it, would eventually scurry behind me disappearing into another hole behind the pine tree leaving me to simply speculate on whether that was in fact, eye contact or not. It also allowed me to shift my attention back to Lysette, Toohey and the gaggle of ducks moving along slowly in front of me.
The lake has several camp sites along it appealing to swimmers, kayakers, and fisher people. It is a safe haven/breeding ground for the endangered loon who are joined by other water birds to include the duck. The water is surrounded by a healthy looking pine forest that extends up and over the top. There are no striking mountain vistas but it is a pretty spot nonetheless.
The evening came with drink and dinner. The camp host and hostess strolled by to register our information and pass on the critical knowledge that "we had 44 degrees last night and that we are in the mountains and it can get cold". Following that she provided me no further entertainment and he just stood behind her smiling, almost one of those, "help me, please call the authorities, I want out but can't" moments. Following that information overload of a conversation, we discussed the pace of our journey and stuff, then moved to the trailer for a few hands of gin before bed.
The morning came with an orchestra of lake music provided first by the patter of light rain on the home. Then the progression as the loons and other water fowl woke to the rising light as if the conductor raised his wand to engage the wind section of the orchestra. Their chorus of sounds, more hooting, bellowing, howling, almost sound alien like as their calls amplified and echoed across the lake. Next came the squirrels and their busy chatter and barks, and finally, Toohey, shaking, snorting and fake sneezing, indicating it is time he be fed, watered, and walked. All this while we lie comfortably in our bed.
If you have never experienced the sound of the loon across a lake then I highly recommend it. Whether you find it an annoying sound or not, it is distinctive to nature and being around lakes.
We completed the morning with a quick, short three mile run out and back along the road, then packed and hitched the rig. We made time to talk with our neighbor across the road. He travels in a nomadic way of life along with his mixed pitbull/boxer named Jack. Jack, like our neighbor, seemed interested in conversation and connection with others. He spoke of his home in Arizona, of which he is rarely there. He buys and sells older vintage travel trailers and lives in one, moving from Mexico to Canada, depending on the temperature. Jack and Toohey existed, Toohey never wanted us to pet Jack, but Jack, an aging pooch like Toohey, found his way in front of us for more cheek rubs and pets before Toohey intercepted, nudging Jack on.
The one question our neighbor asked, that to me was telling of traveling alone, was about antennas, as he'd like to hear a human voice from time to time. I think as much as humans can stand being alone, we all need that connection, much like Jack needed the touch of his pack. We also got some information from our neighbor on camps in our direction.
The rig motored back to Highway 20 and east through Republic, Kettle Falls (home of friendly people and one grouch), then into Idaho, to the lake resort town of Sandpoint where we turned north on Highway 95/2 towards the Canadian border. We eventually found camp about 6ish grabbing the last spot, No. 4 in the Robinson Lake Campground. This is a small National Forest campground with a camp host and her husband who have been long time hosts here. He, retired military and sporting his Keep America Great camouflage hat, and she, naturally beautiful aging lady, definitely in charge of the job of hosting. Robinson Lake is behind our camp and a small, likely 10-15 acres lake with separate fishing and swimming docks. A small stream, river runs on the other side of the camp. The place is heavily treed giving lots of shade to the already cloudy day. We had a quick dinner and off to sleep while it rained a good portion of the night.
I remain neutral on the political front as I personally don't believe either party's rhetoric in wanting to move issues forward as they attempt to gain power by us being divided. But for those interested, my polling in the rural west is definitely Trumpland based on the large number and the large size of the signs, flags, and hats worn. I think I have counted four Biden signs since mid-May compared to numerous farms displaying Trump signs, billboards indicating Trump country, bumper stickers proudly displaying Make America Great Again, and even one lifesize cardboard cutout of Trump in a window of a campground office. All this while not being in any major metropolitan area.
We woke to rain through the night and in the morning, quickly hitched the rig and continued our journey east. We stopped at the first historical marker to see the Purceal Trench overlook. This is a long narrow valley of farm land that was once a part of the Kootenai Tribe. While reading the history of this tribe, I was impressed about the strength of conviction of their sacred Creator-Spirit Covenant. This covenant reads,
I have created you Kootenai people to look after this beautiful land, to honor and guard and celebrate my creation here in this space. As long as you do that this land will meet all your needs. Everything necessary for you and your children to live and be happy here forever.
They lived this covenant, never signing treaties with the US government that would remove them from their land. The US and Canada even drew the border through their land without their consent, splitting it into 2 countries. In 1974, after continually losing land, the 67 remaining Kootenai waged a peaceful war on the United States resulting in them getting 12.5 acres near Bonners Ferry, Idaho.
I have to wonder what other religions and ideologies say about worshipping (even respecting) the lands, the earth, of which provides the resources for life for all of us verses the demand for consumerism and profits. You would think love of land and neighbor would be the foundation. But it seems land gets had by the stronger neighbor all under the guise of love thy neighbor. We kind of did that to them, except of course for the 12.5 acres.
From here we drove into Montana where we hope to get stuck a bit and take some time to get things cleaned and fixed. There is a plan to stop briefly in Helena to see some of my old work mates and in Billings to catch up with Lysette's family.
All in, this stage of travel has been great. We have had some remarkable experiences from sharing space with rescued horses, to our time spent on Whidbey Island, followed by a quick move through the Northern Cascades, a night in norther Idaho and into Montana. We are excited about what is ahead of us and willing to slow down to enjoy it.