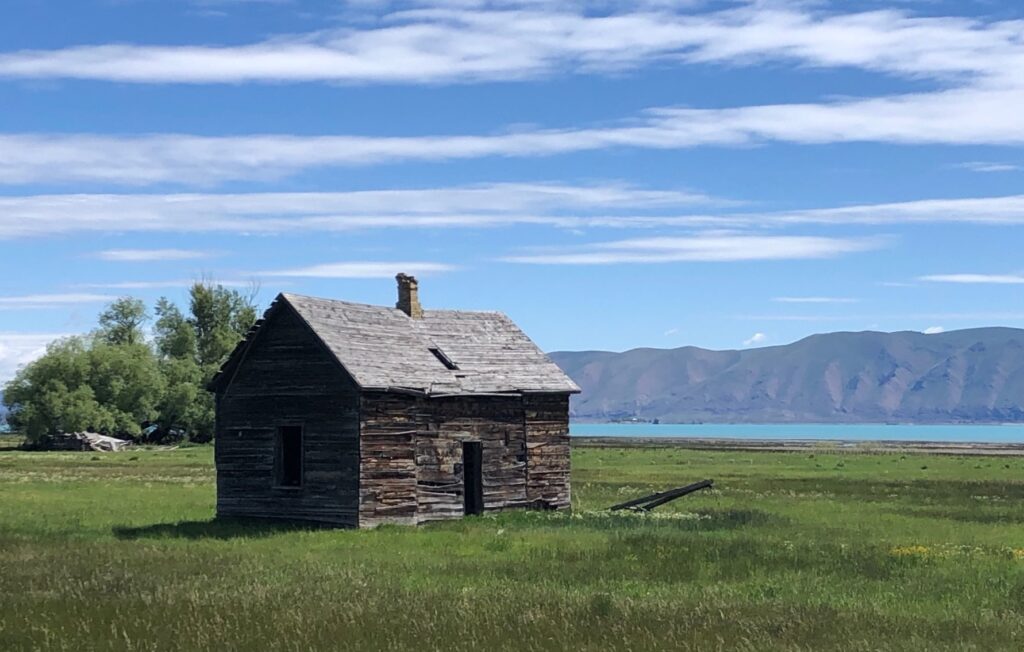 You can debate your favorite Parrot Head songs but the similarity referenced is in the turquoise blue color of Bear Lake's water. Bear Lake is referred to as the Caribbean of the Rockies because of its luminescent blue water. It is a large lake surrounded by mountains and shared by two states. It is used by recreation seekers. The land around the lake is divided between agriculture and state parks. Bear Lake State park manages many lake side campgrounds and a marina. There are condo complexes but these are way outnumbered by RV and state park campgrounds scattered along the shoreline. Most of the activity is on the western side of the lake, but to us, the views are from the eastern side are better as you get the lush green mountains of Utah and Idaho as a backdrop to the blue water. The main street in Garden City, UT has several old school diners that appear to be a hold overs from the 50's, many highlighting their world famous raspberry shakes. I would love to see this place on a warm summer weekend with all the families and a lake full of activity.
STATS
From: Heber Mountain, left turn off FR 083, Uinta National Forest
To: KOA Journey, No. 45 Garden City, UT
Starting mileage: 145928
Miles to destination: 200
Miles of shame driven: 0
Lowest documented MPG: 15.8
Temperature Range: 34 – 50's
Nights off the grid: 0
Cost of Camping: $50
Camp Host: Mr Bob and Diane
Connectivity: Average with Wifi and cell service. The wifi constantly disconnected.
Reading list: Still not much progress

Lysette – Tales of Two Hemisphere by Peter Conrad/The Ultimate Guide to Raising Farm Animals by 6 authors
The Kemp – The Alchemist by Paulo Coelho

Interesting notes about the area: Have we mentioned the blue water? It is quite captivating to see, grabs your attention, and it is clear. The small diners are also pretty cool. The area has no large town, Garden City being the largest, small town. The lake and town sit at the exit from Logan Canyon which runs to Logan, UT. Logan, 30 mile to the west, is the largest and closest city with grocery stores and big box retailers. The canyon is part of the interest as it is beautiful and full of hikes and campgrounds and stuff to see. We drove it in a thunderstorm so missed most of it. The place is ripe for a summer get away including water based activities. We have seen many boats, both motor and sail, jet skis, kayaks and SUP's.
Our activities: We took care of business over the first 2 days as these were bad weather days conducive to some down time. We updated the blog, paid bills, managed mail, did laundry, and cleaned the Tacoma and trailer. We drove the lake road all the way round, got a great 6 mile hike in at North Fork trail west of St. Charles along the St. Charles river. This was partially a snow hike as the storm kept delivering. We also rode the 51 mile lake road on our gravel bikes.
First: Potential freezes in the A-Liner which handled it like a champ. We ran the heater which was amazing.
Next Up: We are planning to head to Driggs and figure it out from there. Hopefully some boondocking and high mountain fun in the western side of the Tetons.
Daily Summary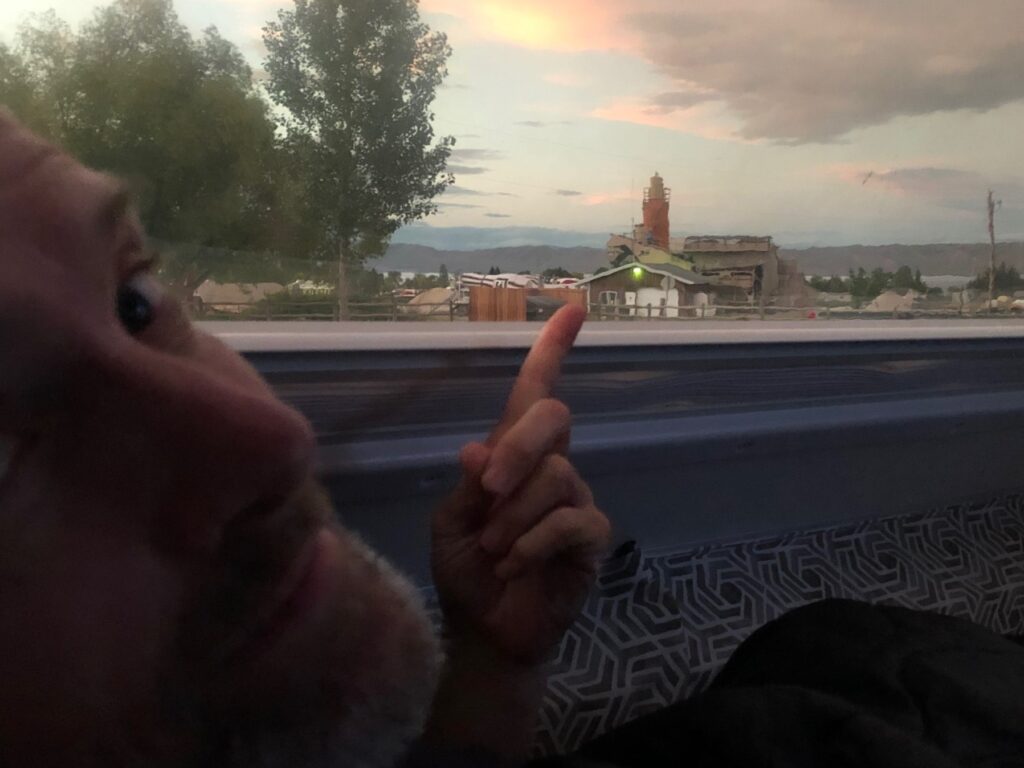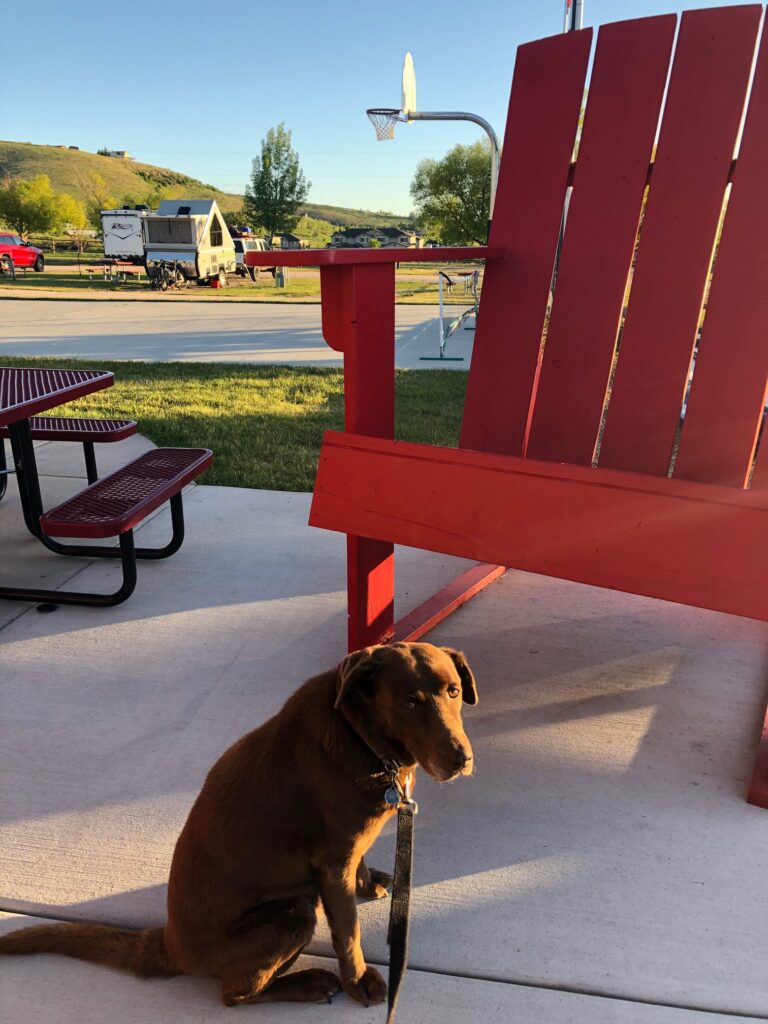 This was to be our escape from the monster weather front that blew in and it was. We stayed a few nights at the Garden City KOA Journey located a few blocks away from the lake. When the clouds finally broke, we learned that the tower of the concrete batch plant, through the tented bubble window of our home, with the sunrise behind it, actually looks like a light house. During the day, we could actually sneak a peak at the blue lake by looking between the concrete plant, LP Gas wholesaler, and self serve car wash. The signature feature at the entrance to this KOA is the large, giant red chair and an inflatable bounce pad, of which my risk management background screams NO! Our camp host, Diane and Mr. Bob, were extremely friendly even offering Toohey a cookie when we arrived. This couple retired to the RV life and are now living the dream running this spot and seem to love it. They are also full on KOA ambassadors and excited to talk about it and we are AOK with that.
Our drive from Heber City to Bear Lake was another example of the amazing beauty Utah has to offer. The rain stopped for most of the day as we made our journey north. We chose the longer scenic drive to include the highway east of Park City, then Highway 66, that goes along the Pioneer Path, a beautiful winding two lane road with sporadic overlooks and lush trees. While at the summit, standing next to a cell phone tower, we called into the Saturday morning FRCC group Zoom meeting to see friends and have a quick catch up.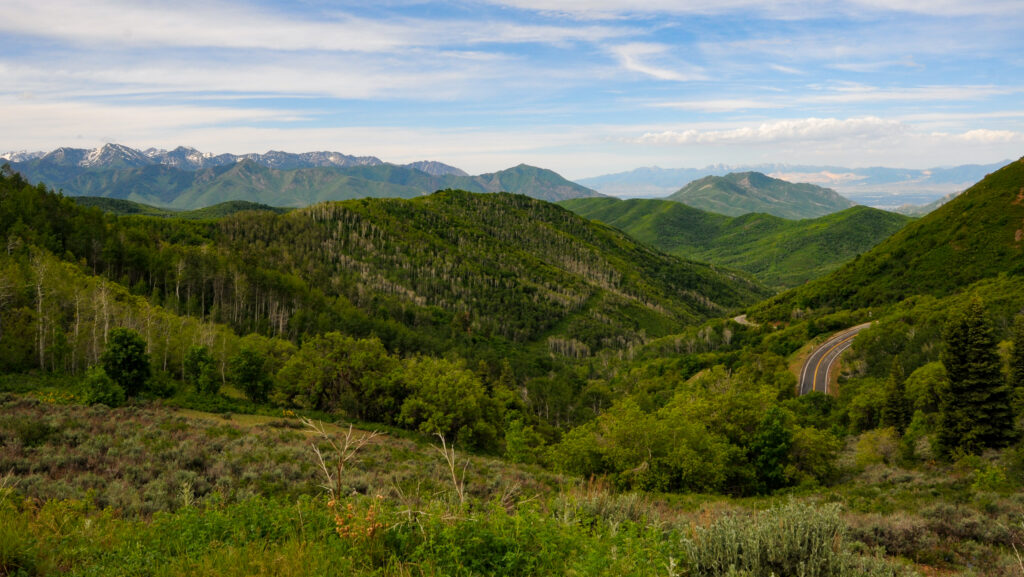 As we moved north, the road dropped into a valley full of cattle, sheep and other agriculture, then through East Valley State Park which appears to have some nice campgrounds around a lake backed by arid, scrub brush. At Morgan, we jumped on I-84 for a few miles only to exit at Green Mountain. We skirted the town of Huntsville (which originally seemed like a destination and photo op) east around a long, nice looking lake, dropping down a beautiful canyon into Ogden. We failed to see anything interesting in Ogden while heading north up Highway 89 into Logan. In Logan, home of Utah State University and seemingly nice place to live, we stopped at a Smiths for provisions to include food and a trusty new water filter to screen out the junk from RV park water systems. We left the store as a new and improved thunderstorm started that would lead us through Logan Canyon into Bear Lake. Logan Canyon is the main drive into Bear Lake and it was gorgeous from what we could see. We had been told of the magnificent entry from the canyon into the lake area but based on a severe weather alert, we mostly missed it but could see potential and maybe a must do on another day.
We arrived at the KOA which was AOK, registered and set up Kamp in the rain. The storm moved on and we got the food put away, showered and had dinner. Following dinner, Lysette's sister and brother-in-law kalled for a FaceTime chat and as usual, lots of laughs.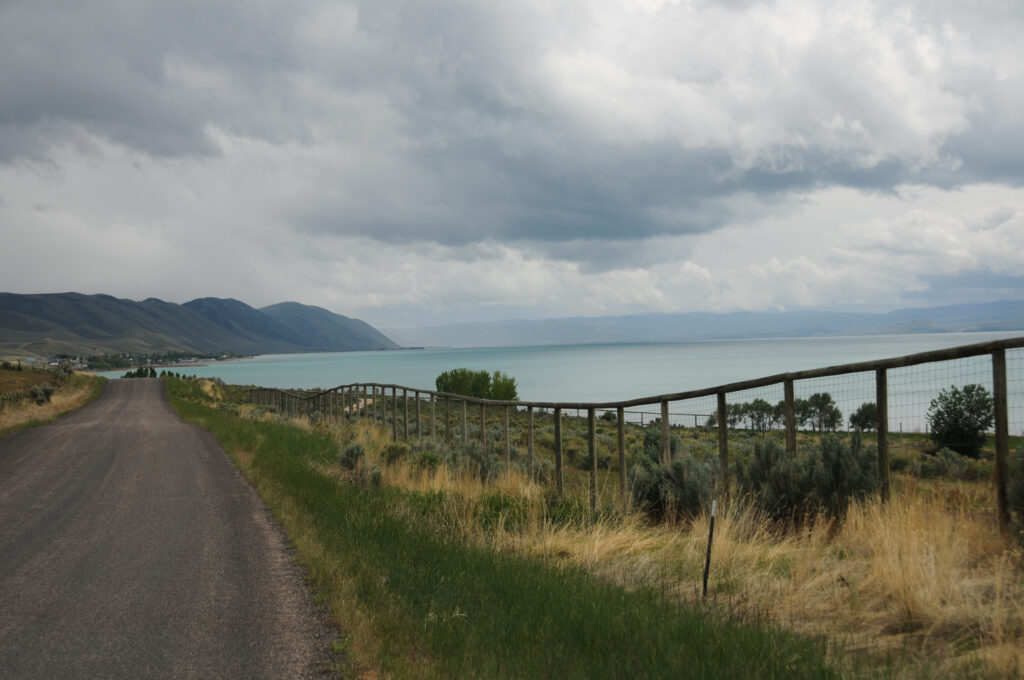 It rained off and on all night but we both slept well after the days journey. We managed several loads of laundry, caught up on email and travel mail, and website post to the blog, before crawling out of the camper around 3 for a nice scenic drive around the lake.
All in, this was a day we both needed, and having the weather cold and wet all day gave us the incentive to hunker down.
The next day we awoke and took care of some other business. One item was how to get a check deposited. As background, we subscribed to a mail service called Traveling Mailbox. The have a physical address for our mail to be forwarded to. They scan the outside of the envelop and send us an email showing the letter. We then decide whether they need to open and scan it, so we can see what is inside, to trash or shred it, or to file it away for future use. The check deposit was new, so we had to figure out a mailing address for Wells Fargo to set all this up. An option would be to forward it to general delivery at a USPS along our route so we could pick it up and make the deposit. We opted to have it mailed direct to Wells Fargo for the deposit. Pretty seamless, we hope.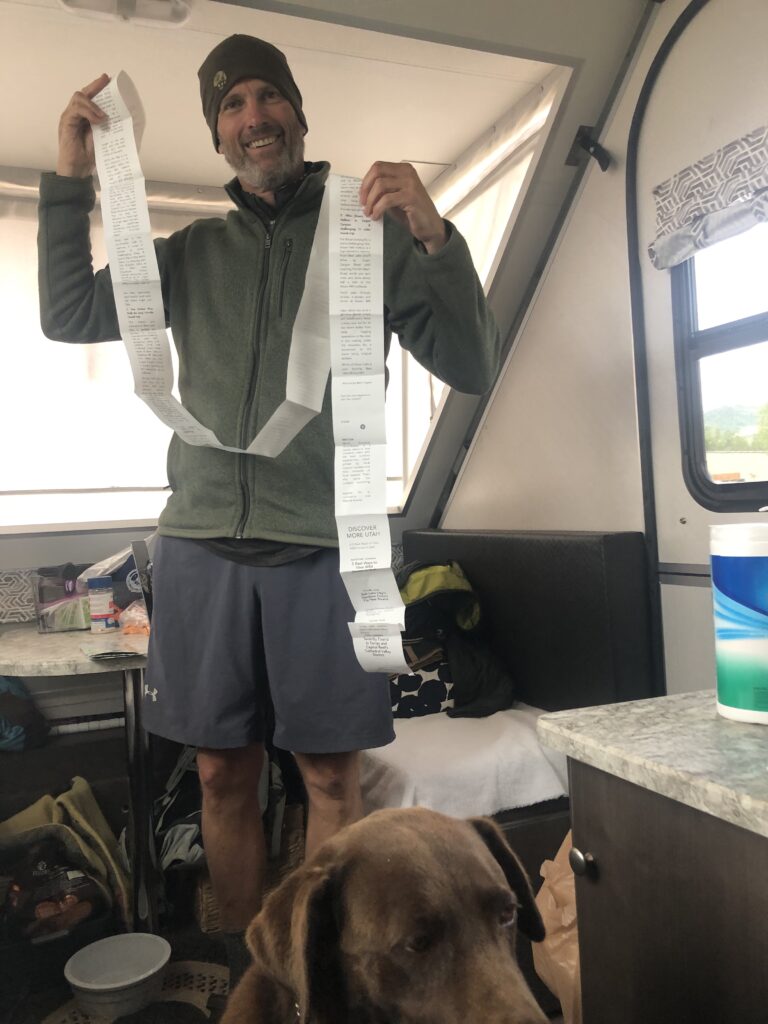 By noon, the weather had improved and we were ready to go. After a conversation with Mr Bob and Diane, she sent us a list the 5 best hikes in the area on credit card receipt paper. After scrolling through them, we opted for the North Fork hike which is the north fork of the St Charles River in Idaho. The road to the trailhead was the same as the Minnetooka Cave which is a local attraction, and closed until June 15. This gave us lots of seclusion for the hike as there were no cars or humans on the road. The trail was an out and back of easy grade and totaled just under 6 miles. It was lush with amazing river views and nice wild flowers. There were lots of wild animal signs but no sightings. Along the way it started snowing which only added to the interest of the hike.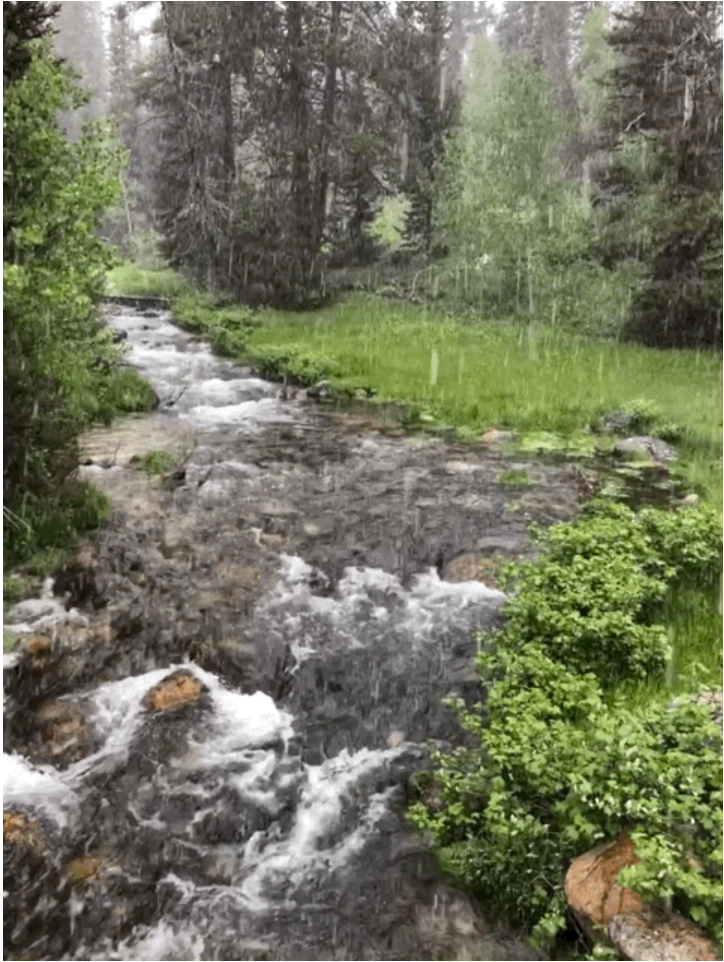 Question: what animal makes thumping noises? This is the second time we have heard this noise and can't find the answer. It sounds like a large hooved animal stomping like 4 or 5 times, then nothing. The first person with the correct answer gets a year free of our blog and bragging rights. Our guess is deer, moose, or a happy KOA Kamp Host, which would be AOK.
We returned to kamp with sun blazing and decided to remove all the inventory from the truck bed to remove all the red dust left over from the San Rafael Swell. While doing that, we also noticed water had settled up near the cab on the floor wetting our truck bedding so that needed washing. All in, we washed, vacummed and prepared the gear for the next phase of our journey.
We also made the decision to stay another night since we hadn't been able to do much activity while here and the place screams fun. We both want to bike around the lake this so maybe tomorrow is the day.
We woke up day three to full on sun shine and blue skies and the excitement of finally being able to give this place a full day outside. The objective of the day was one of those challenges we both felt. We had both read and thought deeply of the 51 mile bike ride around the lake. So circumnavigating the shores of Bear Lake was on. We spent time readying ourselves and the gear for the ride. Readying ourselves began with coffee, a solid breakfast, sunscreen, water, and the appropriate cycling garb. We added a few PSI of air to the tires for the road ride, clipped in, and were off.
The counterclockwise route took us north into Idaho along the busiest section of the road. The first few miles were on a Garden City provided bike path that ended with a small shoulder. This lasts for about 10 miles until you hang a right towards the stretch along the northern border of the lake. Flat through the wild life refuge, "No Dogs Allowed" state park shores, cattle grazing, all backed by a strip of illuminated blue waters and surrounding mountain views. A mouth full, but it all needed to be said. The picture below doesn't do it complete justice.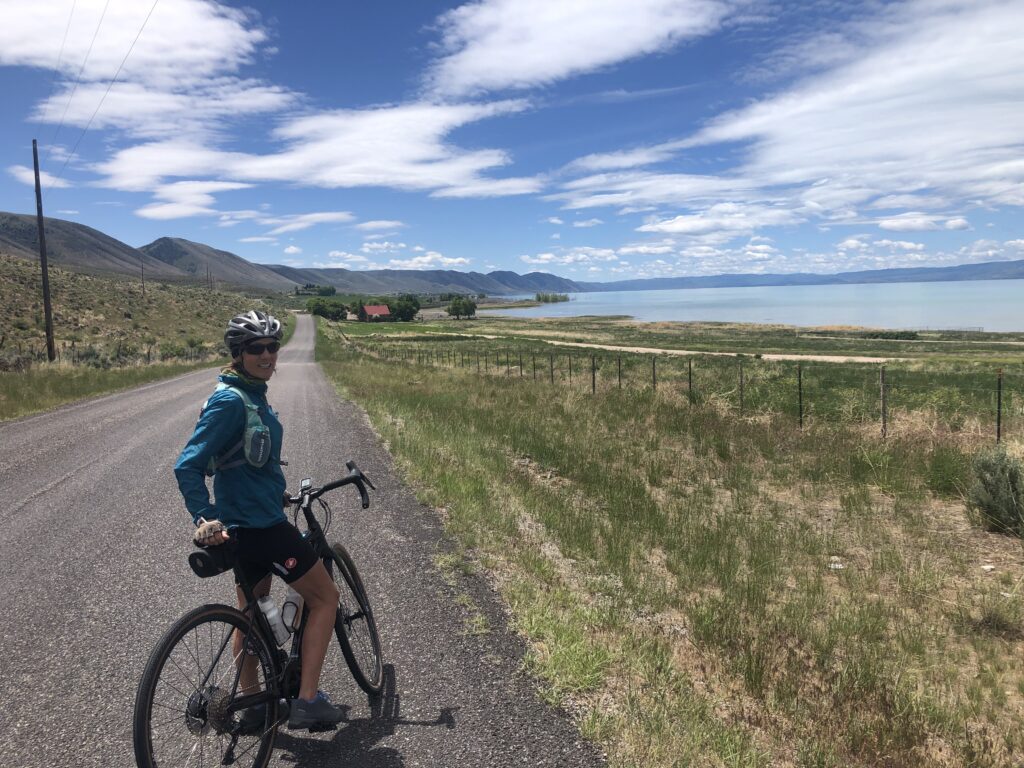 The eastern road has more rolling hills and smaller, less traveled, roads. The north eastern section reminded us in spots of something European with rich green farm land up the the blue waters of the lake. At one point we came up on some cows who started stampeding along with us. First, one cow started running, then as it came up on another few, they would fall into to the run until she had a full on stampede. It was pretty funny to be a part of this.
The road continues south passing four state park campgrounds sitting along the shores, a private camp, and then into a residential section sitting lakeside across the road from more ranching. As you round the southern end, it turns flat again and then moves from agriculture to more state parks and recreational activities. The final 10 mile push to town is a mix of roadside pulloffs for beach activity to the old town of Pickleville (where they have an active, now inactive playhouse) and then into town. We were greeted by a wicked headwind as we made our northerly turn and with no where to hide, simply pushed through. We got back to camp to find that Toohey had done his assigned job of protecting the assets over a 4 hour nap. We ate potato chips, peanut butter, and napped.
This camp has been a fun stop over for us. We didn't fully appreciate the area based on the weather and to do so, would require water activity. There are other trails to explore, the caves, and fishing. There are also many access points to ATV trails, if that's your thing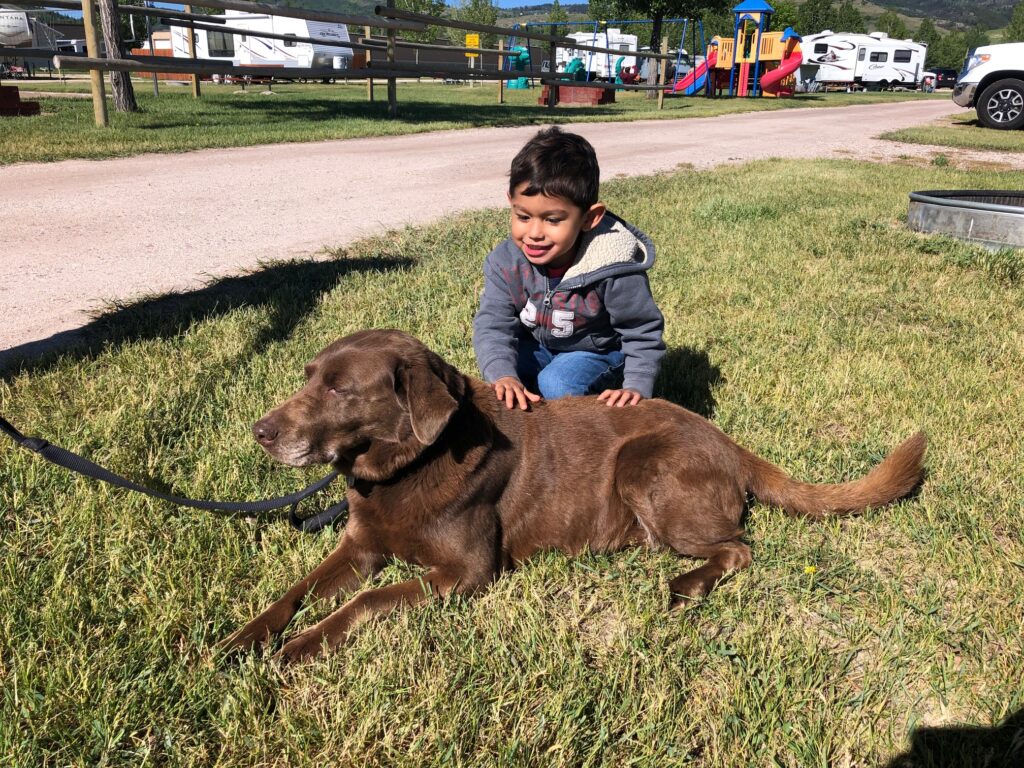 We met some really nice people as camp neighbors. There was a couple from Arizona who traveled with their 16 year old son and dog. The son was reportedly an avid fisherman and after their return from the days activity reported fish for dinner. There was a brief encounter with a young family from LA who came in one night while we slept with their older mother and her walker. They were traveling to the Tetons on a whim and their young son wanted to "touch" Toohey, then eventually adopt him. They mysteriously disappeared as stealthily as they appeared. There was an older couple, he, Canadian and she, British, from Park City area in the next camp in a pop-up trailer. To quote him, "This is a new camper and the second time we've tried this, the first being a complete #@! disaster." They were quite entertaining to watch. They appeared to be in their late 70's. She mostly watched while wearing nice work gloves, and he took several breaks to work through issues. At one point, I saw him standing on small stool topped with a stack of 2×4's to reach something high up on the trailer and could only imagine having to pick him up off the ground. I quickly volunteered my step ladder of which he declined, she encouraged, and later he returned with a smile. They were engaging, drank craft beer and wine, and provided suggestions on areas to see visit in Idaho.
As difficult as their set up was to watch, it makes us appreciate the simplicity of the A-Liner set up and that we are glad we didn't wait until later in life to do this. Although, if your last memory on earth was falling off your stacked 2×4's while setting up your camper at Bear Lake, then is that really so bad?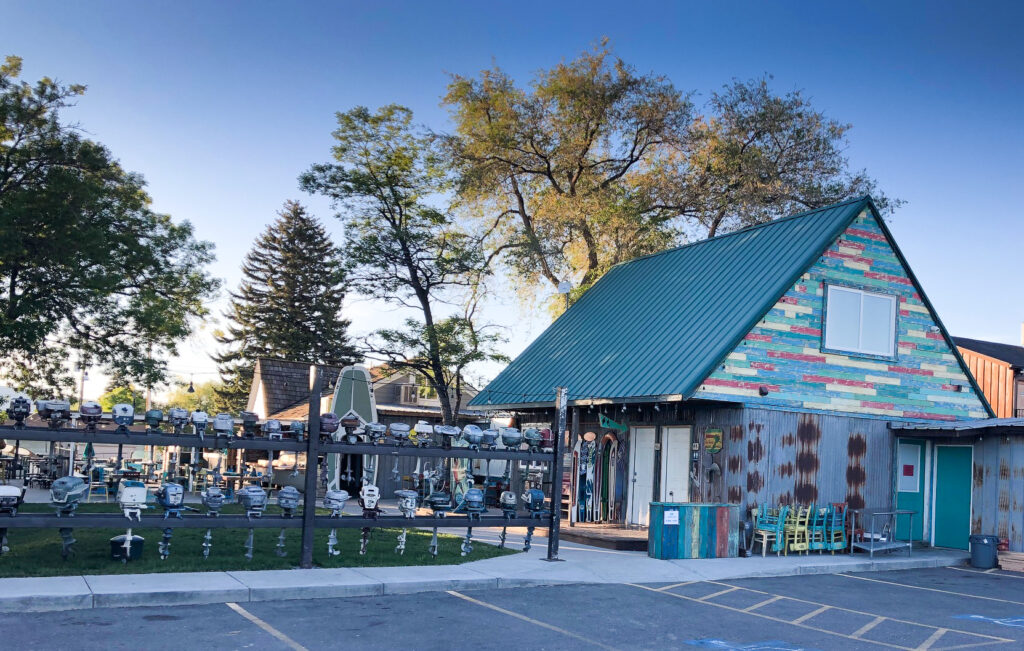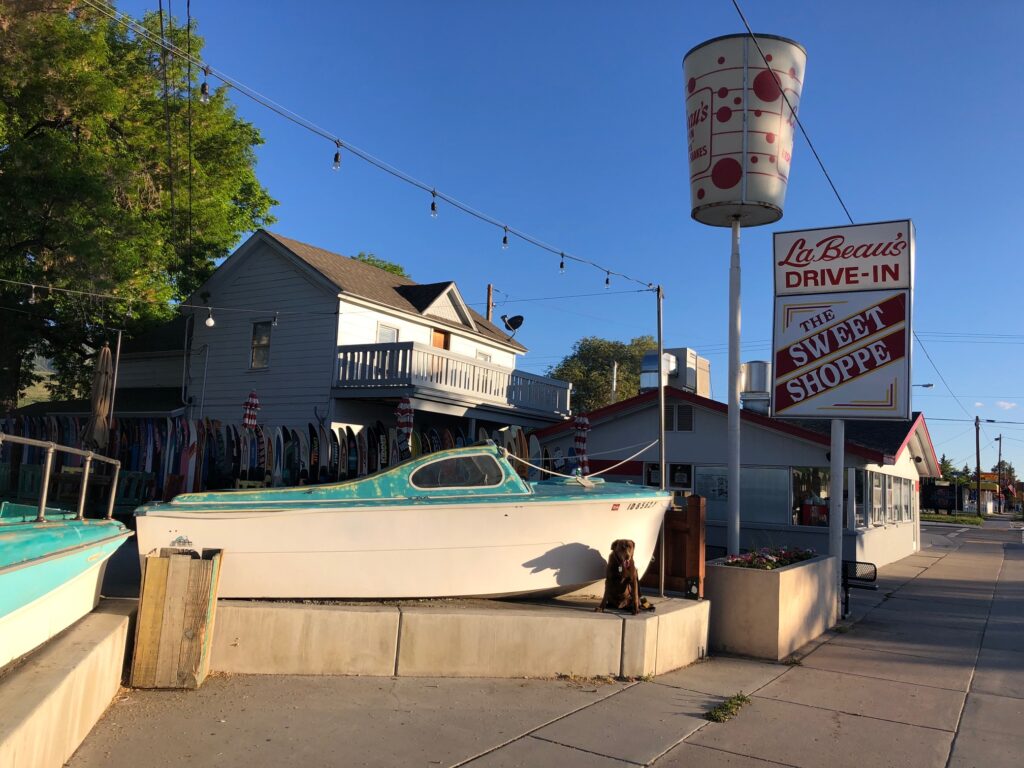 While trying to get my head around leaving this place, I reflect on the good. As you drive into this camp, you could be put off by the cement batch plant (resembling a lighthouse in the morning light), the propane distributor, and the car wash, the large red chair and inflatable bouncy pad, but when you look deeper into the place, there is really lots of beauty here. The people we met, the mountains, and especially, that beautiful Caribbean blue water.