Preparing during the pandemic. This post will roll through several dates until we leave.
March 21, 2020
All the planning and prepping for this trip has been energizing and fun. We both learned a lot about getting the house ready for renting, taxes, Tacoma trucks, mechanical stuff, people, and resigning from great companies. The best way to describe it is we are creating something big from scratch. From day one of the decision, it seemed like the scenario of "how to eat an elephant", not that anyone does that. But how to you manage through something big. For me, it is organizing, prioritizing, executing, all in small manageable chunks. All in all, it has been exhilarating.
As back ground noise for the past few months was this terrible virus causing great human and economic impact to China, South Korea, Iran, and Europe with the occasional word, "pandemic" being dropped. Then, the slow creep of the unthinkable as the virus started staging war on the US, first with quarantined cruise ships and repatriating folks back into the US. From first deaths to the current status of entire cities and states shutting down. New terms like "social separation" are used to describe the only means for stopping the spread so social spots like restaurants have closed, sporting events and concerts cancelled, employees asked to stay home, and the resulting economy flopping like a soggy sponge. All while the virus still spreads with data estimates tossed out but most finding them completely meaningless as they weren't prepared to test and treat a virus of this magnitude. Damn.
So, I get a daily question or two from friends and family about how this impacts us. There is no way to really know at this point, 54 days before we are suppose to leave. I can provide the following thoughts that we have discussed.
We will go if we can. The situation is so fluid that there is no way to truly predict what things will be like on 5/15. It is our hope that all citizens will head the advice of all public officials and social isolate the best they can to prevent the spread. This will shorten the spread and hopefully allow us to go.
States and borders need to be open. Currently California has the shelter in place and the Canadian boarder is closed. Does this allow us to start our trip off as planning in CA? We would certainly need for the Canadian border to reopen so we can make our drive to Alaska.
Our health needs to be stable. We certainly wouldn't leave if we were exposed and had to be quarantined or worse, if we contracted the virus.
Are gas and grocery stores still open and equipped for travelers? Who knows what the situation with this will be 5/15.
Our tenants are in the same situation as us. This is complicated as they are planning to move in and us out. What if we can't travel yet we have given them the keys? What if they can't move in for economic reasons?
So, our best answer is we are still planning on going but we will watch and make final decisions as situations change and as we get closer to our go-date.
April 4, 2020
"The word adventure gets overused. For me, when everything goes wrong – that's when the adventure starts."

Yvon Chouinard, Founder of Patagonia
We watched a movie last night called Sea Gypsies: The Far Side of the World and highly recommend it. The above quote seems relevant especially the part, "when everything goes wrong, that's when the adventure starts."
It has definitely been an interesting few weeks and it feels like what we started in motion this year has tossed us the ultimately knuckle ball. The economy remains in turmoil, all states have some level of stay at home orders. Social separation is the norm. Data on the number of sick and deaths from COVOD 19 continue to rise. National Parks shut down this week and now people are encouraged to wear mask. This is all uncharted waters for everyone but having quit our jobs, rented our house, and now faced with the unknown of allowable travel is quite stressful and a bit unique to the Huntbaums. So where are we.
First, we are absolutely nervous and anxious – yes, and probably based on lots of unknowns such as where we will be allowed to go, will we be welcomed, are there safe places to find comfort in showers, laundry, and hotels.
Our plans of heading west and north still seem slightly doable but what about the opportunity to see National Parks and cross the boarder into Canada in July. There are lots of unknowns and it is the unknowns that create the nervous and anxious feelings.
Now let's consider the alternative. Based on our preparations, we are likely as ready for the unknown as anyone ever living a pandemic. We have funds to live without work, a trailer to live in, and time to be remote and flexible with our adventure. Being alone and outside in remote places is a good thing and supports the need to not spread disease. Making sure we don't get crazy will limit the risk of needing healthcare in an already taxed system. We also can explore the options to change our plans to live an adventure however we choose. For example, if we can't get to Alaska or parks then we can use the year to bike the best roads across the US. We can hike the best hikes in each state, see those remote places that don't restrict travel. Sure, there could be limitations but together we can still make this our adventure and one worthy of our year off. Oh yeah, and during a pandemic.
Today, we unpacked the A-Liner and checked systems, storage, talked of bedding, and kitchen set up. I have the solar panels charging the battery. We have started boxing up and continued getting the house ready for our tenants. The lease is signed and set. So, things are progressing and I believe, those preparations are the best things we can do to manage nerves and anxiety. I feel now more confident about this trip going off than ever.
I heard another person say, we spent our childhood worried about quick sand and piranh's, but maybe we should have paid closer attention to the cooties.
What will next week bring?
April 25, 2020
Everyone has a plan 'till they get punched in the mouth

Mike Tyson
My mom was a beautiful person, great wife, mother, friend, and compassionate to all living things. Words that are used to describe her were sweet, loving, compassionate, spiritual, and so on. I have watched her fix a sandwich for the homeless, raise money for those needing healthcare in 3rd world countries, defend others honor, and laugh and cry with friends and family. She was that type of great human whose generosity of giving of herself, her ability to listen and bring warmth and dignity to any situation, and simply love. Needless to say she touched many in her life and leaves us with a huge void. My mom passed away this week after a long battle with Alzheimers. I miss her greatly as do all those fortunate enough to have known her..
https://foxandweeks.com/obituaries/o/7507/Estella-Saussy-Nussbaum
Remaining on track for our trip is the focus and tougher some weeks than others. This week was definitely a challenge. Since the last post, we have become more familiar with the A-Liner systems to include water, AC, heater, and refrigerator, purchased bedding, received a gift of an inflatable stand up paddle board, and purchased the Go Anywhere Portable Toilet.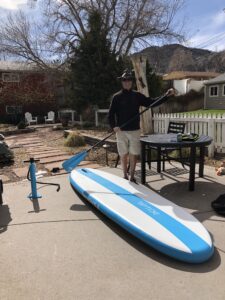 The toilet, as advertised, packs down to the size of a briefcase, is easy set up and hopefully it is as "military tough" as shown on the box. That remains to be seen. Lysette's sisters had a big laugh at this as we demonstrated how it sets up and breaks down over FaceTime. They asked about privacy and we told them of the tent option that comes in a variety of color choices, but interestedly enough, hunter safety orange isn't an option, even though it would have been our 1st choice. The last place I'd want to be mistaken by a big game hunter for prey would be at my most vulnerable.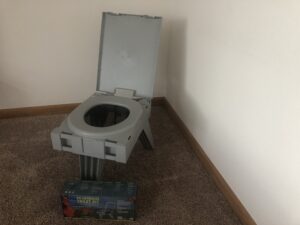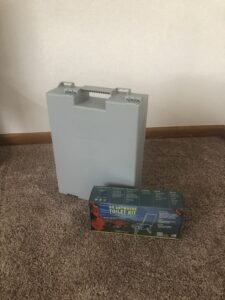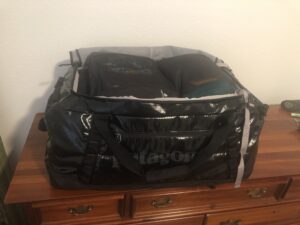 Several weeks ago I packed my clothes in a 70 liter duffle with small packing cubes for each category of clothes. I have been living out of these for the past few weeks making refinements along the way to hopefully make sure I take just the right amount.. This system seems to working for me as it keeps it organized and easy to find the cube and replace it while keeping order in the bag.
The last items we have on our list include home insurance adjustments, Toohey to the vet for a last check up, vaccinations, and to get all his documents for traveling. I need some final supplies such as a grease gun for the trailer wheels/hubs, tool roll for ratchets, and outdoor rug for the trailer. We are making final arrangements with our friends/tenants and getting the house ready for them to move in. During all this, we hope to carve out a few days to take the rig on a quick camping trip to try it all out.
Our last day of work is April 30, next Thursday so we are getting in the mindset of living within our new means and being prepared to adjust to the new normal during the new normal. We still don't have any definite plans beyond what is provided here but we will look at the country, surrounding states on 5/15 and head where we can.
May, 8 2020
This update comes to you on the last day of Colorado's Shelter in Place order day and the shift to Safer at Home…. PROGRESS!
I was reading a health and wellness article that was written in 2015 which provided the 5 most stressful life events.
Death of a loved one
Divorce
Moving
Major illness or injury
Job loss
They don't suggest Pandemic, but if you insert the word "world" into, say major illness or injury, then we are living are the fringe of 4 of the 5, and quite frankly, managing through it quite fabulously. Maybe it is the distraction of focusing on getting stuff done or maybe it is the drive to live this life we set in play this year. Whatever the reason, we are making the most of each day while handling all the steady shit life chunks our way.
With that in mind, the following is a list of highlights since the last post on 4/25.
Retirement
Updated schedule
New gear
New thoughts
First, what are we up to. We are currently working hard everyday to get things organized and packed, the house in order, taking care of personal needs like last minute doctor appointments, prepare the A-Liner. and, of course, Lysette's Bio. (See The Bios Page)
Packing the house seems like it would be easier if we just emptied it completely! But making us go through each drawer, closet, room has shown me that we hold on to lots of stuff. Stuff is usually stored for functional reasons, you use it, or for emotional connection, it is tied to something personal that you don't wan't let go of. Or lastly, the hassle or cost of replacing it should the trend reappear at some later date. For example, if you are holding on the a 1970's winged collared polyester leisure suit or maybe a nice plastic bag from a department store shopping trip. Needless to say, we are making progress and it will be ready next week for the tenants to move in.
The A-Liner learning curve has progressed. We have figured out the water system but have yet to sanitize the tank as we are waiting to assure that the probability of another freeze has gone before filling the tank and lines. The next step before filling the tank and using the system is to shock it with a bleach mixture to assure there is nothing harmful swimming about. We will likely do this over the next few days. We have also started placing supplies in storage holes and cubbies. This is fun to figure out as will be the whole puzzle of connecting the entire travel system with supplies and toys.
Now for the highlighted topics above.
Retirement
Lysette and I both walked away from our careers after 30 plus years. Monday was the first formal day of no work and I will say it was somewhat weird. I felt the need to wake up early, make a to-do list, and follow it. I intentionally wanted to remain busy to prevent binge watching Netflix and afternoon naps. The rest of the week has relaxed a bit but still feeling the need to write out important things of the day.
It is also difficult saying that I am retired. Retirement was always for old people but I guess I am chronologically close to fitting into the place. However, I don't feel old and refuse act like the stereotypical retiree. Our plans are travel and adventure, to remain young, active and to live life. I saw a sweat shirt on a Facebook ad this week that said, "Assuming I was just some old man was your first mistake." Our vision is to live like this. To take risk, push to remain active and adventurous. To continue to grow experiences and live off the map.
Updated schedule
We had originally intended to set off on 5/15 but those plans have been adjusted slightly. As mentioned previously, my amazing mom passed away and the funeral service has been set of 5/18. Our plan now is to move out early next week so we can continue to clean and prepare the house. We will likely move into the A-Liner once we remove the bed this weekend. We will then move the trailer to an RV park with bathrooms and hook up's on 5/15 until we fly out on 5/17.
We fly to Savannah on 5/17 and return on the 20th. Our friends will keep Toohey but if we don't have a spot at the RV park then we need to find a place to stick the house. That shouldn't be a problem as we have had many friends step up to offer driveways and yards to store the A-Liner while we are away.
We return on 5/20, and provided all flights go off as scheduled, we will pick up the dog, possibly spend another night around Golden before departing on our journey west. Yes, still west, somewhere, on 5/21.
New Gear
Lysette and I both purchased new gravel bikes. These are the perfect solution to traveling for long periods and wanting to ride both paved and dirt roads with limited storage. Mine is a Cannondale Topstone 105 and hers is a Specialized Diverge.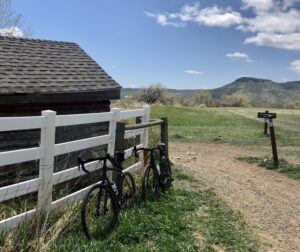 New thoughts
Lysette and I were hanging out in the A-Liner in our front yard when she asked, what will your typical day look like? That got us talking about the buckets of daily living that can be formed into an agenda, should we still need an agenda. Given that some of our overall goals are to remain fit, live adventure, come together, grow and of course daily living needs like food, clean clothes, and supplies, and such. So the following are some thoughts around that conversation.
Getting started. Of course every morning begins with feeding the dog, coffee and simply waking up. As a part of that, I like to take time to think about the day, life, and get thoughts onto paper. My most creative time comes in the morning.
Active lifestyle. We will prioritize a daily workout to feed the fitness bug. We both have new gravel bikes, have road and trail running shoes, and the stand up paddle board so getting out for a ride, run, hike or paddle should be a part of the early day.
Creativity. For me it is writing and for Lysette, photography. Whatever that looks like in the end will include some time doing what we individually want to do.
Personal growth. Reading and making sure we are searching out the value that we can bring next. Also, fly fishing. I have wanted to stand in the amazing streams of the west and cast a fly line since coming to Colorado but have never made the time.
One last thing
Working through this preparation has been difficult at times and we really appreciate the conversations we have with friends and family who, despite all that life is lobbing our way, remain excited and encourage us. The positive conversations are those who are inspired by what we are doing, provide energy to the direction we have set in play, and support that with encouragement. So please, encourage, support, be inspired. We need and appreciate that momentum, that boost!