The Kemp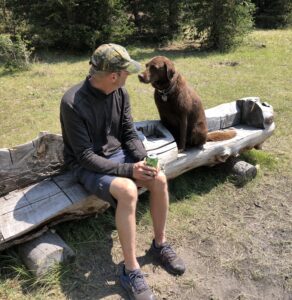 Somewhere along the way I fell in love with all animals but have most experience with dogs, retrievers, and labs of some sort. I tried a hound dog once but he taught me the importance of will in training, and he had lots of will to resist any thought of being trained. This guy, Toohey, was adopted and has been one of my greatest enjoyments and challenges. He loves being with us, is food motivated, easily trained, and is quite photogenic. His challenges are fear aggression towards some humans, dogs who stare at him, and crotch sniffing unsuspecting humans who visit us. Fear aggression is much less embarrassing to explain away than crotch sniffing.
Currently, I'm in my 56th year and have lived a pretty remarkable life. Born to the greatest parents a person could ask for who taught me kindness, gratitude, ethics (except cheating in Uno), and always accepted me even though I was a pain in their ass at times.
I had a great childhood, playing anything outside, camping, sports, mini bikes, and all those things that go with the stereotypical coming of age stuff. I lived in great places meeting good people along the way. Genetically, I was given good health, a love for people, and an empathy for all living things. I have 3 superior adult children, awesome daughter in laws, and have two wonderful grandchildren and Hank. They've all grown to be amazing adults, each choosing their own journey through life.
My wife Lysette is an amazing friend who also shares a love for doing stuff, being outdoors, and has a wonderful eye for seeing the detail in life. I am lucky to have her as a travel companion.
I have one sister whose early childhood I ruined by being born 11 days short of her first year. I spent most of my childhood doing everything I could to annoy her, and despite that, we have a strong relationship now. We need this to help raise our aging parents. Honestly, I have lots of respect for her and the life she lives. She is a great mom, grandma, wife, daughter, and sister and lives each aspect of that with moral convictions and high ethical standards. All that, even though she made me cry when I was like 3, because she called my teddy bear names.
I have spent 33 years in the insurance, risk management, and loss control field, learning tons and feeling like I finally get it. The toughest part of my career is answering the question, "what do you do for a living?" There is a definite look when you are talking to, say, a movie producer of documentaries, who then asks you what you do and you respond, insurance. To compensate, at about 20 years into my career I started answering, "I save lives and prevent disaster." Much sexier although you then have to explain that I'm not a super hero, scientist, or doctor, but an insurance professional.
I have worked for mostly incredible people, great organizations, and have experienced lots of personal and professional growth. Stepping away on 5/1 is exactly 33 years to the date that I stepped into the field and I can honestly say it has been great.
My hope for this journey is to take time to enjoy my wife, our families, friends, Toohey, and to see and experience a variety of life. I am committed to staying active through hiking, running, biking and hopefully some kayaking along the way. I am committed to continued learning. I want to spend time daily exploring all options for my next years of life.
When we started planning this adventure, I thought the greatest fear would be not having a job, health insurance, and/or running out of money. As it turns out, I think it will be way more scary to choose this time off and not feel fulfilled at the end.
Lysette

I was born in Boston to Australian parents who married and then traveled for the US where my father was an assistant professor at Tufts. One position led to another, they became citizens and stayed. They come from large families and I am fortunate to have many relatives (70 first cousins). My Aussie relatives are wonderful, full of light and laughter, and always make us feel like we are home when we visit.
I have an older sister, younger sister and baby brother. They are all super cool, funny, smart, and really tall. I also have several wonderful nieces and nephews who inspire me daily.
One of my bucket list items is a self-supported bike across the USA. With someone else to remind me it's about the journey as I'm more of a destination person. Kemp is just the right person for that journey. 
My parents had a deal that if we saved up enough money for half a bike by the time we were 11, they would chip in the other half. I saved every penny and was surprised early with a sparkly forest green 3-speed Raleigh. It was beautiful. My sister made me feel particularly guilty as her bike was called "Free-spirit", which also happened to be the name of a bra. This is the first and only time I have had something that was way cooler than hers.
In high school, my younger sister taught me how to draft (cycling) on 32nd between Applewood and downtown Golden, Colorado. In college I often commuted from Boulder to Denver West by bike for a summer job. People in Colorado were a lot nicer to cyclists in the 80's, but even then Hwy 93 was scary. After riding it into Boulder in the rain, with cars flying by, I bought my first helmet. 
I graduated CU with a BS in Chemical Engineering and went to work for Bailey Controls in Cleveland, OH. Surprisingly Cleveland turned out to be a great place to bike when the weather was decent. Between the metro parks and the Amish farmland to the east, there were a lot of beautiful routes. My first major purchase there was a beautifully painted custom Franklin bike.
Work and life took me to Savannah, GA by way of Philadelphia and Virginia. Biking was not a thing in Savannah. Roads were very narrow and if a car ran a stop sign and hit you, you were the one who got the ticket. At least that was my experience.
My brother invited me to join him on Ride the Rockies. I was 34 and sure I would be the oldest person there. I followed the training guidelines, found a couple of local cycling groups, and did lots of circles around Hunter Air Force at an elevation of 40 feet above sea level. I was hooked. We did RTR several times. One of my now dearest Savannah friends was also doing RTR at the same time and invited me to ride with her group when we got back. They were triathletes. From there I got sucked into running, then swimming, then triathlons, half-ironmen, marathons and finally a couple of full ironmans. I moved across country to Seattle to get away from those bad influencers.  
A few years ago Kemp & I went out for a three day credit-card ride, a trial run to build to a cross country ride. I'd been having problems with an irregular heartbeat, but wasn't aware that it could be triggered by exercise until day three of our ride. It was hot, we were riding from Paonia to Gunnison over the Black Canyon. There wasn't a tree in sight, it was getting hotter. I couldn't even pedal slowly. Kemp stuck out his thumb, and a nice young couple gave us a ride over the pass. The irregular heartbeats started to occur more frequently, with and without exercise. I have seen a few electrophysiologists since then and I am getting it under control with minimal medicines and no operation.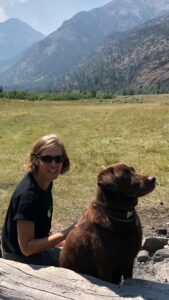 The past few years have made me realize I have limitations. When Kemp started forming this idea of a "gap year" last year, I jumped on board. It's not biking across the US, but we can bike, hike, and backpack, and best of all, Toohey can join us.
Despite everything that is going on around us and all the new unknowns, I am excited to get started and sure we will find a way to make the most of this year.
The Dog
Toohey is truly the greatest. Toohey is named after Toohey's New which is an Australian beer. We don't know much about his first 18 months of life, his estimated age when he found us, his forever family. All we really know about him is that he was rescued from a kill shelter some place in Arkansas and delivered to the Rocky Mountain Lab Rescue . His smiling grill on the adoptable dog photos page of their web site immediately won me over.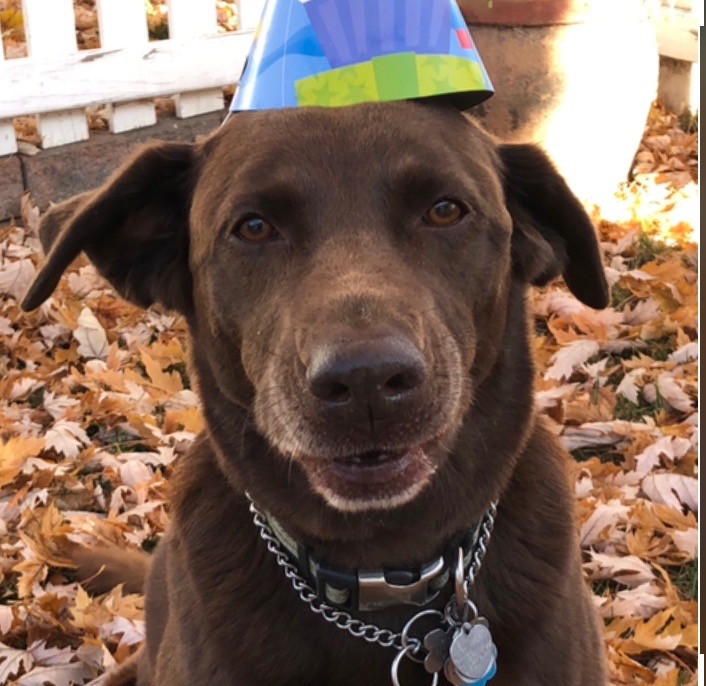 Toohey is often mistaken for a Chocolate Lab but we refer to him as the Best Dog Ever, or BDE. As with many rescues, his early years with us required lots of patient training to give him the security and confidence to not feel threatened by the unknown. He has come to appreciate the secure confines of his home and leash as it saves him from himself when his fear aggression kicks in. It wasn't his fault that the fine folks who owned him in Arkansas weren't adequately equipped to properly train "quality" into a dog. We did, and he is amazing, and a huge foundation to our small happy family.
Several months after adopting Toohey, we purchased a genetic test to help us round out his story. The test results confirmed that he is 70% Labrador Retriever with remaining equal parts Border Collie and Pekinese. We blame the latter gene for any near flaws (fear aggression and several large vet bills where he couldn't process things that involuntarily ended up in his stomach) that we might see.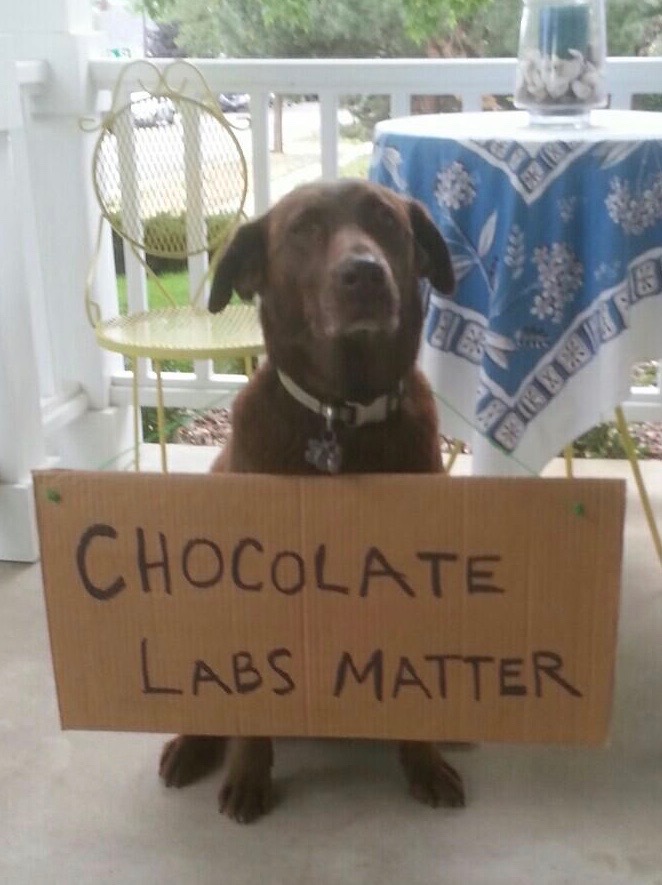 He is now about 12 years old, 84 in human years. After many years of long distance running and hikes with us, he has developed a gimp from arthritis in his front right elbow. He also recently had several bumps cosmetically removed from his face and teeth cleaned, so his mug and grill are amazing. All this has produced the most fantastic dog with an uncanny ability to bring a tail wag and smile to our faces.