The Travels With Toohey Team crossed the Mackinac Bridge over the Strait of Mackinac, took the first exit off I-75, and turned the rig right. Our goal for the day was a sloverlanding drive along the small roads of the west side of the Michigan Mitt, along Lake Michigan, down to some place near Traverse City. The drive took us on many turns, always moving us south and west towards the shore. Some of the roads were filled with pot holes and lumpy repairs that made us think of our time in Craters of the Moon in Idaho. This drive along the road also reminding me of the scene in the movie On Golden Pond when the kid character, Billy Ray, Jr, perched on the bow of the old wooden boat to help Norman unsuccessfully navigate through a field of rocks to find a fishing hole. The road was narrow, two lanes and surrounded by all the trees and foliage that we have enjoyed throughout the state. And thankfully, we were more successful than Norman managing to get through it without incident.
Our first pleasant encounter was in the small community township of Cross Village and the historically insignificant landmark of Legs Inn. There are a few other structures there such as a homes, cafe, stone church, c-store, but all pale in comparison to the Legs Inn. The architectural fun includes large wooden doors, one constructed using tree trunks with burls, heavy stone walls, and the signature mark, the stove legs used to ornate the spaces between the stone columns along the roof line. Pretty interesting and pretty much out of nowhere. We arrived just before noon with a lunch line fully formed so there must be some good eats inside, or maybe it is just the experience. Either way, a pretty cool place.
We opted for lunch on the drive, continuing from Cross Village into the Tunnel of Trees. This drive is truly what it says as you wind your way along a road, not wide enough for center line markings, requiring me to pull in my side view mirror with extenders, for the next 20 miles so they didn't strike any other passing motorist. The speed limit is listed at 45 mph, but seriously, this road winds, twist and turns mostly in the tunnel of trees so we never got within 10 mph of the top allowed speed for the sake of team safety. There are homes tucked here and there, some small older cottages and some large and proud. We had occasional views of the lake and a select few openings where we saw pumpkin farms and rolling fields with nice barns.
Just before entering the town of Harbor Springs you pass a really nice looking golf course complete with large houses. We drove along an old row of beautiful Victorian houses sitting majestically up on the hill to our left, with views of Lake Michigan to our right.
Harbor Springs got a short glancing blow from our journey as we drove down the old main retail district with people out, shops and restaurants open for business and busy. The team left town as quickly as we entered now heading for the town of Petoskey. The traffic thickened as we kept a steady pace through some small construction zones. We drove through the main retail district of Petoskey with a bridge that connects a smaller lake to Lake Michigan, a harbor marina with more pleasure boats than working boats, and an active area, full of color and energy. We made a slight right as we left town now following Lake Michigan with a well designed bike lane and small patch of land between us and the lake. There were frequent pull-offs along the shore where you witness water as blue as any water I have seen in the Bahamas, but much colder. We stopped in one of the pull-offs so Toohey could have a drink and the Photography Department could photograph.
Toohey and I stopped and talked to a couple sitting at a picnic table who were taking a short break from their day of cycling the lakeshore. They were from Illinois and have been coming here to bike this route for a few years as they greatly enjoy it for the views and cooler temperatures. We shared a few stories about where they like to bike, his thoughts of traveling with a trailer, and their experience with Colorado, before moving on.
We continued our drive, moving away from the coast, passing through farm communities with roadside fruit and apple cider stands while making the decision to head for Guernsey Lake. This lake sits east of Traverse City in the Sand Lakes Quiet Area. We stopped about 8 miles out to refuel and get some ice before making our first attempt into the camp based on Google directions. First, a quick warning on following Google to places like this. The Google voice, she that barks out information, doesn't know your equipment nor does she know the road conditions for where she is sending you nor does she care. So when we got to a point, a last possible turnaround before the road got gnarly, we turned around. We cut our loses on time and mileage, failed fast, which is failing best. We then tried another route requiring us to go back out to the main road and farther east before making more turns back into the forest which worked perfectly, even though the Google voice was now getting hoarse.
We entered Guernsey Lake Campground, site No. 10. We backed in like pros, unhitched, and set up camp. The site was large, wide and mostly flat side to side with a slight tilt down towards the lake, making for an easy set up. It was dirt ground, but not dusty or muddy, and packed with nice healthy hard woods and pines. After setting up, Lysette made the walk back to the self-pay station and I pulled out the small manual butter knife (saw) and hatchet to prepare firewood from surrounding fallen trees for a small fire as the temps were forecasted to drop into the 30's.
We then strolled the small hike along the lake which is a connector for the North Country Trail (NCT) which, we again crossed as it runs through this camp. We met up with one single through-hiker who, at age 63, had never done an over night hike before this one. His goal is to hike the Michigan section from the Ohio line. His destination for this trip was 6 nights to where ever he calls his son from on Sunday to pick him up. He'd like to make it to the Machinac Bridge but will take what he can get. He was good natured man with high spirits even after a full day on the trail. His trip was the result of a fall accident that left him pretty banged up and in bed for quite a while. Having never done anything like this, he promised himself he'd do something on his feet when he recovered, so he found this hike. Another interesting thing was the weight of his pack. With food and water, it was right around 14 pounds. He is hiking with the same Osprey 22 daypack I use to carry my computer and a bottle of water.
We returned to camp, had dinner, drink, and small Native American sized fire before hitting the hay.
The sun broke over the tree tops about the time we gulped down our first sips of coffee. This, followed by a Lara Bar and running clothes, told Toohey without using a word that we were going for a run. We opted for, we think, the North section of the NCT from camp. The trail starts along the Geurnsey Lake shoreline before jumping up and into the woods following the light blue diamond blazes, here painted on the trees. For the first time on the trip I found myself crunching acorns underfoot while along the trail as I ran. The oak trees that drop these nuts, which have shapes that have always reminded me of an alien with a funny pointed hat, are mixed in with other hardwoods and white pines. The trail weaved in and out of trees requiring us to high step over roots and duck under a few, not fallen, but severely leaning trees. We connected and ran along the shore to Shore Horse Trail which links Lake Huron to Lake Michigan, and crossed several dirt forest service roads. There were a few times we saw, but never heard, white tailed deer as they hopped through the trees as we approached. It is amazing how such large animals can move so gracefully without making a lot of noise. Preservation of life is my guess. As the buzzer went off indicating enough outward bound distance, we made an about face and headed inbound towards home over the same crunchy acorns, following the opposite pale blue diamond shaped blazes painted on the trees.
With no documented confirmation of the exact name of the thin piece of land projecting in the the lake, the team at Travels with Toohey will refer to it as the Mission Peninsula, and our choice for the day's exploration. This is a long narrow spit of land extending north from the bays of Traverse City, about 18 miles, separating the east and west bays, to an old lighthouse. The land only seems to be good enough for apple trees, vineyards, and beautiful scenery of both as they flow down off either side of M-37 to the blue waters of the lake. Along the drive are wine stops, fruit stands, and even lavender stands. Our first pass was north along the peninsula as it flowed through the hills all the way to the end of the road. At the end of the road is a lighthouse and a loop sending you south. Heading south, we turned left on a side road and through Old Mission Bay, passed an old bay, an inn, and a bearded goat, or as my sister would refer to it, a lazy goat with growth.
We got back to the main road quickly deciding on a right turn, speculating that based on the vineyards in our sight, that it could be a good direction for the drive. As with all the side roads, these were small and beautiful with all kinds of healthy fruit trees creating scenery worth photographing. We made several more turns moving back in the direction of M-37 before getting there. Now turning south we pulled the rig off the road for a stop at a fruit stand. We purchased honey crisp apples grown locally, some multi-colored small tomatoes, and a variety pack of plums of varying colors. I stood at the tailgate sampling one of each plum before securing the rear of the bed and heading south again.
We turned east into the parking lot of an old schoolhouse renovated into the Peninsula Winery tasting room. We whisped into to the queue behind one other couple outside and just before several large groups were delivered by a tour bus. We got our wine trays filled with wines we selected from a nice man originally from the Swan Valley area in Montana where we had camped. We sat at a rought iron table positioned in the sun which was nice given the cool fall day as we tasted the wine. The Beverage Department of the journey team made a decision to purchase a bottle of the Merlot. As we got back to the Tacoma, Toohey, who had been on duty to protect the assets, reminded us that it was pay time, so we fed and walked him.
We drove back into Traverse City, made a slow drive down its active and nice looking main street, then hucked a left with directions to the Target on Airport Rd. We completed our provision resupply then headed back to camp for diner, drink, fire, and research on the future of our journey. It was a full day, lots of warm sunshine, blue sky and amazing scenery, both on the morning run and driving the peninsula.
After discussions and debate, we decided to pack it up and head down the coast to the KOA in Muskegon, MI. The hitch up went smoothly as you would expect from two traveling professionals now in their fourth month. We drove out of the state forest and into the southern outskirts of the town of Kalaska where we turned south onto highway 131. We stopped shortly after to fuel up the Tacoma. What happened after that was a maze of right and left turns on small roads, picturesque farms, and other small towns that left the Google girl with a British accent frustrated but us happy. If I could remember all the turns, I'd likely bullet them but there were just too many roads that we were on for short stretches. In the end, it was the perfect drive.
The team popped out of the backroads and into the shore front town of Ludington where we found a beach front spot to stop the rig for a break, walk, and retrieve apples from the food bin for a mid-afternoon calorie upload. Toohey went to the grass, peed, and then rolled in the grass. Then he smelled some stuff. The beaches were white sand perfect for a play day with no large dunes to walk over. There was a manmade bulkhead that extended into the harbor to a lighthouse marking the entrance. We watched as people were walking along this with waves splashing into the southern side, certainly getting them wet. There were a few small fishing boats pounding through the choppy waters, returning to the protection of the bay.
We finished our apples and decided to carry on. As the day was now getting on, we chose the more direct route to our camp which was highway 31, a 4-lane limited highway, more interstate style road with exit ramps and not really our style. But being low on the turn tank from earlier in the day, we pushed on.
We made Kamp, a KOA, which was AOK. This one in Muskegon, was a Journey, two small loops of kamps on either side of the main building, office, bathrooms, and along a small, somewhat unremarkable lake. Our site, No. 15 backed up to a fence separating us from the main road into the kamp, had a tree and was klean. We quickly, and smoothly set up, showered and made a few kalls to family to check in.
Our plan for travel was set. We will make the quick exit from Michigan using the fast route on interstate highways. This is against the Travel With Toohey Team mission but something we felt we needed to do as we ended up on the west side of the state and from a timing standpoint, couldn't afford the sloverlanding method of a few more days to get to Ohio. So we booked it out on a Sunday, and made our way to the state line of Ohio and beyond.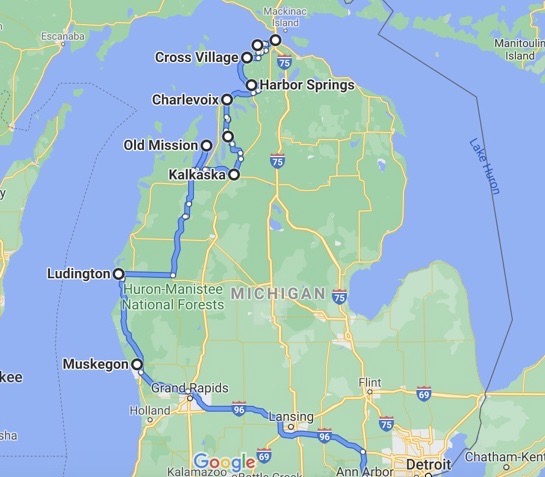 Michigan is a large state with huge shorelines. The amount of water you experience is amazing and becomes expected everywhere if you remain along the shores, which we mostly did. The small bit inland we saw was nice, with lush healthy forest, picture-worthy rural farmlands, and nice small towns and villages. We didn't see the eastern shore or much of the middle of the state as we had to be selective with our place and time. Traverse City was the largest city we entered so we can't speak to the metro life around the state. Overall, it has been a great place to visit but the journey must move on. We only have seven months left and the cold weather is falling south.