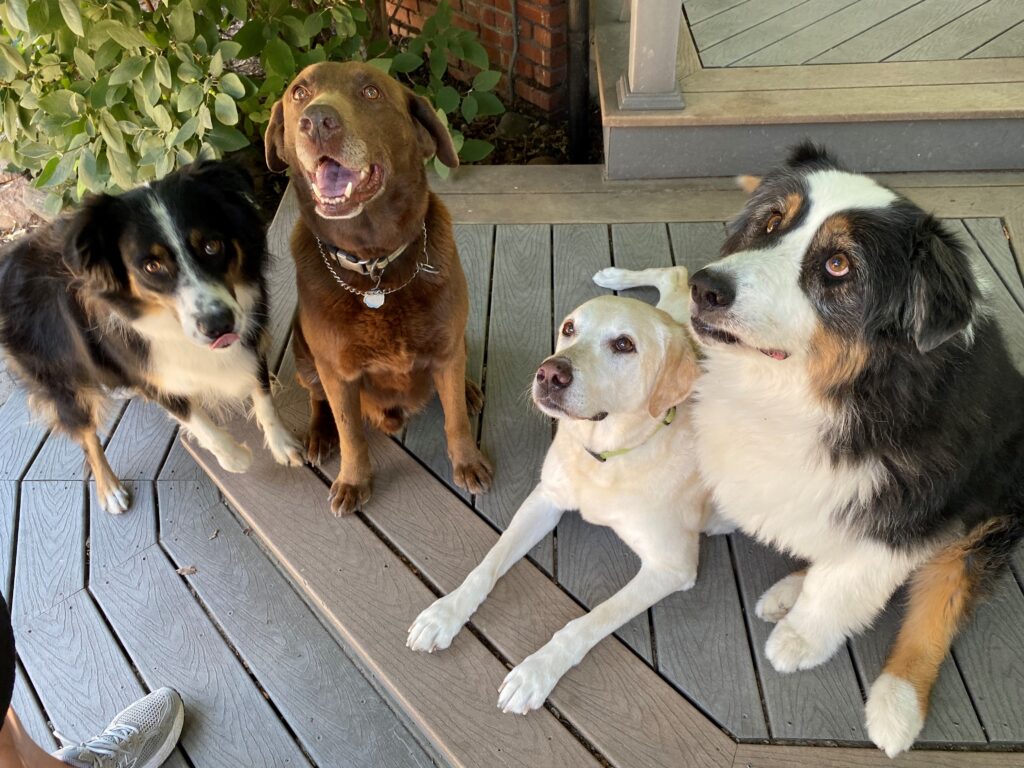 One of the things we have enjoyed most has been visiting family and friends along the way. Montana, a huge state, the 4th largest in terms of area of all 50 states, would provide the most family and friends interaction of our journey to date. We were able to meet up with several of my friends from my previous employment and then spend extended time with Lysette's sister (Toby's Grandmother for those paying attention to an early blog) and family while in Billings. We also hooked up with a past running club member from Golden to run a local trail outside of Billings. Our enjoyment with all of this really underscores the need for contact and interaction with others and how much this time with people feeds our soul. Thanks to each of you for the value of your friendship, time, and knowledge for our trip through your wonderfully magnificent state.
The other thing about Montana is what we didn't see and experience here. We moved quickly with a purpose knowing we can easily get back here from Colorado to explore the area further. So we leave it for now with definite destinations on our future return.
We spent some time recently thinking about what we've done, seen, and experienced along the way. Taking account of how fortunate we are to be able to make this journey and have experiences that most seldom or might never get.
Based on the current conditions of cootie infestation, we made the decision early on to focus our journey on the wild and beauty of each state, forgoing the cities that we might otherwise have enjoyed. The cootie thing played a major roll in that decision but we have found opportunity in the misfortune of a pandemic.
Staying out of cities has also limited us to not eating in restaurants, spending more time in grocery stores, and, the best thing, more time remote and in the wild parts of each area. Well, as wild as we can be with a 12 foot trailer.
Our journey started in the desert of Utah, passed through the high mountains and valleys of Utah, Idaho and eastern Oregon before making the fabulous drive up the coast of Oregon and into Washington. Our time on Whidbey Island, the hikes of old growth and the Northern Cascades mountains, was fabulous. Montana was big, raw and rugged. We currently travel with dirt, dust, and amazing fond new memories from each of those places while looking forward to our continued move east.
Montana Travel Journal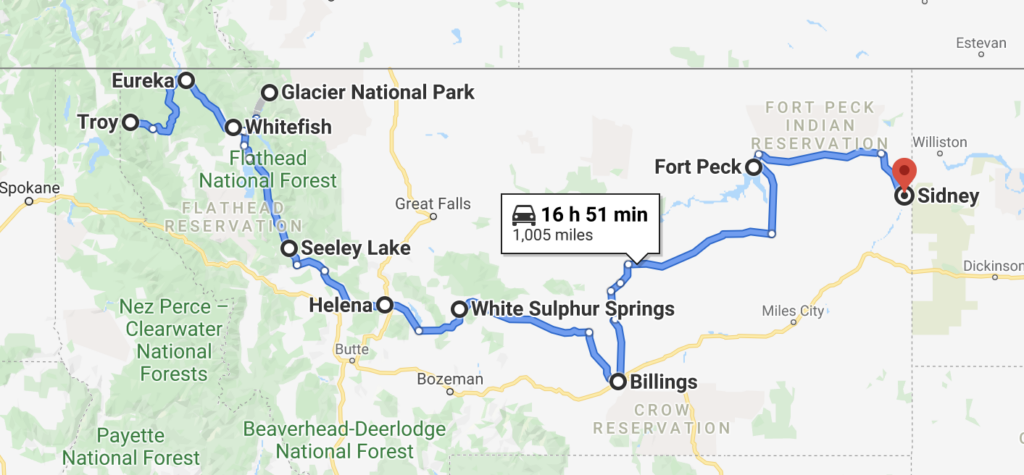 We drove into Montana along the large and beautiful Kootenai River, through the town of Libby, then north for a bit along the 60 plus miles of a man-made lake called the Koocanusa (this cheesy lake name is a combo of Kootenia, from the river that the large concrete mass cut off, then Canada and USA of which the large lake sits). We passed by the Koocanusa bridge which at 215 feet is the tallest and longest bridge in the state. We watched as two men in their twenties drove up and walked the area finally determining not to jump the 215 feet for sport today due to high winds. Our thought, crazy with no wind. This is a thing of which we would have happily photographed.
Our direction then turned southerly through the town of Eureka and into a valley with Glacier National Park somewhere to the east. Upon leaving the Kootenai National Forest, we entered the Flat Tops National Forest. The Stillwater State Forest is a landtrust providing money to recreation and education for the state and sits within the Flat Tops National Forest. Not having good maps, we stopped at the Stillwater State Forest ranger office and met a lively ranger named Nicky. She was energetic and big on information about camping in the area. After going over our options with her, we opted to make a 14 mile drive up a gravel road with the chance of a spot at the Upper Whitefish Lake Campground, her campground as she commented. They request a donation of $5/night at this campground. Campsites are first come first serve with campfire rings and picnic tables. There are two pit toilets for the 15 campsites to share. There is a boat ramp for small, non-powered boats to enter the lake and a bearbox for those tent camping having nothing to protect their Doritos from the possible bear encounters.
The road up was a little dusty but well maintained. According to Nicky, it better be as she just spent $70,000 to improve the surface. We tucked the home into site No. 14 sitting just over a small bridge where water leaves the lake, and greeted our neighbors. One, to our right, was a chef from Whitefish with her dog, Presley, living in a 1960-something vintage trailer. Toohey and Presley circled, sniffed butts and went on about their business of marking territory boundaries.
Neighbor two, sort of in front of us, was a young woman cycling the Great Divide trail solo from Canada to Mexico on a steel framed mountain bike. She loved Toohey, as she was missing her dog back in Flagstaff, Arizona, and was up for conversation. It turns out she has hiked the Pacific Coast Trail twice, first time stopping just a hundred miles short due to snow, the second time completing it successfully. She has through-hiked the Arizona and Colorado Trail and accomplished the Hayduke Trail that runs from Arches National Park through the Grand Canyon. I watched a documentary on this hike once and it is the real deal with lots of scrambling, route finding, and bushwhacking with the obvious limited desert water. Respect goes to this human.
It also turns out that this road is part of a 93-mile loop ride from Whitefish, up North Fork road, along Upper Whitefish Rd where we camped and back to highway 93 into Whitefish. Given another time and a bit more preparation, sounds like an amazing ride. We would see lots of cyclist here during our time, providing food for thought on possibilities for future adventures.
The area was busy with campers and folks driving up and down the road, but as a camp we could spend time getting acquainted with over the next few days. After dinner, we walked around, up and down the road, checked out the small stream, river running behind camp, and hunkered down. As we dozed off we could hear our neighbor, the solo cycling from Canada to Mexico out riding around with a few young boys on their bikes, laughing and enjoying her time.
The morning rain showers continued leaving us a damp, cloudy and cold start to the day. We decided to use this as an opportunity to drive up the road where it meets North Fork road and turning south into Polebridge. The drive was spectacular as the road narrowed and became less maintained, while remaining a drivable forest service road for any vehicle. We saw few other cars, passed another campground, Red Meadows Lake, which is the smaller cousin to Upper Whitefish Lake, and witnessed spectacular wildflowers and evergreens along the way. We even got a few good peaks of the Glacier National Park Mountains off to the east.
Polebridge was first mentioned to us from a human at the Wilderness Gateway Camp along Highway 12 in Idaho, as the place local Montanans go. Well, the world found it. We pulled into the small community with lots of folksy, hand painted wooden signs at the intersection and along the short drive in. We pulled to the right and parked along the road as others had done, got out and strolled toward town.
The town has many small red framed older buildings, combination old town and possible work camp. The main building that greets you as the road ends is the bakery, of which we had heard several accolades. There was a COVID line extending out front, so we made a slight right to the fruit stand where there was no line and no attendant. We eventually purchased local cherries and a small basket of huckleberries for $6, which we learned are abundant and free along the road as long as you have time and a bucket.
We walked in the other direction where there was a small saloon that we didn't approach. There were many other small frame cabins either for rent or maybe for those working the area. Sprinkled in between were playgrounds, cowboy cutouts with the face hole for photo opportunities of you pretending that you were um maybe a cowboy. As we left Polebridge we struggled to understand it, what it was, and how to fully enjoy it. Based on the steady stream of cars heading in, there is something, maybe not our something.
From there we headed south as North Fork road drops into the town of Whitefish. All along the way to our left were glimpses of the Glacier Park mountains, the north fork of the Flathead River and to our right, cars parked and people with small buckets picking huckleberries. We approached a turn into Glacier National Park and we said, what the heck. This proved to be a great entry for us as there was no gate (we have a national park pass) giving us easy entry. We drove the 17 miles to the visitors center having to brake once for a large black bear strolling from the left side of the road to the right. We pulled into the visitor center getting our first indication of the National Park shit show and mass of humanity.
The parking lot was crowded with one ranger on staff to answer questions. This wouldn't be a problem if it were for quick questions about the place, what is open, trails to hike and such, but this is also the place all the Junior Rangers go to get certified by presenting their work and answering lots of questions from the ranger, the one on duty for this. As Lysette reports this, she stood behind a family with four kids, each with a Junior Ranger Booklet for certification by the sole park ranger. The ranger was taking time to review each book asking questions like, what was your favorite animal. Answer, pika, seriously, there are no wrong answers. Lysette meanwhile, with the patience of a hyena waiting for its turn to eat, doesn't handle situations like this well. Especially when the small child behind her was running circles in her space. Brain locked, she forgot our questions about park logistics and retreated. Unlike the hyena, she left hungry and frustrated.
We drove out the main gate passing a huge line of cars queued for entry with loads of rangers working the line of cars filled with potential Junior Rangers. On our way to town, we passed RV parks, high-rope courses, mini-golf, helicopter rides and other amusement stops for vacationing families. We drove through the small town of Whitefish, which is adorable and bustling with folks, and motored back up highway 93 to our road and camp. The loop took us all day, getting home at beer 30 and dinner time. The clouds never fully left so we did the sun dance hoping for a tomorrow with sunshine and warmth so we could enjoy the outside, lake, and a bike ride.
The evening dance worked and the sunshine returned. With that, we set off for a run down the forest service roads, then a bike ride in the other direction up to Red Meadows Lake. It was great to get out, get some exercise, and enjoy the area a bit more. Afterwards, we hung close to camp, relaxed, vowing to stay away from the driver's seat of the truck, at least for the day.
Needing to get a Glacier National Park experience beyond the visitors center, we woke up early, 4AM early, left by 4:30AM to drive the gravels back roads past Polebridge to the west entrance of Glacier that we had previously done, and up the Road to the Sun to Logan Pass before the mass of humanity got there. It turns out this was the same thought process of the mass of humanity as we got there just in time for the parking lot at Logan Pass to fill and the road to subsequently close.
We hiked the short 1.5 miles to the Hidden lake overlook, trying to maintain a pace that kept us with some space between the packs of humans to the front and the herds of humans approaching from the rear. The hike was on constructed boardwalks to try to prevent us from destroying the earth that we came to experience. The game, much like Frogger, was extremely difficult as was the experience of enjoying the natural phenomena that Glacier National Park has to offer.
Our frustration with the National Park scene is just that. The parks are designed for the masses to experience, so the masses come. For us to enjoy this place with our desire for space and quiet, allowing us to connect with nature, would require longer hikes, back country permits, and things we aren't prepared to do on this trip. So we drive in, see what the masses see and leave feeling frustrated.
"No more cars in national parks. Let the people walk. Or ride horses, bicycles, mules, wild pigs–anything–but keep the automobiles and the motorcycles and all their motorized relatives out. We have agreed not to drive our automobiles into cathedrals, concert halls, art museums, legislative assemblies, private bedrooms and the other sanctums of our culture; we should treat our national parks with the same deference, for they, too, are holy places. An increasingly pagan and hedonistic people (thank God!), we are learning finally that the forests and mountains and desert canyons are holier than our churches. Therefore let us behave accordingly."

― Edward Abbey, Desert Solitaire
We did have another funny Park Ranger experience that did not involve the Junior Ranger Program. As Lysette and I were walking back to the car to further our park experience, we wanted to find out information about the drive east of the pass. The park positions rangers along busy areas such as this to answer simple question about the park, wildlife, rocks, flowers and such.
We approached a ranger standing just off trail on a large flat rock behind a poster board sized sign with a question mark indicating "ask a ranger a question." Neat and something we wish we could take with us.
There was one other couple, that approached just before us, he with a sporty white zip-up sweater, hiking pants, boots, accessorized with COVID white mask. She, an American Flag mask and clothes of which I didn't notice as I got completely distracted by the communication he had with the ranger.
The young proud Park Ranger, dressed in full on Park Ranger standard issue attire, seemingly with welcoming smile beneath her park ranger issued dark green 4 strap mask waiting for this man's question.
His question: What changes have happened in the park?
Okay, in sales school when needing to get a prospect talking, you start with open-ended questions allowing your prospect to simply ramble. Rambling is not appropriate for Park Ranger Information stops, not taught in Park Ranger training, and especially a question with no easy answer.
The answer that surfaced in my head, "well sir, the ice melted…"
The ranger, poised, seemingly stonefaced beneath her mask, just stood there, silent. In fact, for what seemed like forever, the entire park just went silent. The universe now waiting on the answer to the unanswerable question, so, what changes have happened in the park? Seriously. As time went by, and we all stood and watched the ranger. She looking at him, him, not offering anything more specific, stood and waited with a pride at his intelligent question just lingered out there for the world to gawk at.
Digging deep into her Park Ranger customer relations manual on how to respond to questions that aren't answerable, she replied, "I am really good at quickly answering specific questions, but vague questions are difficult." Great response, impressive, and volley back to him.
As her response made it back to him, he obviously not satisfied with this response, shifted his eyes to us, then back to her. His female partner was visually uncomfortable, her eyes shifting above her American Flag mask. If we could have cued up a rolling tumbleweed to pass from scene left to right and a western movie pregun fight music clip, the moment would have been perfect.
His retort: How are the finances of the park?
Flop question, but one that made him seem more senior management type. In my mind, the question mark sign she stood behind isn't meant for economic outlook and and employment probabilities of the National Park Service. Lysette, the now starving hyena from her previous Junior Ranger encounter the day before, tugs on my shirt to indicate, let's get the hell out of here. But no way, I couldn't leave at this point and was in for the long haul.
She, young park ranger, full of poise, replied, "It's okay but will certainly take a hit". She went into labor cost and the fact that winter staff could be cut if funds aren't there. Nice return, but he wasn't going away easily.
Again, shifting his eyes at us over his mask, now fallen beneath his nose, sweat beads building on his brow, then shifting his eyes back to her, while digging deep for his return question after what seemed forever…
Him: What do employees do here in the winter?
OMFG! She, the true professional, likely top of her Park Ranger class of 2018, responded with, snowshoe tours, enforcement, maintenance,… all the things most normal people could dream up as answer to their own question, especially while others are waiting for their turn with the Park Ranger standing behind the question mark.
The good wife behind the American Flag mask, who had patiently waited uncomfortably for him to finish, finally offered up, "why don't you let this couple ask a question?" He, seeming a bit relieved that he had an out from this fiasco, the Park Ranger, confidence blooming based on her handling of this man, surely her father's age, and me, disappointed for this coming to an end, asked, how far is the road opened going down the east side of the pass? We got our quick, specific answer and started to moved on. As we walked away we could hear him giving us advice on hikes in the park. Replaying this interaction helped with the drive out of the park.
We left the park after a slow drive back down and out. We witnessed the sad sight of a tourist trail horse in some sort of distress, lying on the trail with handler comforting it, a stop at a picnic area, once a campground, which was mostly empty. It had a small beach along Lake McDonald for Toohey to get a drink and a picture of the multi-colored rocks that are the rave in the rivers and lake here… and all rivers and lakes across the northern states.
We moved into the small town outside the gate, fueled up, used the internet and headed back to our camp via North Fork Rd. Upon our happy return to home, the camps were much quieter with most campers having moved on. With this came more silence and more appreciation for the area. Toohey and I dipped in the lake, we walked through all the vacant camps to search for left over valuables and to better understand our neighbors who had left.
The next morning broke with the sounds of the Loons across the lake which is something I have enjoyed at each lake stop and something that had been drowned out by the generators and bustling of the camp in previous days. We took a run back up the Forest Service Road to a gated road. The area had been logged for the first quarter mile then it turned into wonderfully forested area ripe with wild flowers and lush trees, eventually opening to a view over the lake, which was our secret. We witnessed a bald eagle from there, of which we had seen the day before while sitting along the lake and heard its squawks but now had a more favorable position to watch.
Sometimes it takes time to appreciate an area like this, Stillwater State Forest and the Upper Whitefish Lake Campground, No. 14. At first, we weren't thrilled with it based on the loud families with the frequent sounds of generators buzzing, but after relaxing a bit, giving it time, hearing the simple things nature provides all around us, we left it really appreciating the magic that existed.
Our move came this day, a slow release into Whitefish where we stopped at the Pin and Pick casino, restaurant, arcade and laundry. It was busy so we did the masked COVID dance with the others all the while using their electricity to charge our devices and their dumpster to dispose of trash. We got this done then drove into Kalispell for groceries and gas. From there it was Highway 83 south through the Flathead National Forest. The Bob Marshall Wilderness was to our left with striking summit views and the Mission Mountain Wilderness was to our right, also with some spectacular vistas. Views that would make you wonder about the need for more time and opportunities to play in the area.
Our first direction for camp was Holland Lake which was 3 miles off Highway 83. We pulled through the "camp full" sign to ask the camp host for advice, of which she had none. As we pulled around the loop where we saw our neighbor from Upper Whitefish Lake who was riding the Great Divide Trail setting up camp, so we said hello. She gave us a quick story of her encounter with a moose on the road, then we moved on. Our next turn took us to Lake Lindbergh, located 4 miles off Highway 83. The camp was free, provided a few other spots in an annex area further up the road. There was a boat ramp which took up most of the lake access. We grabbed the last spot and set up not knowing much more about the place.
Later that evening, we set out on a stroll to check out the camp and surrounding area and got stopped in conversation with a young couple from Hawaii. She had just finished an internship in dentistry and he, an Organic Chemist, had just been laid off, so they decided to sloverland the USA back to her home state of Maryland while she waited on Maryland to approve her license to practice Dentistry.
While chatting about similar experiences, a high school aged sister and college-aged brother from Pennsylvania, traveling the west with their dad, come up to play with Toohey, who immediately obliged. We had a nice long conversation with both groups and by the time it all ended, it was getting dark.
Lysette and I were unsure of whether to stay or go when we woke the next morning. Giving in to slowing things down and letting places develop, we decided to stay. I asked another couple about their familiarity with the area for hikes and such and he recommended a short trail up to a fire watch tower that left out of camp. We bit and the three of us happily headed up the trail. It was single track all the way to the summit, passing through new growth pines and huckleberry bushes past their prime. On top was a group of about 8 young men who had camped the night before and pretty much kept to themselves, accept one who was up for a conversation. We exchanged information that we just learned on this trail and he about their camp. The views from there of the surrounding mountain ranges, Bob Marshal and Mission Wilderness were awesome, only dulled by the humidity in the air and clouds.
We returned to camp and saw the couple that recommended the trails. We thanked them then got into a longer conversation about other camps we've visited, and they provided more information on the area. It turns out he is a geologist and knew all kinds of history on the glaciers in the area, how they formed the area lakes after receding. They also recommended several other hikes of which we took notes.
One of the hikes was the trail up to Holland Lake Falls. We drove there via the Owl Lake Road which was 8 miles along a gravel forest service road in good repair. The trailhead was located just down the road from Holland Lake campground and the trailhead parking was bustling. As it turns out, there are several trails that leave from this area and from what we could tell, there are lots of fit people enjoying this area of Montana.
The hike up to the falls follows Holland Lake shores along the north side to where the falls drops large quantities of water down to the lake from Upper Holland Lake. The views of the Mission Mountains along the way were awesome, snow capped jagged tops in the distance and magnificent again making us dream for more depth into the area. We reached the falls and enjoyed them with a few other spectators before heading back. Lysette stopped all along to photograph the green forest and wildflowers. Our friend and avid blog reader, Brian Reed, who is fascinated by wildflowers and insects and has a natural talent with nature photography, has started sending some of his pictures as examples for Lysette. We liked his butterfly on flower Picasso so much, we had to add it. Also interesting on this hike were lily pads floating in a small semi-protected inlet. These, as it it turns out, were considered invasive to the lake according to the information board at the trailhead.
We headed back to home to see what was going on about the same time a light shower started, lasting through the evening.
The previous day, Lysette had noticed an undulation in the wall of the left wheel tire that concerned us. We decided to get an early start the next day for Helena as we didn't know what to expect with this issue. We quickly got to the small town of Seeley Lake where we got cell service and gas. I called the Les Schawb tire service center in Helena and he indicated this could be a normal and common seam in the making of the tire and not an issue. So we motored on.
Along the way we passed a few more lakes and then into some rolling hill country with lots of colorful and interesting farms and ranches. We passed over the last pass into Helena and headed for the tire service center. The technician confirmed that we shouldn't be concerned but we hired them to do a repacking of the bearings in both trailer wheels based on the miles we've driven and the dusty roads. Most trailer like this don't get this number of miles in a year so we felt like this was a good decision for home maintenance.
We unhitched the home and left it with them for this service. We then drove to a park in downtown Helena and sat in the sun on a grass hill. We had a snack and checked in with the world, watching a group doing yoga in an adjacent park and soon after, a man playing saxophone as a wonderful backdrop of music. I checked in several times with a past co-worker who lives in Helena and he suggested the 1906 trail at City Park for the overlook. We ran it and enjoyed the nice views from up high (note the sleeping giant), giving us a new appreciation for the city.
After this, we swung by his house a few miles away, said hello and set off to run a few more errands before finishing the day.
That night was cool and we stayed around the KOA for an easy night, catching up on emails and blogging. More of the same followed the next morning along with refilling all the propane tanks and repairing the cabinet door. My work mates from Montana contacted me about meeting them for a lunch in a local park. We set off to meet them at Woman's Park which is located across the street from where we were the previous day. We sat around a park table and caught up on all kinds of stuff including friends from work and our travels. They provided great advice on the areas along our route in Montana and all in, it was great to see them.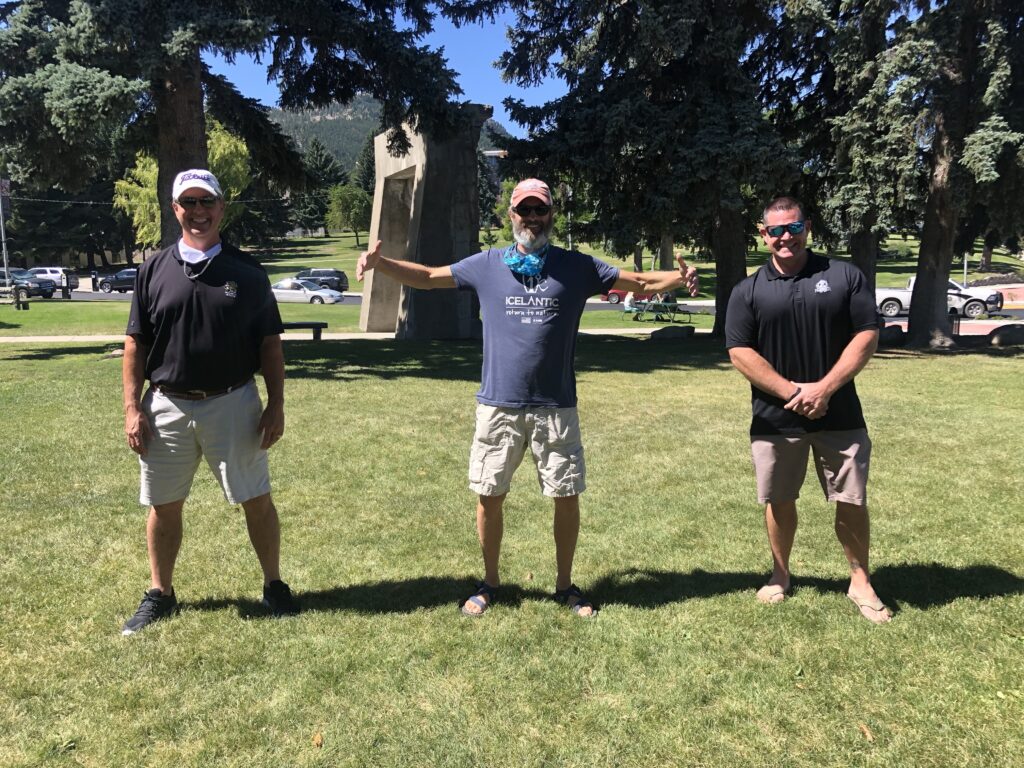 We got the afternoon errands done, returned to home to get things organized for our journey east, and squeezed some time in to make new acquaintances with our new KOA neighbors, which is AOK.
Our last moments in the KOA started with a morning run followed by a short conversation with a retired lady from Colorado Springs who is doing the Great Divide Bike ride a section at a time with full on road support from her husband, and had just finished the northern most section. Her husband was the support vehicle for her and seemingly all around good guy especially to those he encounters along her cycling route.
We met a family from Vermont, he a chef and fruit sculptor, and she a nurse anesthetist. Their children and her parents all joined them for their RV trip out west which wasn't their first by any means. As we got to know them a bit, we learned they have labs, rescued, and certainly enjoyed ours as much as Toohey enjoyed their attention. They generously invited us to stop in during our stint in their area of Vermont, if needed, as they have woods and trees where we could set up our home. We enjoyed our short conversation with them before saying goodbye.
We liked Helena, we could live there. It sits along arid foothills which wasn't what we had envisioned. We both agreed that our image was that of a town sitting in the mountains. Helena has a nice, clean, and historical feel to it, a small town feel with all the stuff, and the people seemed friendly and fit. But as much as we liked it, we leave it to continue rolling downhill along the eastern slope of the continental divide.
Our destination for the day ended up at a small campsite off highway 89, north of White Sulphur Springs in the Lewis & Clark National Forest. The campsite sits just beyond the Jumping Creek Campground, of which we rolled through first. The site had a good size loop around a large bush making it easy for the truck and home to maneuver and set up. It is flat and we can faintly hear the sound of the gentle rolling stream that does a bit of a horseshoe around the back of the camp. The only disturbing thing that gave us pause was a National Forest Service sign, posted offsite and on a blocked section of an old path to the campground, stating a warning- tree hazard. We were confused, saw only a few smaller dead pines, nothing like we've spent hours walking beneath with no warning, so made the final decision to stay.
We set up camp, pulled out the chairs, me in the shade, she, in the sun, and of course Toohey switching back and forth, and enjoyed the remainder of the afternoon doing pretty much nothing together.
As we drove further east today we reflected on our direction. The mountain valleys have now turned wider forming plains, full of fields of hay, large ranches, and of course, the big sky. The roads remain small by our route design. All these changes as we tip our hats to the tall mountains of the west and search for the beauty of the plains to come.
We rolled the rig into Billings, MT where we met up with Lysette's family while having scheduled service work on everything. They had invited us to stay which was really nice but we felt with this era of a pandemic and the opportunity to stay in the worlds 1st KOA enticing. We originally booked two nights but quickly extended another two to make sure we had time to not hurry through.
We arrived in Billings early afternoon and headed straight for Lysette's sisters house who's blog name is Toby's Grandmother. If you are following along, this is the sister who birthed and reared the nephew and niece that we've spent time with along the way. The nephew was featured in a previous blog and has a pet tarantula named Toby who camped with us. The niece kayaked with us while on Whidbey Island and lives in Seattle.
There is another niece, the oldest sister, doing graduate work at University of Melbourne. In the Billings MT house at the time of this visit was Nephew 2 and the Toby's grandfather. Nephew 2, the youngest brother to Toby's owner and the one mentioned in a previous post who took a gap year following high school, traveled South America before the cooties struck, and is now setting up his college year in Scotland at the University of Edinburgh. Toby's grandfather is a medically trained professional who spends lots of time exploring and executing hobbies ranging from black powered guns to bonsai plant sculpting.
Toby's grandmother and husband were home when we arrived, so we immediately exchanged lots of pleasantries and whatnots. Also home, their three dogs or Toohey's cousins as we refer to them. The cousins, a larger Australian Shepherd named Brisbane, a yellow lab named Shanti, and the alpha male Wellington, believed to be an tri-colored Australian Shepard but smaller and thinner with some resemblance to a border collie. They all sniffed butts, worked out the pack order of things, and got along fabulously.
Toby's grandmother joined Lysette and me as, we moved from there to the KOA which is AOK to set up kamp. Lysette was able to secure a few more nights here, until Thursday, so we could slow down a bit and get everything done while having time with her family.
This KOA, a Holiday, is reportedly the Worlds 1st KOA Kamp in the Universe. Our site, No. 150, was a back in spot sitting against an earthen berm separating us from the Yellowstone River. A quick up and over the earthen berm, down a short path and we are walking across the river rock beach towards this mighty river that extends from Yellowstone National Park to the Missouri River. Toohey got in a quick swim, captured and gnawed on several sticks, and a bald eagle flew by. Pretty cool start and the low price of around $50.
Heat became a thing for us for the first time on our 3 month journey, mostly because we are no longer in the mountains or the northwest coast line. Temperatures ranged up and over the 100 degree mark but cooled off nicely at night, mostly down into the mid 60's. The AC in the home struggled to keep up during the heat of the day as the lack of insulation overwhelmed the camper. However, once the sun set, the placed cooled to cold.
Billings is a city with all the services needed so we used this time to get some maintenance done. These things included teeth cleaning, bike maintenance, oil change, repairs to home, Toohey's meds, and of course the most precious thing, time with family.
After setting up the camp that afternoon, we returned to Toby's Grandmother's house for a wonderful evening full of laughter and great stories, which is a normal occurrence there. We enjoyed an IPA that husband and Nephew 1 had recently brewed while he was home off college break, of which was worthy of any I've drank to date. All in, it was good to be here and around family.
With nephew 2 at home, we were introduced to a card game called Shit Head that he learned from other travelers while in South America. It was quite fun, a great game of luck and strategy, and fun to play with this group, but not fun when I became the first shithead at the table.
The next morning started off with meeting at Zimmerman trail to walk the dogs before the heat then a trip to drop the bikes off at the Spoke, a local bike shop. We had scheduled this event weeks ago while in Langley, WA. This advanced schedule is apparently needed during these days of cooties as bike shops are extremely busy. While they were being completed, we spent time grocery shopping and hanging out with family.
With bikes cleaned and maintained, looking new and an overall 5 star experience at the Spoke, we prepared for the night. That evening, Toby's grandmother cooked a delicious dinner of grilled salmon, asparagus, brussell sprouts and roasted red potatoes. This was luxury, not only for the dinner and fish that was sent all the from Lysette's brother and family in Alaska, but I didn't have to cook!
The next morning, we got up, did a quick run, and set off to have our teeth kleaned at Turley Dental Clinic. They were nice to work with and did a wonderful job on this grill. The remainder of the day were chores and errands to include Toohey's medicines from Costco. Who knew they filled pet meds…?
That afternoon Toohey came down with one of his notorious stomach issues. Those with labs know they eat first and ask questions later. This has been a trademark of this guy since adoption. We've paid many bills for vet clinics during his time to research stuck food items. He first tossed up his 4PM dinner followed by lots of grass eating and spews for the remainder of the night.
Much of his stomach event played out in the backyard of Toby's grandmother's backyard. We returned to the family house with pizza in hand and enjoyed another round of good times with this group. Toohey maintained his uncomfortable stretches and occasional throw up while we had good wine and laughter together.
The next morning, we woke up early to meet a friend who lived near Golden before taking a job and move to Billings. Toohey's stomach seemed to have calmed by now and he continued to drink water which helped him from getting dehydrated. She took us to a trail system called the Back 9. These trails started flat and descended into a valley along craggy rocks with overlooks of some Billings neighborhoods before heading back out and across some low rolling plains to the cars. It was so good seeing her, we fist bumped our goodbyes and pleasantries as we departed. On the way home we pulled off at Zimmerman Park to catch up with Toby's Grandmother and the dog cousins who were out for their morning walk. We chatted, they played, and all good things were aligned.
That afternoon, another past colleague happened to be staying over a night at the same KOA, an interesting coincidence of sorts as we had been communicating about travels for a few months. It was great catching up, talking about the new life of travel and just getting out there. The time spent was short but impactful.
Wednesday evening is trivia night at a local beer garden and we were invited to be on Toby's family's team. Apparently they have either won or been in top 2 the last few Wednesdays, so no pressure to perform. We warned them well in advance of our deadweight status with trivia but we joined in for the fun/beer. We provided zero help and needless to say, the team of "Toohey Knew" underwhelmed the place. Following trivia we moved over to a cider house for a quick dinner before grabbing Toohey from his cousin's house and moving home for sleep.
Billings was a great stop over. As always, we enjoyed the company of Toby's grandmother and her family and friends. She is an amazing mom, sister and smart, quick-witted human whose company we always enjoy. They are generous with their time and best, their kitchen, as they prepared some of the best conversation and food we have had since leaving on this journey. As a hobby, they paint rocks and sent us off with the best ever, a folksy rendition of our home, us and Toohey. Also, a few books, some wet wipes and two large containers of the ever elusive large Clorox wipes!
All in, we got to enjoy a great few days with her family, get some life things done that needed to get done while pondering our next phase moving east. In fact, leaving was in question up until Thursday morning when we woke, made the decision, and did the slow roll out of town. First, a short run, another brief visit with my friend, groceries and the sad goodbye to family that always ends with the happy starfish wave.
First impressions go a long way with our travels. The mental image of the upcoming journey was hot, flat, and landscapes that would be difficult to find interest in. Looking at the atlas a few days prior and based on hot temperatures, I pointed to a large blue spot and said there is water at Fort Peck Lake.
As the drive unfolded, we became more and more intrigued by what we were seeing. The landscape started as rolling fields of hay, scraggy rock mesas, turned into interesting mounds of colored clay among more scraggy rock canyons.
We made the turn for the last 4 miles of washboard gravel road to the Nelson Creek Campground seated along the lake. At this point, we still had seen no glimpse of water, no cars and, other than the boat inspection stop about 14 miles back, no sign of a recreation area. What we found as we rolled through the last mile to our camp, down road 1001, a right onto 1004 was a peninsula with a campsite, sitting up on a hill surrounded by water on three sides with two small scrub trees sitting to the right. There were other camps around but very spread out with two at the end of each short chute jetting out to water access. They were each provided with two concrete picnic tables, two metal fire rings, and amazing views of cool, clear water. This place is awesome and the perfect spot to unwind, stay cool, and enjoy a few days or beach time, Montana style.
The day was getting late, so we quickly set up home, grabbed chairs and headed the 50 yards down to the water's edge. Toohey and I swam, we sipped beer and wine, and discussed how amazingly perfect this place appears to be. In fact, we laughed at saying, who would have thought the most interesting place we'd visit in Montana would be a large reservoir in the northeast corner of the state. We'll see….
The night came, we ate a quick dinner, and climbed into bed. In the distance, we saw lightening flashes across the sky over the horizon but heard no thunder and certainly never checked any weather reports. All of a sudden, the winds kicked up like we have never experienced. The home shook, sand pushed through the screens and into my open mouth, and us, not sure what to do, decided getting out of the rocking trailer was probably best as it felt as if it were about to be tossed. As we exited the trailer, holding the door against the powerful wind, we noticed that our shoes, door mat and everything else once sitting around the truck and trailer were now gone. We briefly stood beside the truck before the rain started, then made the decision to get inside the truck. Fortunately we had good cell service so we checked the local radar which was colored in green, yellow and red, confirming why I was crunching sand in my mouth, a line of thunderstorms.
We made a few adjustments to the trailer to prevent the rain, now blowing sideways, from getting in the open windows and screen dormer. We positioned the truck so headlights shown down on the beach where we left our chairs, given to us as departing presents by good acquaintances in Golden, only to see them sitting where we had left them likely based on their size and weight. The now, angry white-capped, rolling waves pummeling the shore in front of them and on them. We moved the truck back so we could watch the trailer not blow over and waited for the storm to slow before getting back in the home, wiping up water and sand, and eventually falling off to sleep.
We woke tired to clear skies and a pick up truck pulling into the adjoining camp. We quickly got up to gather all our wind blown belongings and to introduce ourselves to our neighbors. It was a dad and two high school kids with two kayaks and lots of fishing gear. They had driven here from Billings for a day of fishing which was good, as it meant they'd leave. They had no problem walking through our camp and I had no problem walking around outside in my underwear. They quickly set up fishing spots along the shore behind home and we listened to their fishing play by play as they interacted with the fish from shore and from the kayaks.
Fort Peck Lake is the water surrounded by Charles M. Russell National Wildlife Refuge. It is the second largest wildlife refuge in the lower 48 states and largest in Montana. The reservoir was created by a damn dam of the Missouri River. The place is massive and remote and interesting if you like high desert and large water. It does not appear overly used as the largest metropolitan area is Billings, a good 4-hour drive. The largest Chinook Salmon in the state was caught here a week prior to us and there are reportedly a buttload more fish to be caught. Since we have lots of canned fish, we decided to forgo that activity in waterfront sport for the more leisurely and dog friendly activity of SUPing.
We spent the day playing on the beach about 50 yards down from home. The day was sunny, provided us with a nice breeze off the water, and temps in the mid 80's. We swam, SUP'd, found interesting rocks, read, and talked about stuff. Motor boats came and went, a sailboat sailed, birds, mostly seagulls, flew all around looking for food, and an occasional fish would pop the water surface likely discontinuing the life cycle of some bug. Our neighbor and his kids left midday after the kids got bored. He only had caught one fish, a northern. He offered it to us, but based on our stash, we politely declined so he unleashed it, gave it a nudged sending it back into the cue of fish to be caught by him at a later date.
Later in the afternoon, after taking all the sun we could for the day, we moved back up to the shade provided by the home where I cooked chicken and we discussed our next move. A sheriff drove up and explained they were contracted by the Corp of Engineers to log guests. He was friendly and provided useful information about next fuel stops, camping along our route, and the fact that emergency response to this area is likely 45 minutes away if it is needed during "normal working hours", but after midnight, no one is working the phones so it would be morning. Great information for planning an accident.
The sunset that evening was absolutely stunning. With clear skies and a toenail clipping of a moon, we were able to watch it set while the night skies fell, squeezing out the remaining tints of blues, grey, oranges and yellow. Stars followed in mass and the Milky Way, which has been a travel companion all along was again, right there with us.
The winds were calm in the morning and temperatures cool enough to warrant a sweater and socks before stripping down to running shorts and a light shirt. We had coffee/tea then set off on a run before the heat of the day. We checked out other roads and camps, found a boat ramp which explained much of the boat activity, and came home for a big breakfast and the day.
By the time we made it down to our beach, the winds had changed from the day before, now blowing off the land, indicating a much warmer breeze and day. As with yesterday, the winds increased as the day progressed. The direction of wind also pushed the high level of smoke from the southern fires giving the sky a grey, hazy tint. We swam, read, paddle boarded and simply enjoyed a leisurely beach day.
The winds here were interesting. They were pure and obvious, strong gust at times, and directions that changed by the minute. As mentioned previously, the early day winds were definitely from the land. By mid afternoon, the winds switched directions again, now blowing on shore, providing a cooler wind and much choppier water conditions. As the sun was setting, say an hour prior, the winds calmed, the water became as still as glass, if not for the occasional boat wave. The moment the sun set behind the ridge, the winds returned. Not being a scientist, heck, not doing well in science as a kid, I don't dare to speculate, but simply enjoy the changing moments for what they provided.
When we talked about our trip in the months leading up to it, we conversed on how we were going to have a cold cool summer, high mountains or coastal cool breezes, no beach days and warm sunny fun days. Well, here in late August in northeastern Montana, we found our beach days. This place, Fort Peck Lake, will be our 2020 beach vacation as everything we did was warm, along the lake water edge, and revolved around relaxing and playing in the sun. We enjoyed the spot, not so much for its remoteness, but for its simplicity. The camp sits on a peninsula with wide open vistas much like you'd get in the plains of Wyoming. A soft rocky beach surrounds us on three exposed sides. To our east, across a large body of open water are large clay looking mounds, small mountains of horizontally striated rock when, during the right sun and combined with the small edge of grass, gives a colorful display pleasing and interesting to sit and watch. There are peninsulas and camps along the water's edge mostly occupied by larger 5th wheel rigs and many with boats that remained in the water for each day's water activities.
Before breakfast, we did a short, out and back run on the gravel roads leading into the area. As we returned to camp, I made a quick decision not to go for a cool down swim with Toohey as we had done the day prior following our run. I began opening the stove which was sitting on the picnic table and glanced over the see Toohey, with his body pointed to the water, head turned back at me, as if to say, come on dude, we ran, now we swim. I laughed, said okay, you got it ole buddy, and we walked to the beach and into the water for the cool down swim. Lysette commented that I was making up the words and the moment as he is just a dog, but I give him more credit than that. He remembered we had done it the day before and liked it, so wanted his cool down swim again today, we did, and we liked it.
Our move today comes with the necessity of needing ice and a few other provisions. We are also watching the weather as for the next months we will be running from the first freeze as we cross though the top of the USA, close to the Canadian boarder. It seems funny to say that in late August but if you put your hand over the atlas map of the USA and reflect on the time it took for us to get here, then we have some ground to cover and enjoy along the north midwest and eastern states.