Wondering about wandering. Our journey so far has been more about simply wandering up the road versus having any set plans. When we get somewhere we have to decide, day by day, do we stay or do we move on. Where is "move on" if we decide to move there? Our original plan was to follow the average temperature of 70 degrees up through Canada to Alaska and back down. That plan is gone, long gone. But having no plan has created opportunity. We get asked, where are we headed, by lots by humans we encounter along the way? We kind of shrug, lifting our shoulders up towards our ears, curling our half smiling face, and say, "don't really know", followed by, "do you have any suggestions?" Sometimes we don't get to the question before all the suggestions start pouring out. We get so many cool responses, ranging from a handwritten menu listing their favorites, invitations to their house when we pass through their town, to a long conversation of their favorite spots in the area of direction we're moving. Most think what we are doing, wandering, is really cool and some say, "how can I do this wandering thing". So I guess, wandering, is our plan for now. Let whims, advice from others, and plain old curiosity about stuff on a map be our plan. We'll decide what's next when we feel like it.
Goodbye Paradise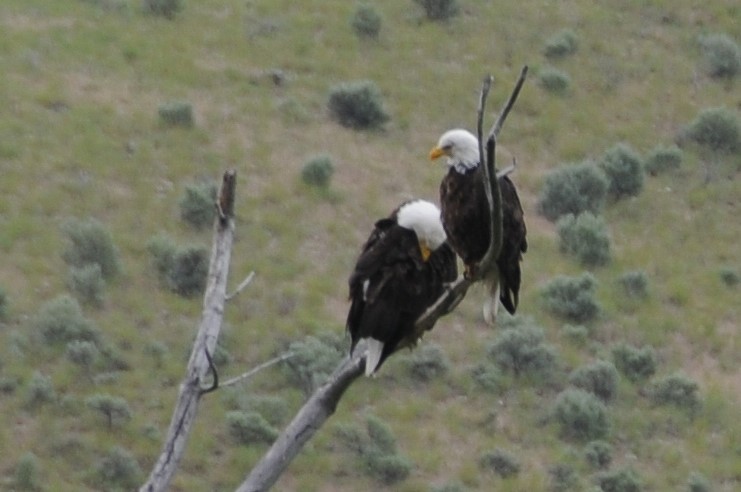 We left our camp along the Salmon river wearing day old clothes, with little food left in the food box, and the cooler, empty. Our direction was back to North Fork, refuel, use the wifi, and head north towards Missoula. We said our goodbyes to the herd of elk and Mr. and Mrs Bald eagle and the awesome river as we drove out the canyon. While fueling up at the corner general store I noticed 2 apparent locals talking and laughing in the parking lot. As one turned towards the store, I grabbed his attention and asked him if I could get some information. He smiled and obliged. I wanted to know about a section of the river where it had appeared a major slide from a side canyon disrupted the river flow, pushing out large amounts of debris. The age of it looked to be at least 10 plus years based on the size of the small pine trees that have grown in. He had no clue. But he did continue the conversation by asking about us and where we were heading. We told him Missoula for warm showers and then Highway 12 back west across the state. He laughed and gave us a warm shower story about the time he was building his house, and much like us, was living in a camper. Craving a shower he drove to Darby MT, the closest shower and as we learned, on the other side of the mountain pass from here, to rent a room for a half-day rate, just to take a warm shower. For a local, he really didn't have much knowledge of the river, fishing or whatnots but he was certainly friendly and we enjoyed our short conversation.
So we turned the mule from the water trough and headed the train over the pass toward the warm shower place in Darby and eventually the KOA, which is AOK, in Missoula. The drive north, out of North Fork was a gradual grade up with lush, unharmed evergreens along the way. There were frequent road side history stops that told of Lewis and Clark, the Natchez Trail, and other interesting little factoids.
As the truck and trailer motored north, the grade got steeper as we got closer and closer to the pass. The Little Truck that Could pulled our home over the pass with no complaints but a good hard effort. At the top of the pass, we crossed into Montana, across the Continental Divide Trail and saw a small ski resort, Lost Trail Pass Ski Resort. On the way down, we motored past the Nee Mee Poo Trail Head which we had some fun with.
Insert Bad Attitude
This section is full of negatives, bad attitude, and honest feelings written from the moment of passion, so if you are only here for the pretty stuff then skip this section.
We pulled into Missoula along with seemingly, the entire civilized world as traffic was horrendous. We jumped from traffic light to traffic light as this town of ~75,000 people packed the streets around retail big box stores. The KOA is located behind the town shopping center that houses REI, TJ Maxx, across the street from the reportedly second highest grossing Costco, and many other box stores. It is surrounded by the sounds of the interstate highway, the Airport, and a large train yard, replacing the birds and cascading river we just left.
If you plan on staying at a KOA then you should be prepared for check-in at 3PM. It was 11:23AM, which isn't the earliest we've checked in to a KOA. Those Kamp Hosts made us feel AOK. The human manning the Missoula check-in desk was quick to point out that "it's 11:23AM and we have 37 guests checking out, my men are busy, so you need to leave and come back at 3PM." Lysette asked if she could use the restroom to which the lady replied, "no, we can't allow anyone but registered guests based on KOVID." Hungry, needing a toilet, and a Krabby KOA host sent us off spitting insults and unkind Komments.
We moved the rig to the REI parking lot, went into the REI where all was better as they had freshly cleaned restrooms and the ability to look at what clean, new camping gear looks like. From there, we stopped by a local Natural Grocers for a snack lunch and a stop in the rear of a small church-like building parking lot to let Toohey roam while we ate and discussed Kustomer service training for KOA Kamp Host.
We returned to the KOA around 2:38, before 3PM, to wait out the remaining few minutes, but low and behold, other Kampers were already being checked in, being moved by their host sporting yellow KOA Golf shirts, driving yellow golf Karts to their sites. We went inside where there was a flurry of activity with 3 hosts getting people through the process. We got it done, were sent to site K-11 and set up just in time for the rain to start. It would rain constantly for 2 days. Seriously.
We showered in warm water without the constant fear of the hot water shutting off in 5 minutes, made some phone calls, and set off for food at a local store. We got back, ate, checked emails and such before climbing into bed for the night.
The next day, it rained. We did laundry, more shopping for provisions, and washed the remaining magnesium chloride off the truck.
There is a stress level that increases with being around lots of humans, especially felt during this time of COVID. Thinking about Missoula and their 75,000 people, I wasn't planning on traffic and box stores. Fighting for space where we have been living in more than enough space, constantly worried about touching everything and being touched, or worse, exposed. All that, combined with now being plugged into the media and the bombardment of data of how bad things are, was a lot. Add that to the fact that I have had zero exercise since the run up to Bench Lake and Kemp is now officially, KOA Kranky.
The next morning we woke up to the the sweet sound of rain sucking the life out of me. I just stopped after typing that sentence, looked at Lysette and laughed. Seriously, if you look at the map of this region, we picked the place to stop where the dark rain-green of weather radar has sat on us for two days. The point was to get to a place to ride out this storm, but enough already. Kemp needs green trees, not green radar!
Today, we finished and posted the last blog, took the truck in for an oil change, refueled the propane tanks, and prepared to leave tomorrow. Lysette upgraded her iPhone after lots of issues, compounded by covid restrictions, in the process. By afternoon, the rain showers became sporadic enough to get some stuff done and then by beer thirty, the rain mostly stopped and I even felt some nice sun on my face.
Missoula, I'm quite sure, has some great places to visit, trails outside of town, interesting people. By this evening, as the clouds started to break, we could see the mountains in the distance which was an inviting image. Maybe we'll return at some point with better weather but until then, so long.
Transition from Whining to Winning Attitude
With my pity party in full bloom, we hitched up the rig as if two professional trailer hitchers had been doing this, for well, a month, and we got the hell out of Dodge. We turned back south on Highway 93 until it met up with Highway 12 going west and soon we exhaled into a beautiful mountain drive. The road climbed up and over Lolo Pass and into a relaxing drive along the Lochsa River, through the Clearwater National Forest. The drive on our atlas calls it the Middle Fork Clearwater National Wild and Scenic Highway. The road was carved into a canyon lined by rolling green mountains, filled with a variety of mostly healthy evergreens and a fast moving, seemingly angry, river running along the bottom. There were trails and creeks marked along the road and little traffic. Nice.
We had 3 primary goals for the day.
Goal 1. Get remote.
Goal 2. Find a trail to run.
Goal 3. Find a camp.
With goal 1 having been met early, or midday by now, we started looking for ways to accomplish 2 & 3. We passed by several posted hiking trails on the west side of Lolo Pass then drove slowly up on one with only one car and a magnificent bridge that went over the raging river. We quickly "did a brodie" (that's Hunt for a U-turn) at the next pull out, sliding the rig into the small gravel pull-off along highway 12.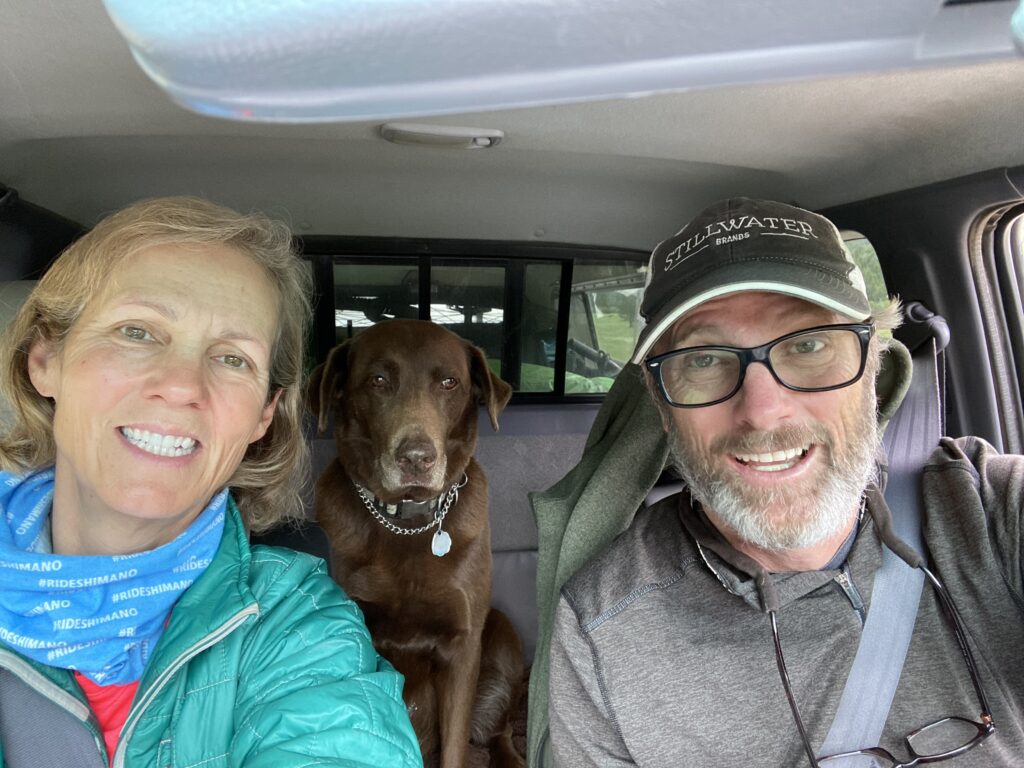 Metaphors, (for example, Laughter is the music of the soul) are something I enjoy almost as much as great quotes, oh, and seat-dancing while driving to good tunes. But let's not regress. While on the first mile of our trail run, I worked diligently in my head to create a metaphor for life based on what we just encountered on this run. I played around in my head with something like this, "when someone builds you a bridge over a raging river and you take it, good things are possible. If you don't, nothing will change." It still needs some work but you get the picture, right?
We crossed the amazing wood suspension bridge over the raging angry river below into the forest on the other side and amazing things happened. First, this bridge was remarkable and unexpected. It was not a log over the stream, some piece of metal or wooden contraption, but a full on wood, suspension bridge, seemingly built using the right professionals needed to create something to marvel at in the middle of a national forest. It was the read deal. So we stopped the rig and crossed it.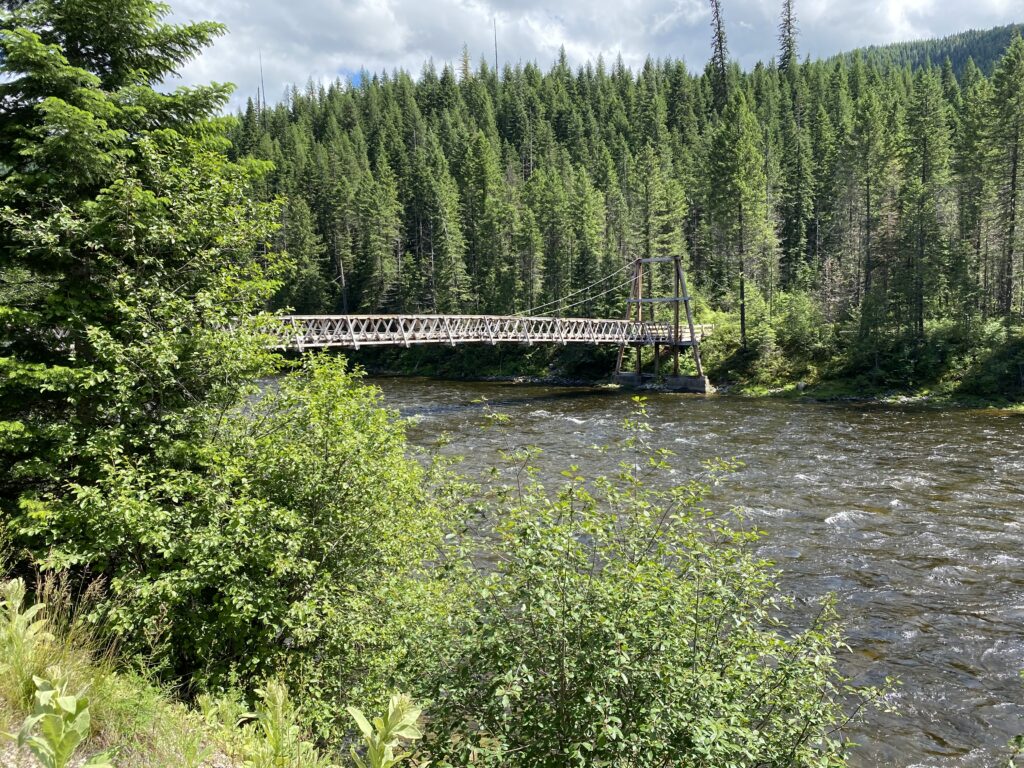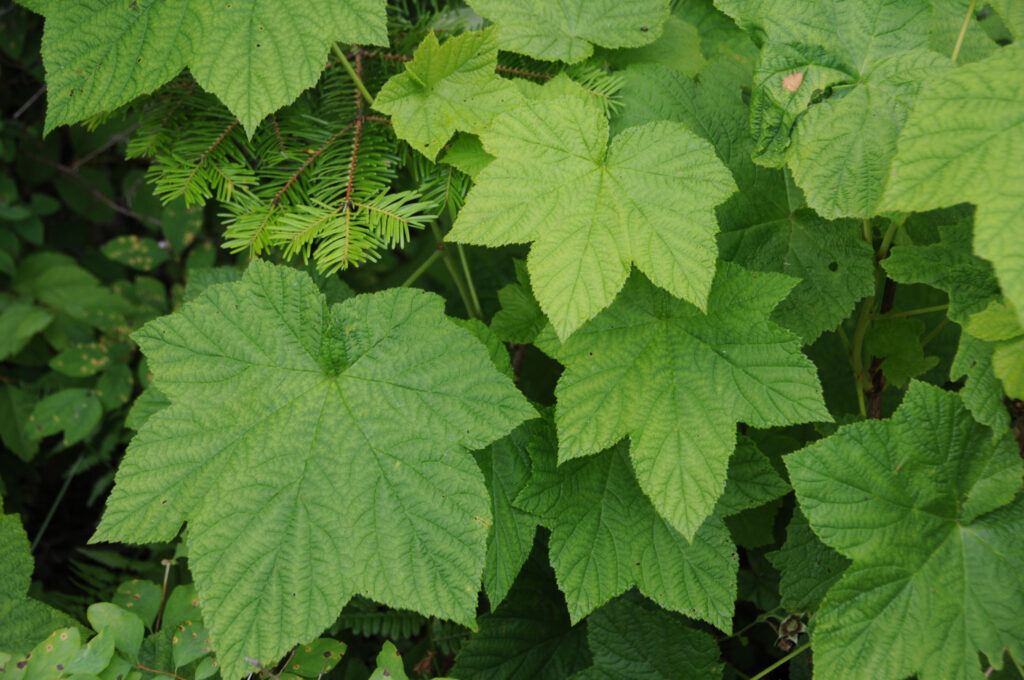 Once on the other side, the trail quickly moved left and into a magical world best described as a mountain rain forest. Large fir trees shooting up through the canopy into the sky, lush and wet green foliage, moss covered decaying logs and rocks, simply majestical. Our trail run quickly turned into show-stopping-awe moments, with a slight twist of eyre. We stopped, looked, listen, smelled, and felt, anything there was to engage the senses and just engage the moment.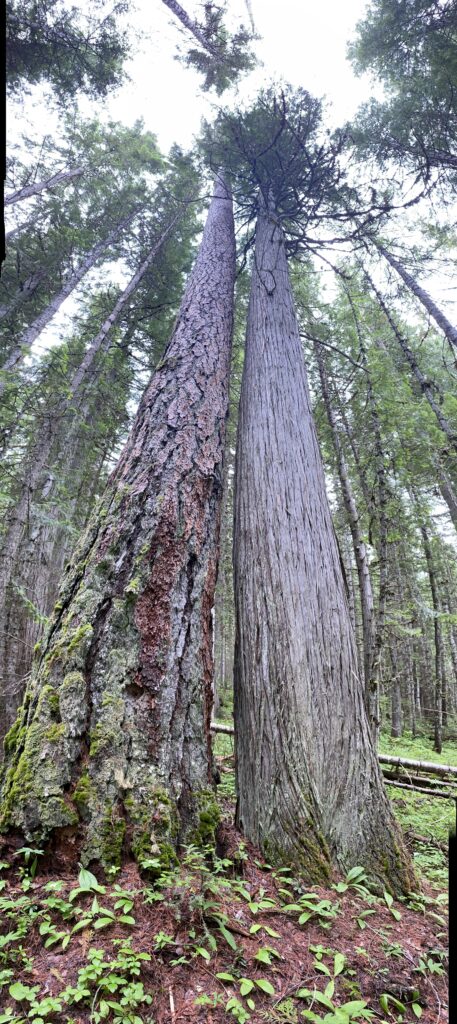 The air was fresh, clean and almost cool. There were birds making brilliant unfamiliar calls, a really loud woodpecker hammering on an obviously hollow tree. All with the backdrop of silence, and Toohey panting. The smell was sweet mountain decaying wood, much like you get in any moist densely wooded mountain forest. The trees were tall columns of large trunked cedar and pines fighting for space on the forest floor. Those surviving, jetted straight up, high through the canopy into the sky. There were dead trees, either broken, leaning against live trees in the process of falling, or still standing just waiting for some force to push it down so nature could reclaim them back to its nutrient source. The ground along the trail was damp and spongy from the water captured by the days of rain. The lush fresh new green plants, heavy from the rains, wet our legs as we now briskly flowed through them as we moved along the trail. We observed a smaller stringier version of tree moss, like a distant relative of the Spanish moss seen along the coast in Savannah draped off live Oak trees, but smaller, hanging off the limbs of the cedar trees. Clouds hung over the rain forest giving it an enchanted feel.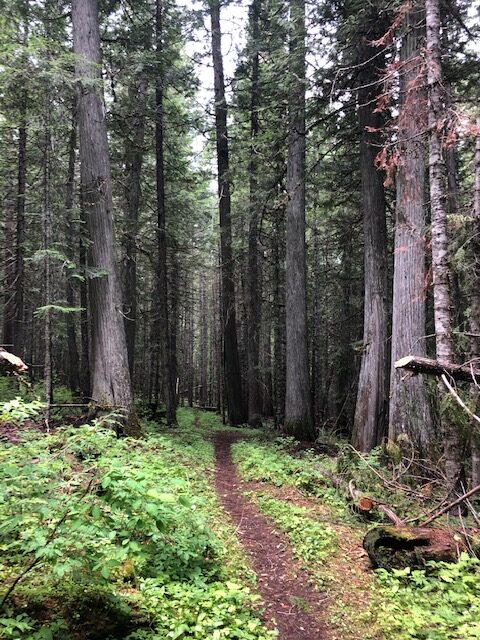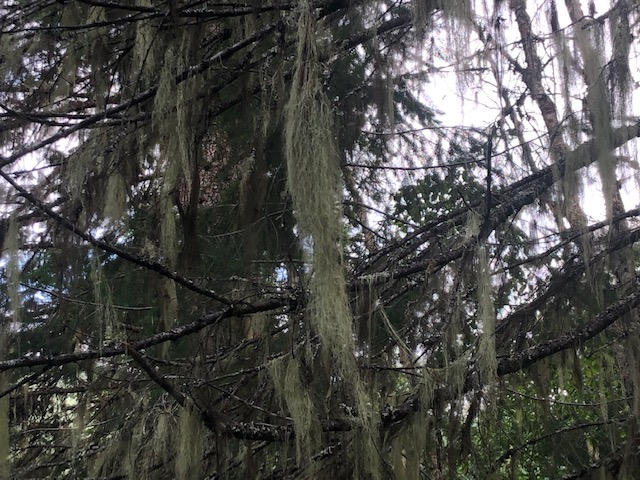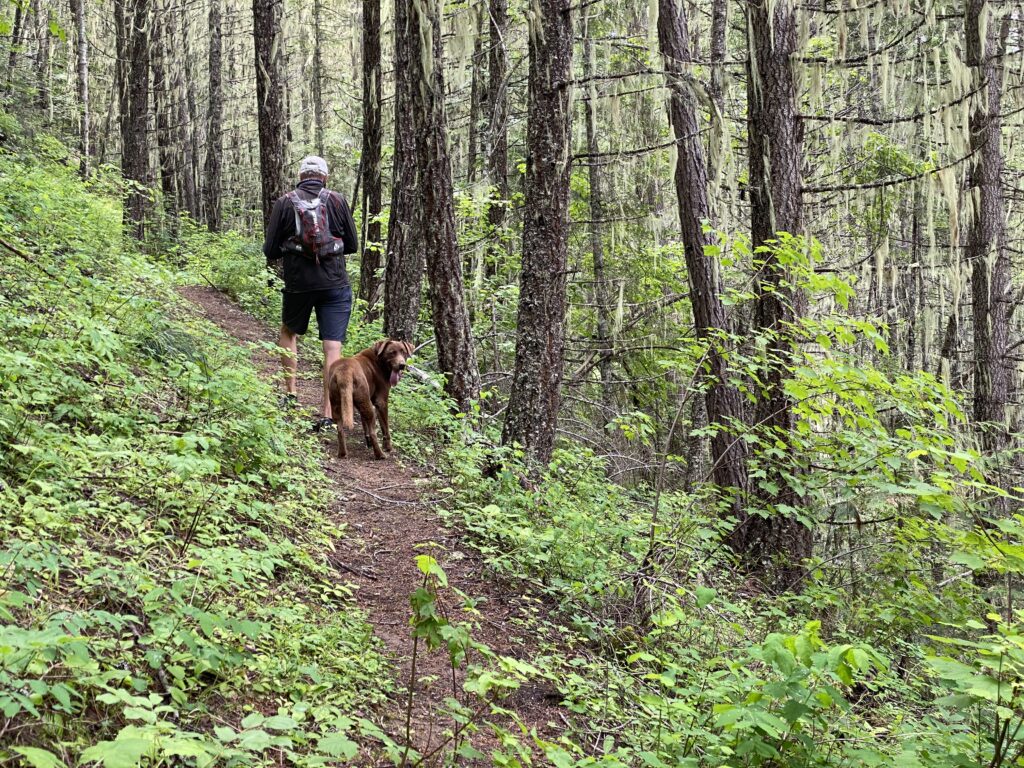 Admittedly, as I sit here and type this, I'm feeling a bit like Will Ferrel in Elf, but damn, this was so unexpected, a shock, and exciting. There were no twirly-swirly gum drops but we were exploring some really cool things in a rain forest in Idaho.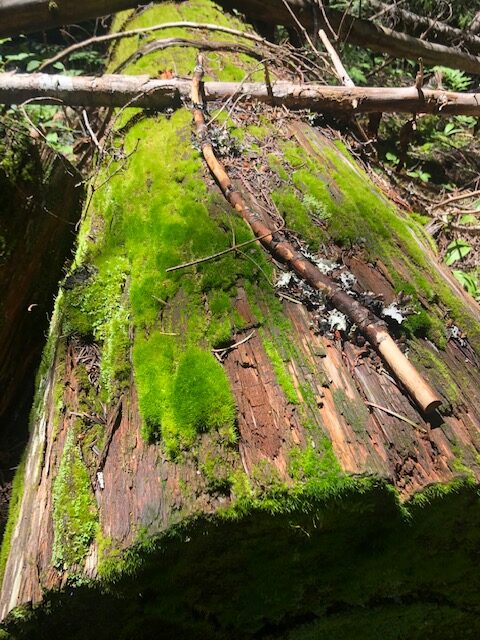 "Then I traveled through the seven levels of the Candy Cane forest, past the sea of twirly-swirly gum drops, and then I walked through the Lincoln Tunnel."

Buddy, Played by Will Ferrel in Elf
We advanced up trail, finding new things to gawk at with every turn. We'd stop, photograph interesting things, new things for our journey. The trail was a steady climb along heavily wooded ridge, that without trees, was steep enough in places to make you pause for safety. This lasted for about 3 miles before making the decision to turn back. On the way out, the sun showed up and provided a different show with colors, now washed a bit in areas, light rays shooting across otherwise shadowed forest. We ran more in this direction with thoughts of missing so much as we watched more closely for ankle twisting opportunities instead of our world around us. But the exercise was a nice and a much needed trade off.
With souls refreshed and cleansed of all the negative emotions, we now needed a camp. We motored on down the canyon, passing several potential spots for a turn across a bridge into National Forest Wilderness Gateway Campground, with no camp host. There were sections A,B,C,D. A was closed, B was away from the river, C was our eventual choice, and D was for livestock camping. We chose C-10 based on availability as a first come first serve site, versus a reserved site. The roads were asphalt, the camps were each equipped with picnic tables, fire ring and ours, an amazing view of the roaring Lochsa river rapids. The C-loop had 2 pit toilets. The water for the entire camp was not potable as it had not yet been tested this season and approved safe to drink, but not a concern for us since our check valve in the water pump is now working perfectly and we store an extra 10 gallons in the roof of the truck. We backed into C-10 and set up camp. A nice couple from Seattle, recently retired and about our age, walked by and we talked at a distance. They had been here camping in a tent through all the recent rain and were leaving tomorrow. They gave us information on a hike from camp and we shared stories before they left.
We set up chairs facing the river, had drinks, and talked. We cooked and cleaned up dinner then decided to stroll up road to a bridge. This bridge was just before the turn into the entrance to the C-loop, crossing Boulder Creek which feeds the Lochsa River. The narrower but more forceful flow created a spectacular cascading water drama from the bridge. We stopped and smelled white flowers on a bush that are blooming all over the place here, which reminded me of the sweet smell of a gardenia, or maybe honeysuckle.
On the way home we crossed paths with this snail, slowly moving his nice, eclectically decorated home across the road. We got down to his level for several takes at a time-lapse video. Watching it move on its way reminded us, both in pace and effort, of our sloverlanding journey.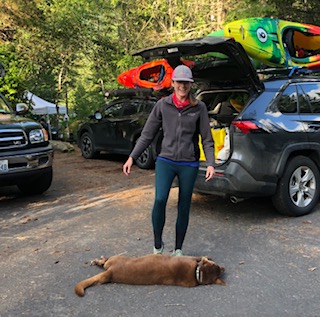 Our next stop was to greet our neighbors. There were three cars with Washington state tags, each with two colorful whitewater kayaks on the roof. We started up a conversation with a tall slender young lady wearing a trucker hat and warm camp clothes preparing her gear. (Secretly it was to get Toohey's belly scratched by a stranger.) We learned the group was from Seattle and have been kayaking rivers for a few days. They planned to launch from camp in the morning for an 11-mile excursion on the river. They were extremely friendly and we enjoyed the conversation, while Toohey enjoyed the love.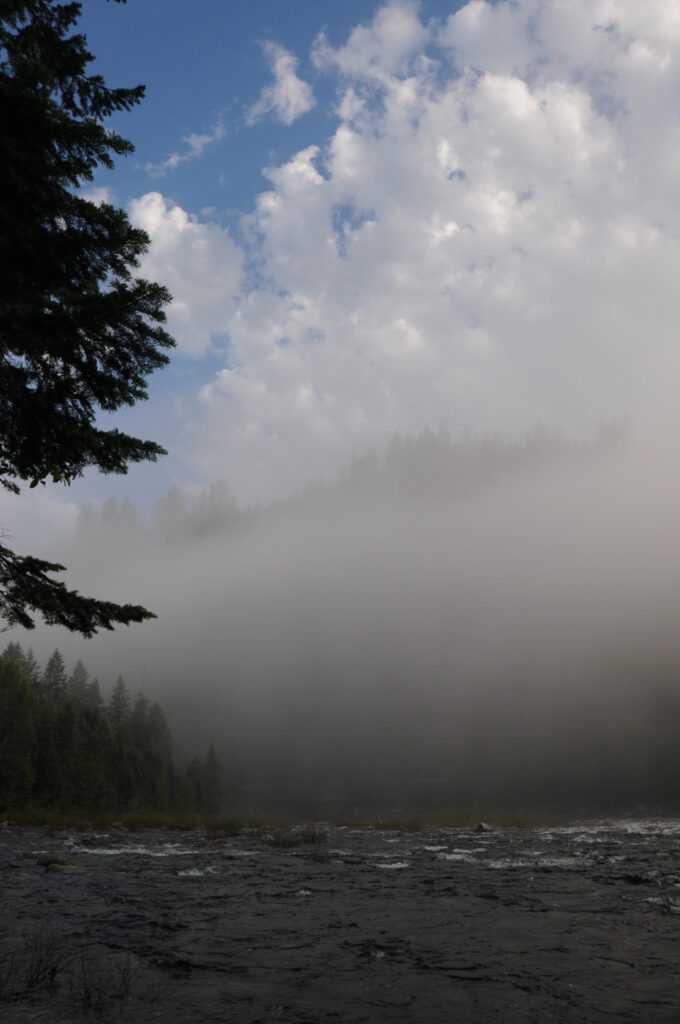 Sleep was good with the steady low roar of the river behind us and the nice fresh mountain air to fill our lungs. Morning delivered some photo opportunities with the low clouds over the mountains, reminding me of the smokey mountains along the Appalachians'. The Appalachian range is an area of my youth and adulthood where I spent years exploring my relationship with the mountains. My first memories were when we dropped my sister off at camp and along with mom and dad, went to the High Hampton Lodge to meet my grandparents. From that point, I could remember the smell of the cool mountain air that stays with me today. Later in my adult years, my parents would retire to the North Carolina mountains which was my children's introduction to the mountains, who would find their own love as well as great memories that we share into their adult lives.
We ate a quick breakfast, donned our trail running gear, and set off to run a trail that departs from the camp. We had no stats or information on this trail which seems to be the best as we love surprises. This one delivered as much as the last. First, it was void of most humans except one party of 8 plus 2 dogs that we passed on the decent. Second, beautiful, lush scenery similar the the previous days trail. And third, lots of little streams for Toohey to drink fresh water and lie down in. The only thing it lacked was big game, but we were too preoccupied with other stuff to notice.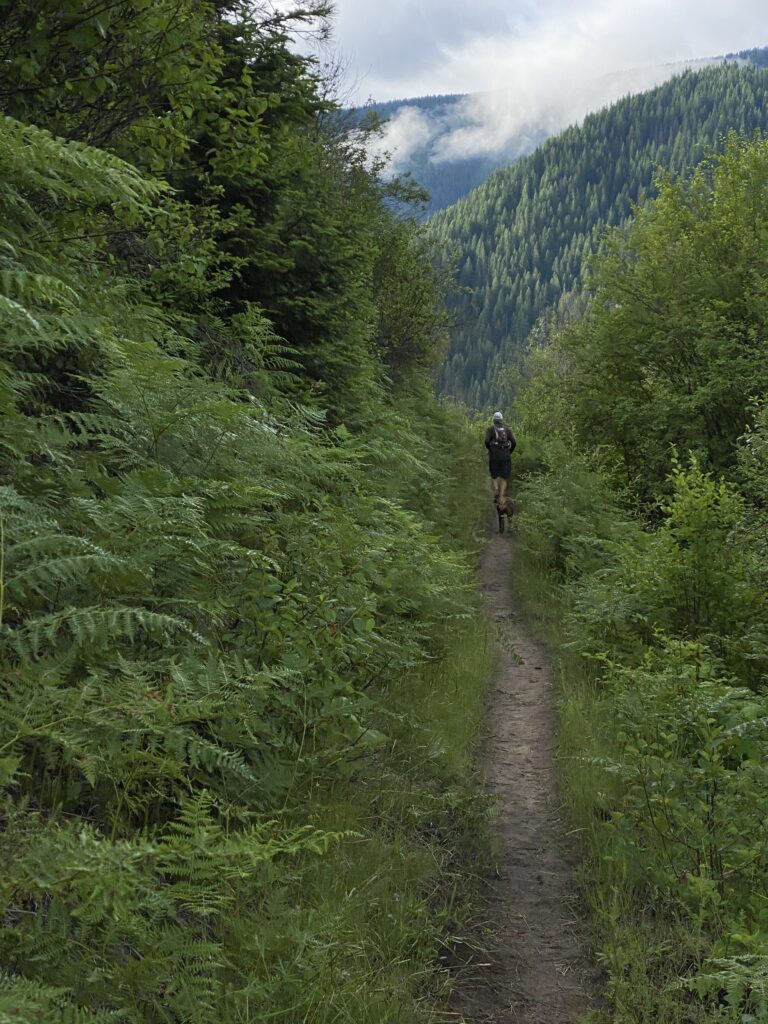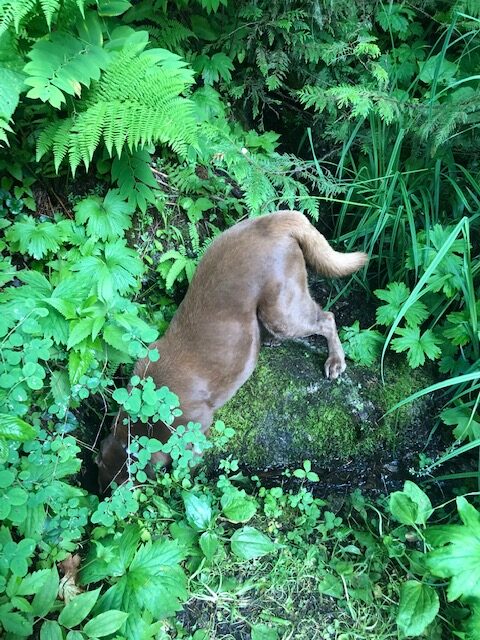 From the start, it was lush green, wet foliage that were damp against our legs as we ran through them. There were ferns, small flowering plants, and simply, a health mix of greens. If it were a plate of salad, you'd be impressed and full within minutes of gorging yourself. The pattern of repeated nice narrow trails with pretty flowers, trees, some rock faces, followed by a switchback with little streams flowing across the trail in a lush jungle environment. This should provide an image of what this 4 miles out presented. It was consistent the entire way and we enjoyed it. We turned back when we approached this seemingly impassable water obstacle. Although Toohey sure enjoyed it.
We made the decent, as expected, much quicker that the ascent and just in time to watch and photograph our kayaking neighbors as they shoved off for their 3 hour journey. This area is a go to spot for paddling this stretch of the river and we, without kayaks, have assumed a premo spot. To our benefit is watching them launch while photographing their first near death experience on rapids across the river.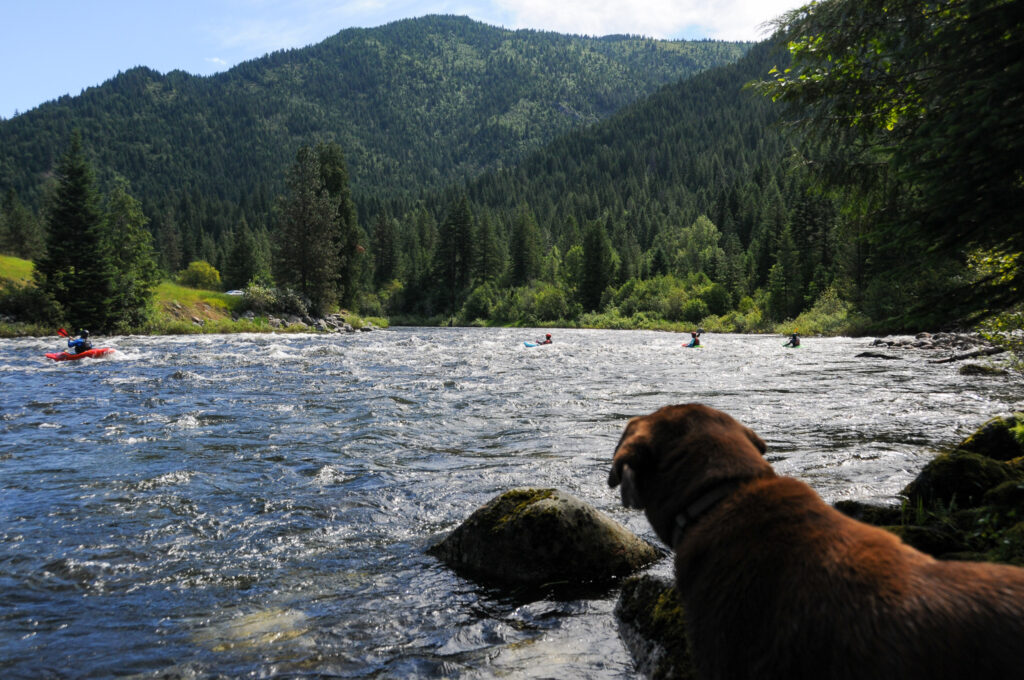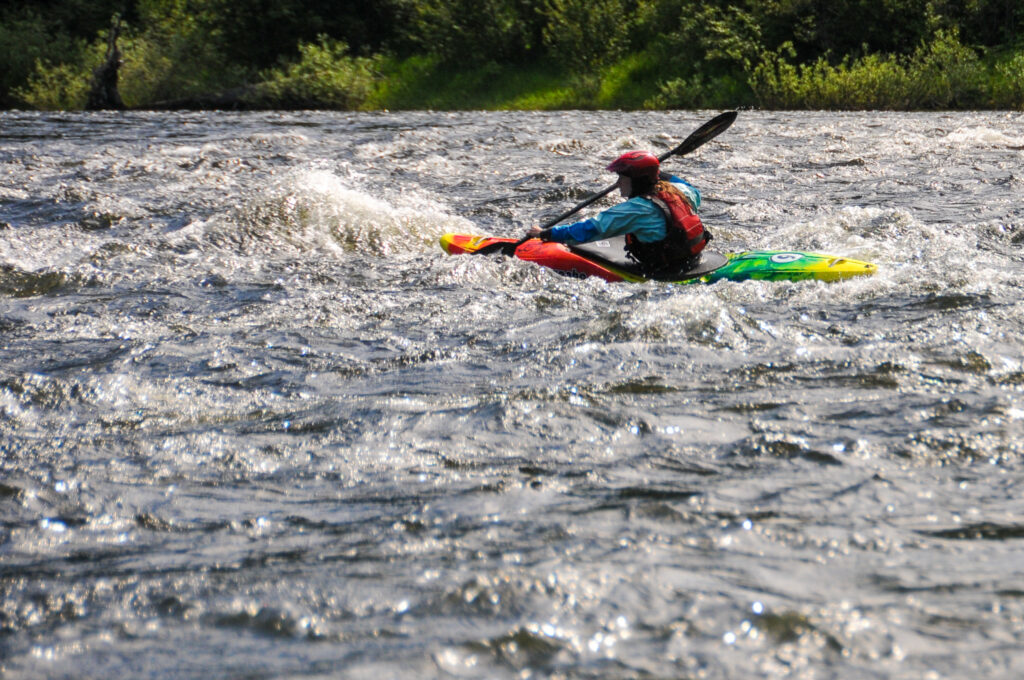 We followed that up with a nice big breakfast of sweet potatoes hashbrowns, scrambled eggs, avocado, and spinach. The rest of the day was mostly relaxing into the camp, writing, reading, watching the river.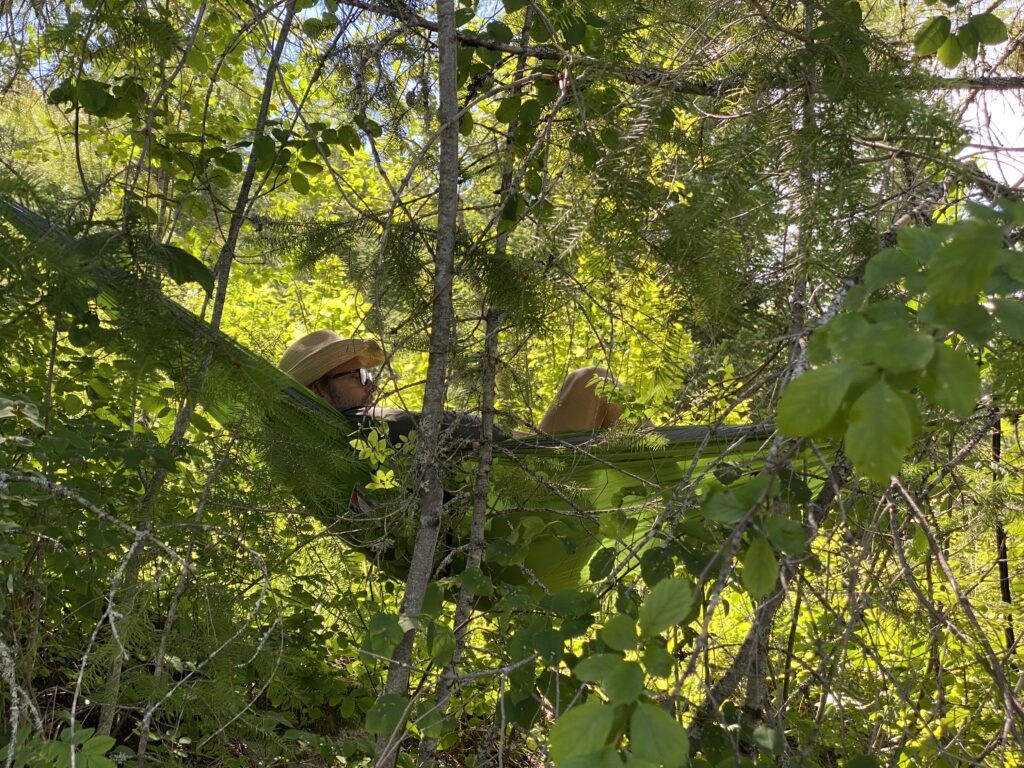 We rigged the tree hammock between along the river, taking turns relaxing in it with the sounds of the river rapids, birds, and a nice sunny breeze through the trees above. In the later afternoon, we took a short drive and found an amazing free camp spot right on the river with pit toilets and one other campsite on the far end of the patch of land. Moving here would be the center of debate, pro's and con's for the next 12 hours. Mostly, the pro's were free versus $14, fewer people to share pit toilets with, and a much larger, open river frontage. We chose to stick it out here for a few more days. But do note that there are lots of free camping, some with toilets, all along highway 12.
We returned to camp, ate dinner, took a short walk, and just hung around No. 10 for the evening.
No. 10 is a pretty camp, sits about 6 feet high on a bluff overlooking the river. There are small pines and lots of nice health foliage along the banks beneath the trees. We have a narrow, short 10 foot walk to the water's edge through small boulders mostly covered in green grassy moss. Similar boulders also line the banks and extend beneath the river. There was a beautiful wild rosebush with one rose fully opened and about 6 other buds ready to explode.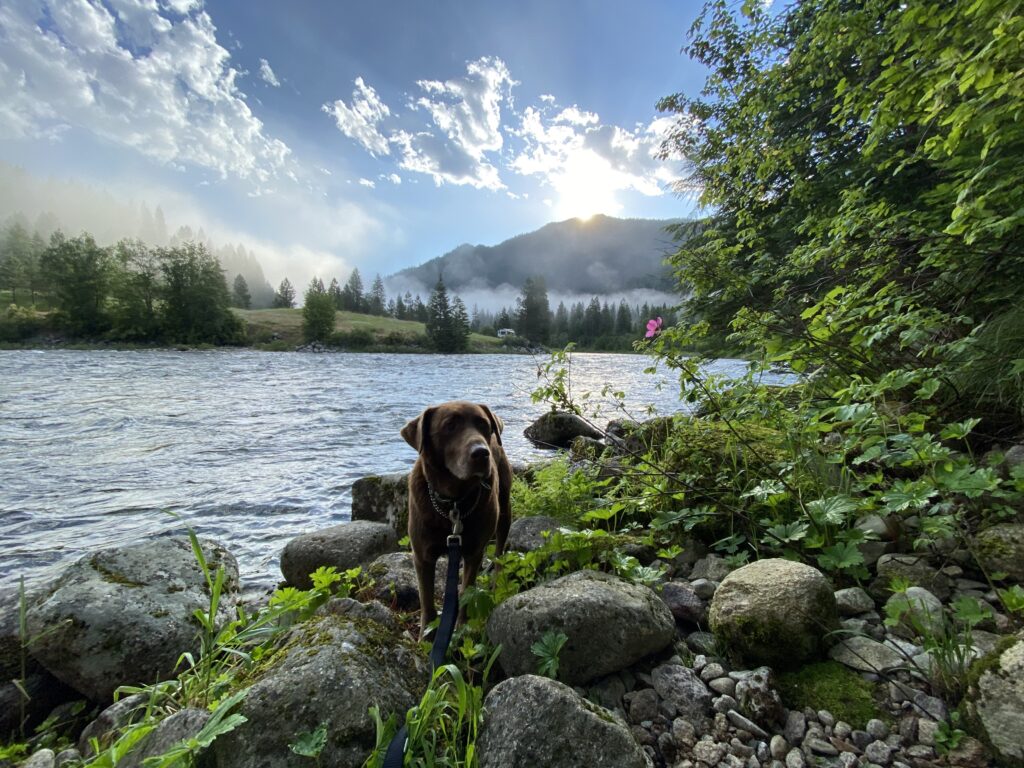 The home is backed nicely into the level asphalt pad next to the main camp road. The asphalt is nice as it helps keep the floor clean from traveling dirt and whatnot that sticks to the bottom shoes and Toohey's paws. Beyond the asphalt is a large area with two large picnic tables and a fire ring separated by a few large river boulders to prevent those backing in from backing too far. The large flat area for eating and lounging is clean, has privacy from the world around by dense bushes and small trees, and is clean. The ground covering is a blend of grass, small ground up pebbles, and dirt. There are small ground squirrels all over the camp but none have ventured into Toohey's home and he circles it nightly peeing his scent along the boundaries to assure they don't forget he is here. There are lots of birds, the Yellow Warbler is our favorite. The dude has yellow and black on his body and a brightly colored red head. Butterflies, both large and small, and dadgum, lots of flies and yellow jackets that like to land on your legs just as you start to nod off for a nap in the hammock.
Speaking of flying insects, we purchased one of those insect killing machines that resembles a tennis racket. (Recommended as a must have by a neighbor in Bear Lake) Ours is all death black with an ergonomically designed handle. Honestly, the zap sound and stench of burned exoskeleton of a successful engagement is quite addictive. The sound of Lysette calling me names as I struck her in the hand wasn't so pleasant. She became much more relaxed around me, the ninja insect killing machine sprouting his deathwand, once she witnessed my successful skills throughout the day. One helpful tip is to make the sound of the Star Wars light saber as you move it towards your target.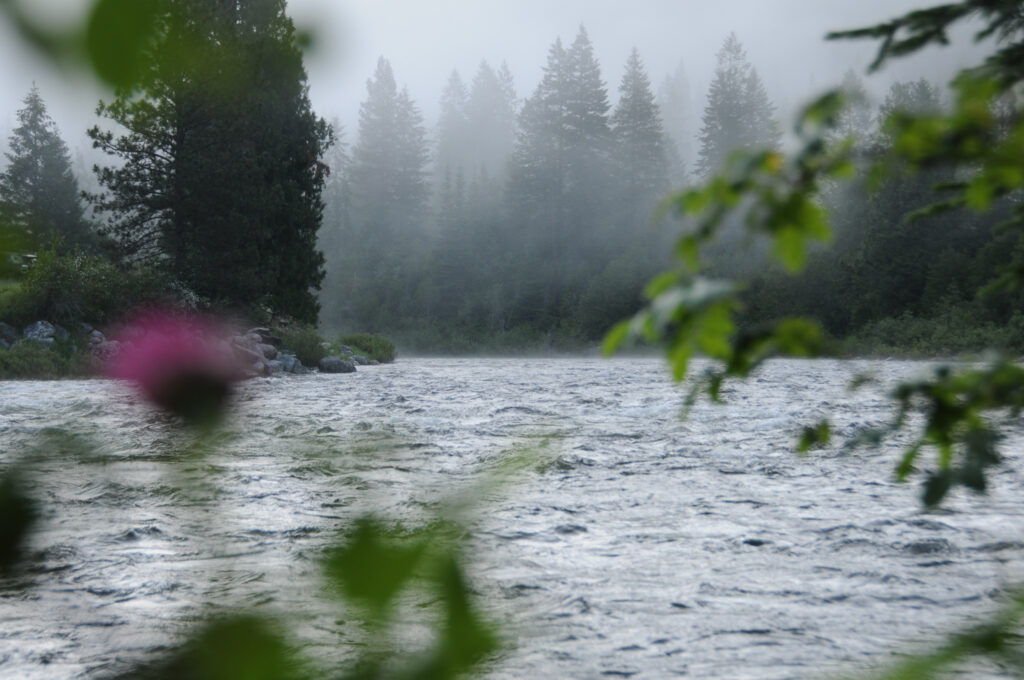 This morning was similar to yesterday, the low clouds, fog, had covered the mountains along the river, expecting them to burn off with he days temperatures. Lysette took Toohey for a short walk followed by spending time on the waters edge photographing the morning river while I type this.
We decided to remain here through the holiday weekend as the camping population is expected to boom in the area and occupy most campsites. Our is nice, clean and has a river feature, so why risk it.
We drove to Kooksia first thing this morning to grab some provisions, gas and ice, check in on emails and stuff. Kooksia is a small town, no stop lights with the altars showing it sitting in the Nez Perce Reservation. The main street through town was cute with no real stores drawing you in except maybe the local saloon. The grocery store was small town and we were the only ones wearing masks.
We iced the cooler and started our drive back with the intent to see the Selway Falls on the Selway River. The road is a right turn, south along the river into a canyon. You are first greeted with an RV Park, Lodge and resort of sorts and the promise of cold beer, before heading into the canyon. The first part of the canyon drive has private river homes along the river. Most are small, quaint cottages with the appearance of being a retreat for families versus year round living. A narrow, single lane at best, metal bridge turns right and crosses the Selway River. We remain straight along the river road as it turns to gravel and single lane with frequent, tight pull offs. The road hugs the canyon wall on the left side keeping a steep drop to the flowing river on the right. There are a few flat areas of land on the river side that are used as camps. The river has frequent sandy beaches along its banks which were inhabited by campers enjoying the day. The water is fresh and clear as evidence by seeing the river rocks deep beneath the surface. There were rafts floating and fisherman fishing. ATV's passing by giving hand singles indicating the numbers behind them. All in, this looks like an interesting, but busy place for the 4th of July weekend.
The falls are stated at the start to be 19 miles in along this road, we passed them not knowing they were the falls just before the 19 mile mark. The falls are a large, determined mass of water busting through a narrow canyon formed around massive rock boulder walls and other huge boulders sitting in the middle creating lots of disturbance. We were expecting the Niagara Falls type, not this. We passed them, took note as cool rapids, then after the 19 miles passed, asked a guy walking with his two daughters if we'd past them and he said yes, the end of the road was a 1/4 mile up, nothing more to see. So we went to the end, pulled a brodie, and headed back.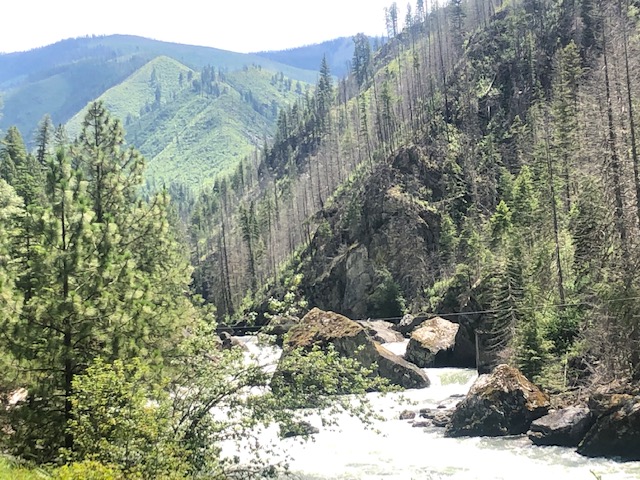 We found a beach to ourselves about 1/3 of a mile from where the brodie occurred and decided to ark in the small pull off and play a bit. Toohey chased sticks, I dunked in the cold water, twice. Lysette stuck her head in the cold water once. Toohey and I wandered the rocks along the river looking for fish in the crystal clear water. All in, we enjoyed our sunny, warm afternoon at the Selway River beach. We left, drove the now busy road back to the main highway and jetted to our camp.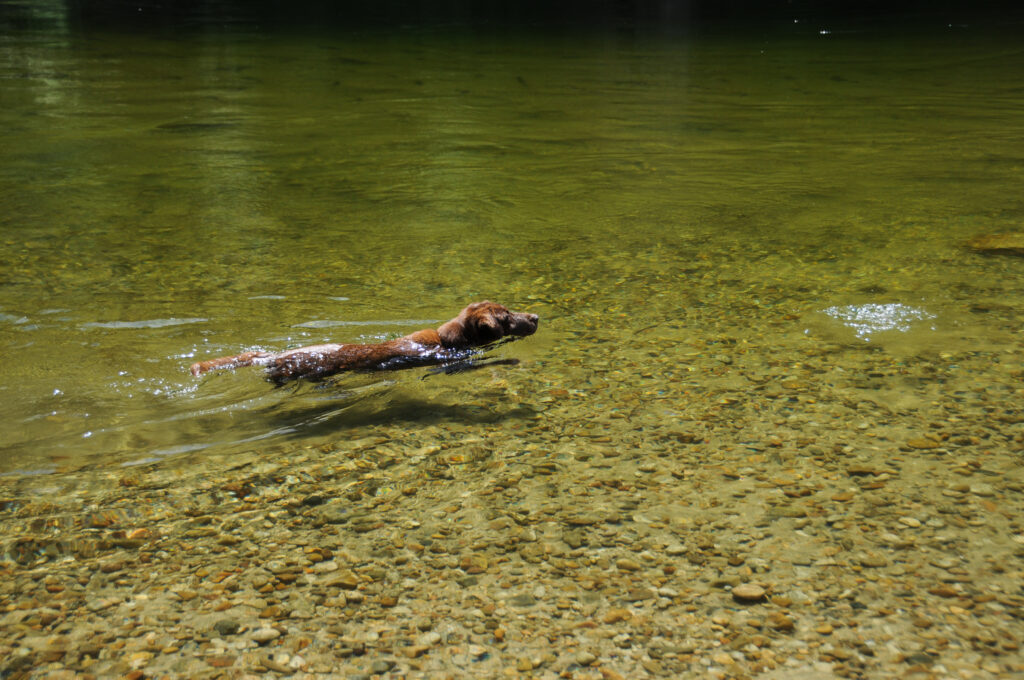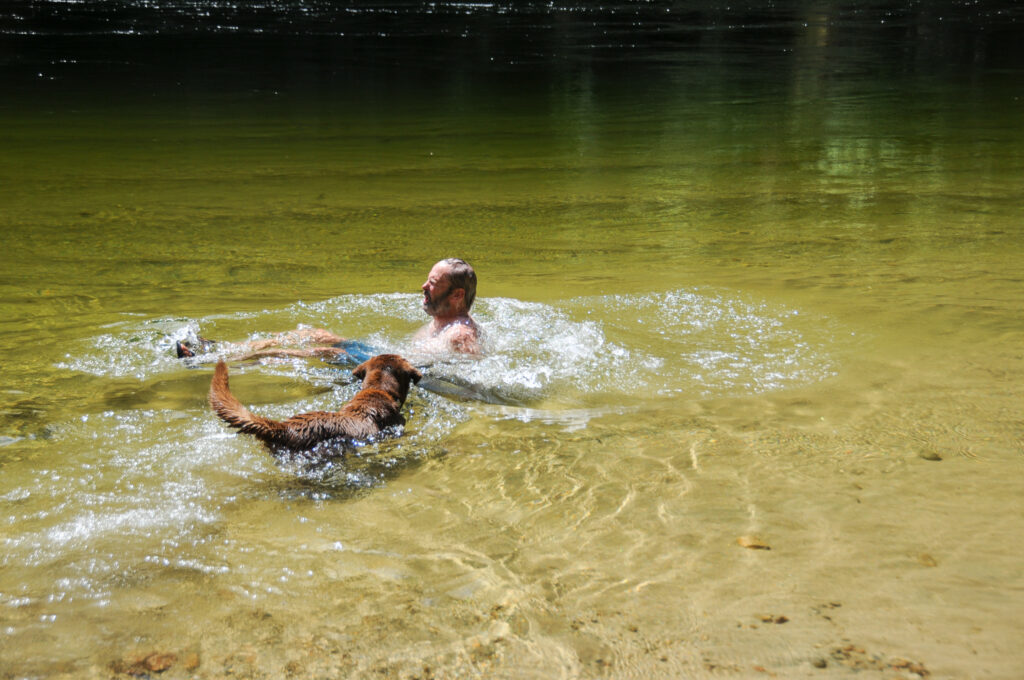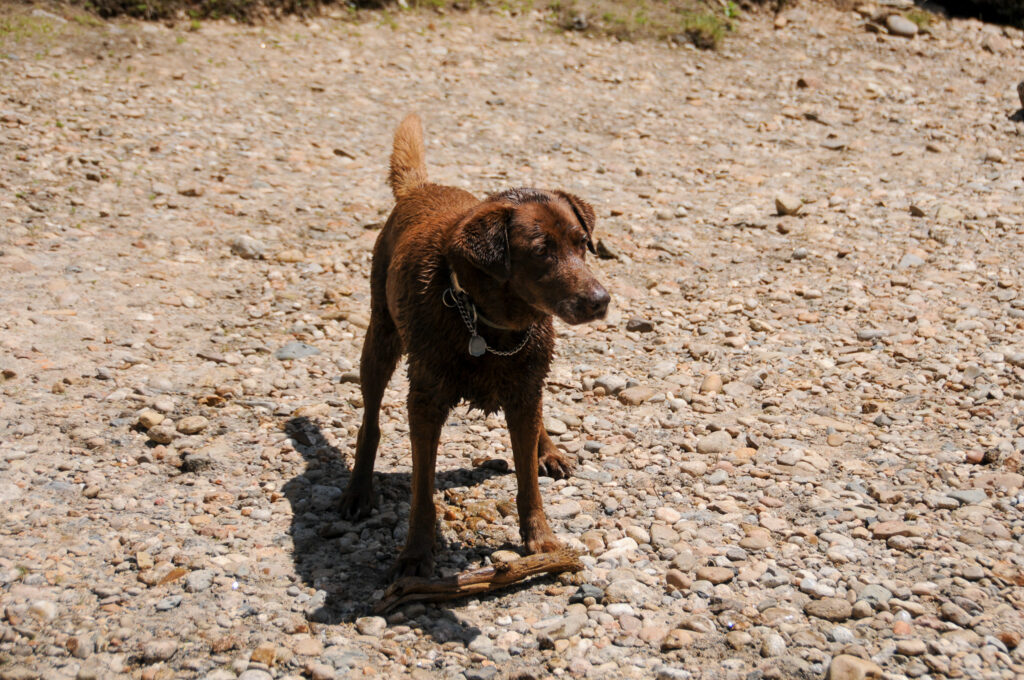 At the entrance to Wilderness Gateway Campground, just before the bridge over the river, is a short 1/2 a click hike down to a large beach mixed with rocks, sand and mountain foliage. After resetting at camp, we decided to head there for some more play in the water. There were several other families with dogs, a variety of dogs, some big, some small, but none wearing hats. There was one large yellow lab named Stanley, after Stanley, Idaho, who was an expert large stick retrieving dog in rushing water. Toohey watched, sniffed, watched some more, sniffed the other dogs, then attempted several failed entries into the water to chase a stick before I had to remove all my valuables and go in with him. This wasn't a helicopter parenting move as much as needing to show everyone my dog can swim, even if it requires me to swim first to help assure him he wouldn't drown. Once he broke the fear restraint holding him back, he never stopped enjoying the water and showing his new dog friends that he can chase sticks too, although smaller, closer to shore, and certainly not Stanley's stick.
The family was nice and didn't require any sniffing as introductions. The chieftain was from Lewiston and gave us lots of information on the town of which we were interested. The adult children were from all over including Coeur d'Alene, ID and Helena, MT. They were extremely friendly, happily sharing stories of their times in this area and all they knew of it.
The people we've met here are all snarless, nice people. One example was a young couple from Moscow, ID who were getting out of their truck to go fishing at the beach area we were leaving. Turned out, they were our neighbors in No. 12. I asked about fishing and that turned into two separate conversation between me and him, and her and her, while Toohey sat patiently at her feet. They were eager to provide loads of information on fishing and whatnots along with providing me motivation to get my fly back in the water. But wait, there is more. We would find a hand written note taped next to our home's front door at No. 10 packed with all kinds of information on secret wilderness stashes and city things they enjoy, that they thought we might also enjoy. How nice was that? Actually, to some degree, this kind of magic has happened quite frequently with the friendly people we've encountered along our journey.
This morning, Independence Day, Lysette and I woke up and decided to skip a big breakfast, opting for a trail run up trail number 220. As with other trails, we had little information on what to expect and with each, they seem to continue to deliver. Not in amazing views of snow capped mountains but in the lushness of a forest greatly equipped with varieties of ferns, mountain roses, and other plants and flowers, unexpected for the area. As with yesterday's run, the trail was interchanging switchbacks with small mountain streams, perfect for Toohey to grab a quick refreshing drink. The streams flowed down the steep decent through the forest feeding ferns, mossy decaying logs, and other greenery along the way. There was no ending to this trail, no summit, hot springs, or other remarkable feature, but for us a turn around point based on a time and distance for Toohey. After extending the trail run too long for each, next curve, false summit, thoughts of a trail intersection, we finally made the decision, one done on a mutual agreement sealed with a pinky promise, to turn back descending to camp. We enjoyed a nice big breakfast and rest time before the afternoon activities.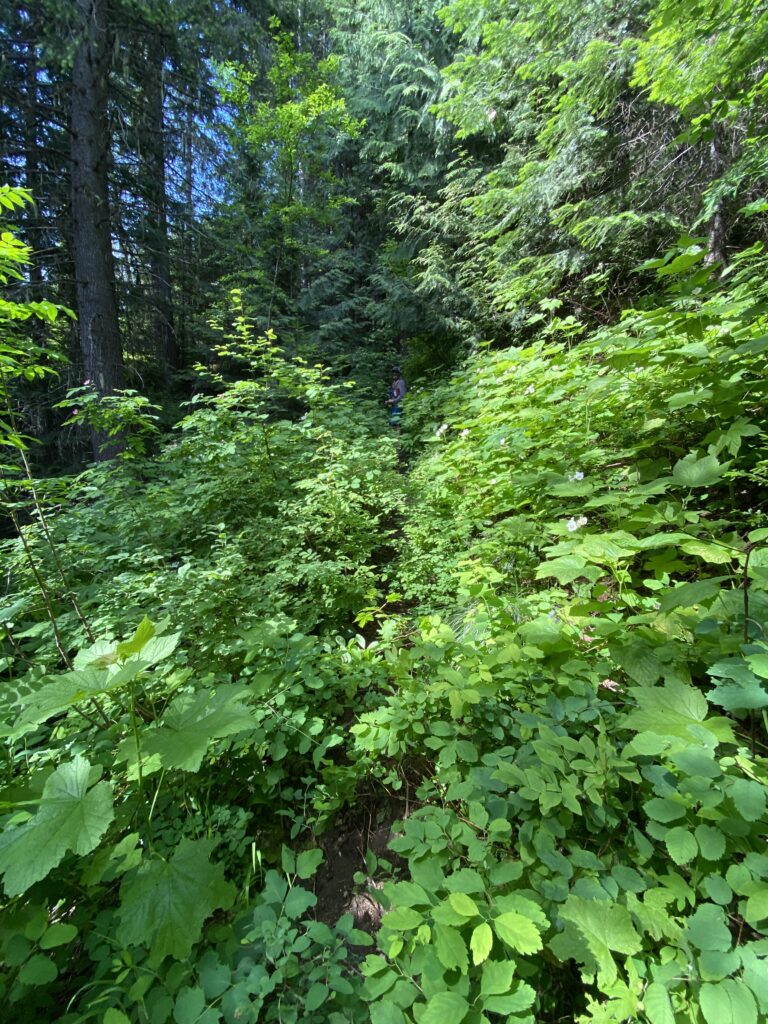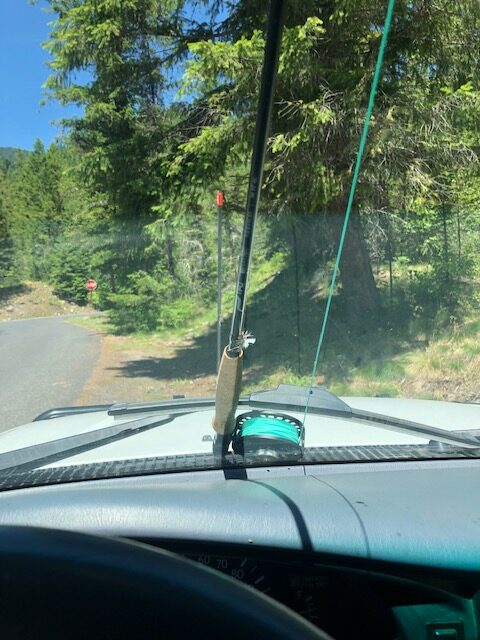 The afternoon included some more rest, discussions on where next and for me, a time to fish. A cool new lesson learned on fly fishing was how to travel, locally and low speeds, to the next fishing hole by placing your assembled fly rod and reel with fly attached, beneath your windshield wipers. I saw this being done by our friendly neighbors in No. 12 and it is amazing. So, first I fished the river frontage to our camp, then, placing the rod and reel beneath my windshield wiper, with the rod extending over the windshield and roof to the truck, drove out of camp turning left on Highway 12 in search of a pullout with a good level area. It worked marvelously for the most part. The one skill they don't tell you with this new method of transporting your gear is to make sure you are bombproof on selecting turn signal vs windshield wiper activation. I'm not, and yes, when reaching to turn off the right turn signal used to move off the road onto the pulloff, Kemp turned on the wipers. This could have been much worse but we weren't moving and were far enough off the road to not hit anything, lesson learned.
I enjoyed fishing the banks of the Lochsa River, not seeing or catching anything but certainly getting more familiar with managing the fly fishing systems. There is something remarkably relaxing in rigging the line incorrectly, casting terribly, looking for obvious empty fishing holes, and not catching anything but the bush behind you.
Being present in the fishing moment of standing in the river with unstable footing as cold clean river water rushes against your legs or balancing on a large boulder with the rapids in front of you as you cast your fly. Observing the river, the relationship it has with the banks, boulders creating eddies, and how the fish might use it to find real food. Watching your tasty fly rolling out at the end of your cast finishing just as you had imagined, then following it as it rolls downriver, full of optimism as it will surely disappear into the mouth of a beautiful mountain trout at any second. The best moments are when your fly successfully remains knotted to your tippet while you work with surgeons focus to untangle it from the limb behind you, while your wife photographs your beautiful dog, all bring a relaxing smile when looking at photos.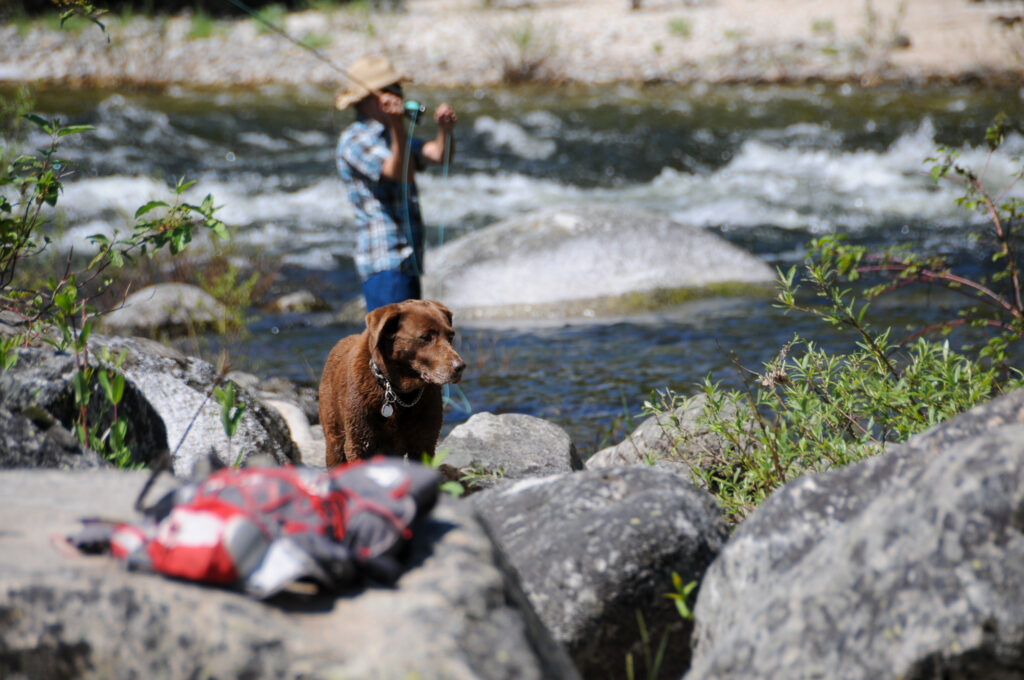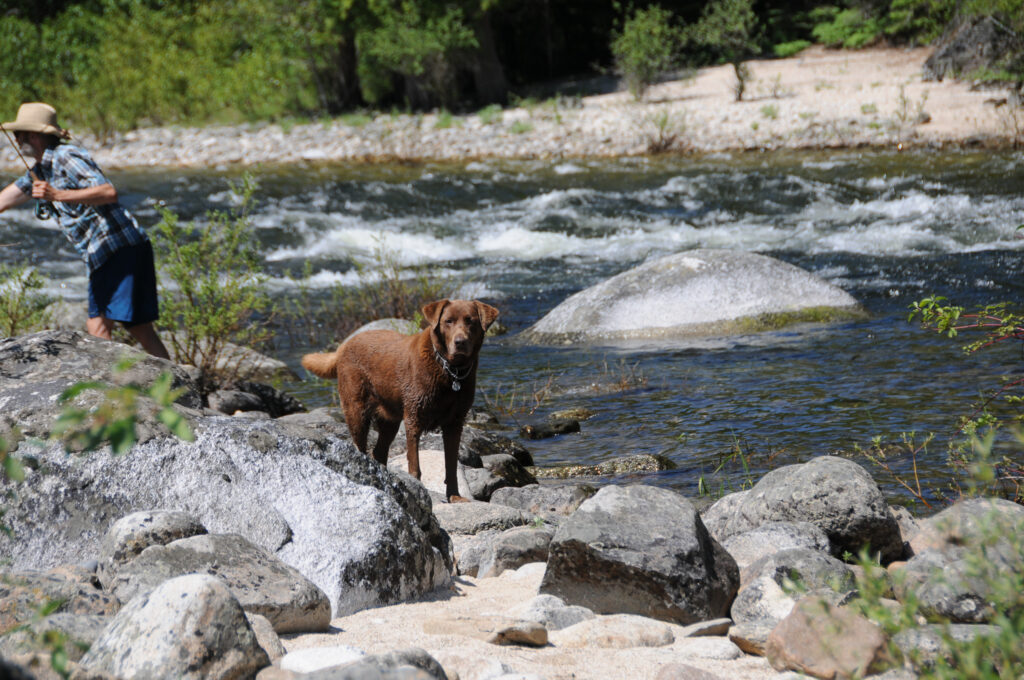 July 5 was our last full day at the Wilderness Gateway Campground, site No. 10. We did a short hike with Toohey, who needed more recovery from the previous day's activities, more fishing, and basic outdoors funtivities. We have thoroughly enjoyed the stay here and would certainly come back. Not being a free camp site reduces the mark by 1 star but otherwise a great place to stay in a great area. The campground is full on adventure seekers dream camp with so much to do in the area. Must haves for a return would be something more than an SUP to float on. This is something we are considering for future river stops. We are also thrilled with the people we've met who are engaging, friendly, and love the Idaho outdoors. We have started commenting that we seem stuck in Idaho especially if having fun in nature, beautiful places abound, without huge crowds of urban people, is your glue.
Our discussion of what's next is interesting also as when we get to the end of Highway 12 in Idaho, we are at a preverbal crossroads, a decision to make. Our original plans were to cross from here, or maybe head south, but into Oregon and southwardly to Crater Lake area before heading north, maybe up the coast. All this is now in discussions, especially after the note slipped to us by neighbor in No. 12 with a menu of other cool stuff (more Idaho glue) in the area to include the college town of Moscow (pronounced Mos- KO unlike the Russian city of Mos-COW). But we both agree that Lewiston, a paper mill town as reported from one local, is our next stop. This is what it means to wander, to wonder, to let your journey evolve.
We left No. 10 following US Highway 12 to Lewiston. This road follows the Lewis and Clark expedition and has many historical markers on them and the Nez Perce Indians. The sadness I feel while reading about the Nez Perce tribe reminds me of so many, like them, with a rich way of life with little profit to provide, were screwed by us in both their land, way of life, and the history books.
On a less serious note, there was one moment of excitement that typing these words will hopefully do justice as we found this hysterical. While traveling along around 45 mph, we came around a turn where a rafter of turkeys (several) had just crossed the highway and another was not trying to get off the road in any hurry. I aggressively applied the brakes as she slowed, I then gave her some horn and she picked up speed slightly. At this point Lysette said, "baby turkey". Yes, a baby turkey, chick came flying out from the roadside grass after the other two, apparent mothers, and chick 1, made it successfully across the road. The kicker was there was a chick 2 that came next, in the air, flying as ungracefully as a baby turkey chick flies, eye level with me, my window rolled down, and headed right at me. My thought, it's coming in the window and based on the frantic look on its face which was most likely similar to mine, was thinking it had no control of this flying thing and was also just coming in. I yelled something of unknown origin at it while we made eye contact, possibly the baby turkey chick understood my loud gargle as it made its, likely first, left turn ever mid air, and we parted ways. Crazy moment but a good laugh.
Photos