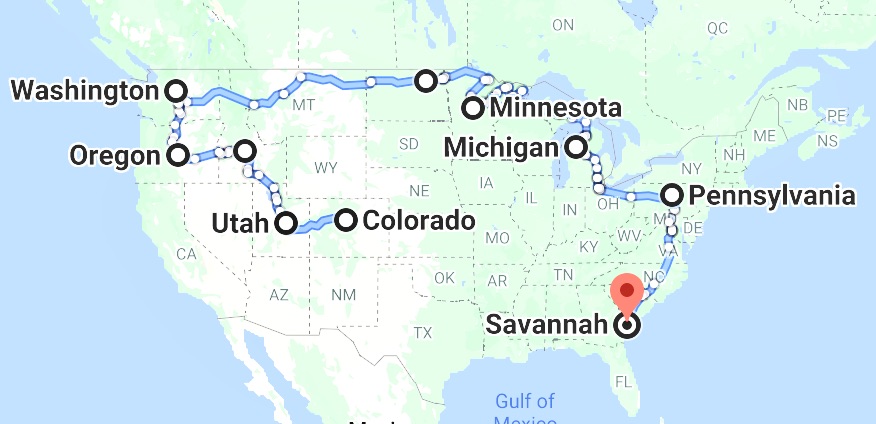 10/27/2020 – 11/16/2020
Note: We decided to create an Instagram account so we can post more real time status of our journey. As you know, our blog which takes more time to create is running up to a month behind. We hope you find this enjoyable. Toohey (@travelswithtoohey) • Instagram photos and videos
Savannah is the place I lived 43 years of my life, the son and grandson of a well known businessman, terrific parents, delivering me the ability to trace my blood back to the early days of our country. Needless to say, my roots run deep here.
Lysette was introduced to Savannah with a project at Union Camp. She was quickly drawn to Savannah for its amazing waterways and spent much of her 23 years there on her dock at the intersection of the Herb river and the intracoastal waterway. Dock activities included swimming, waterskiing, boating, throwing the net for shrimp then feeding them to the bass and trout, catching blue crabs, watching dolphins fish, enjoying spending time on the water with family and friends.
Baseball in Savannah is traced back to the construction of the old Municipal Stadium, now Grayson Stadium where the Savannah Indians played host to other teams. The baseball teams playing there would take on many minor league affiliations through the years with the last being the Sand Gnats, a Dodgers minor league affiliation. After the Sand Gnats left, a local entrepreneur created the Savannah Bananas as a fan first experience with no major league affiliation. This seems to have been a good move for the Savannah "pineapple" culture of welcoming and hospitality.
Savannah would be our 6-month stop, a reset to our travels, a place to restore not only the Tacoma, home, and gear, but ourselves. We all sought medical professionals for various issues while adding several pounds lost during the first 6 months. A few weeks spent with modern comforts, more eating, and less activity, all required to recharge the systems. This was a needed stop and one we were thankful that we had. Huge props to my Pop for putting us up, taking over the wall space in his garage, and deluging him with our funky eating habits, my visually unkempt appearance, and an overall new life style that he always supports but doesn't really understand.
We also found this time useful as an opportunity to reflect on our journey. For example, this morning I woke to a dream where I was standing in a past office of mine on the top floor of a building in Savannah (21 Bull Street) where I worked for 21 years. I walked in, in my present camp condition of beard, yet in a tweed jacket, likely reflecting the collision of the old and new. I didn't know anyone there and as I walked into my office, I stood and scanned the desk but didn't recognize anything. I turned and notice extra ties hanging on the door coat hook and as I reached for them, the ties fell to the floor. I picked them up and was trying really hard to organize them into a system of equal lengths to rehang them properly back on the door hook when a couple of young businessmen excitedly walked up looking for a window to see the views of the Rocky Mountains (which makes no sense). I asked one, a short blond enthusiastic man, where he was from. He responded, "Pennsylvania, which has nothing like these mountains." With my confidence of a traveling sage of US geography, I responded, "but the Allegheny National Forest with the Hickory Wilderness Area and Minister Creek hike are quite amazing places to spend time in wilderness, it equally has the beauty of a place to enjoy nature if you only take the time to pause and look." He responded while looking puzzled, "yeah, I have never been there either."
As I lay in bed replaying this corny dream and now typing it here, I realize that not only has this 6 months given me geography lessons of our country, but it has also provided me a way of seeing the large mass of United States with loads of individual spots of natural beauty. Not everything beautiful has to be a 14,000 foot summit or even a mountain. The simple pleasures of a healthy forest with a narrow trail, the silence of a place only interrupted by the naturally produced sounds can be found about anywhere. The shoreline of the Great Lakes is a majestic thing to see as are the plains and farms rolling through North Dakota. None of which are any good sitting and looking. In fact, to look out of the window at the Rocky Mountain is no better than looking at a photograph in a book. Staring at the view brings you no closer to experiencing it, the goal is to move into the view, to be a part of the view, to be the view.
"In the first place you can't see anything from a car; you've got to get out of the goddamned contraption and walk, better yet crawl, on hands and knees, over the sandstone and through the thornbush and cactus. When traces of blood begin to mark your trail you'll begin to see something, maybe. Probably not."

Edward Abbey
We now see the coast of Georgia with a new filter, one provided with the rich experience of having spent time with the shoreline of the Great Lakes, the Pacific Coast, and the many lakes and rivers we've fished, swum, or just watched flow by. The wildlife we see is now relative to other wildlife, except for the alligator as there is nothing to compare to this gnarly looking beast. We have smelled, heard, observed so much over our first months traveling together. And the team, our love for each other now equipped with new and stronger communication skills that have become more open, direct, and solid as a result of necessity, as much as anything, has us stronger as a unit than ever before. And yes, this includes Toohey who, even though he doesn't speak a single verbal word, can nonverbally tell us what he wants and knows at our every move.
All this is great but the true beauty of being human comes in the form of the the relationships with family and friends. Understanding how valuable and precious these relationships are, are the basis of our identity of self and without them, we are small and live without context to our lives. So we now park for a few weeks to enjoy the relationships of family and friends.
"We all want to know and be known. That's why doing good is so powerful when the focus is first and foremost the people and not the project."

Chris Marlow, Doing Good Is Simple: Making a Difference Right Where You Are
Travel Journal
This journal will be different from others as I didn't do a detailed daily log of the trip based on HIPPA requirements of team Travels With Toohey and the extended stay there. I am providing some highlights of the stop and a special feature for anyone thinking of traveling to Savannah.
My Dad's home will be the base for our stay in Savannah. Dad lives in a gated community called The Landings which has some pretty restrictive rules for parking a trailer. Like, you can't. But the association security did provide a solution which was a parking space behind their offices in an oak tree-shaded parking lot across from a playground, soccer fields, and next to the nature trail. Our concerns with leaving it there, out of sight, and with no daily life inside, was of juvenile mischief or a rogue theft, humidity, and, of course, bug infestation. But this being the best solution for us, it also required us to remove the contents from it, especially anything that might hold moisture allowing mold and mildew to form. So we pulled up to his driveway, said hello and quickly went to work. Basically, we pulled almost everything out that wasn't nailed or screwed down out. All interior content went upstairs to our living space over the garage. We then unloaded the truck, neatly storing everything in the garage. From there, we moved the trailer, our home for the last 6 months, to the parking lot behind The Landings Association offices to sit alone for three weeks.
The timing of our arrival in Savannah was also about our need to vote. We had our address with the Colorado Secretary of State office changed to my Dad's so ballets were sitting there when we arrived. With over 20 choices for president, plus a write-in line option which was tempting, and a butt load of other ballot initiatives, we went to work. After all choices were made, we set off for the USPO to slip the ballots into the mail slot assuring a same day pick up and the great duty of our citizenship of the United Sates of America completed, to vote. 
We came home, showered and then set off with Dad to my sister's house to visit with she and brother-in-law and to introduce Toohey to another dog family member. Abbie, a large female white golden, owns every moment as she energetically moves around the place. She frequently dunks into the pool, grabs toys, runs, barks, and is always looking to entertain while being entertained. She is fun and exhausting to watch. Toohey, immediately yielded all ownership of the place to her, sniffing and marking a security boundary for the team, the rest of us enjoyed getting caught up. Catching up included a lot of commentary on my beard, some on our trip, and lots of just good ole family banter.
Our time in Savannah was as busy as ever. We not only had a birthday celebration but enjoyed the company of Lysette's sister and brother-in-law, boat rides, bike rides, along with everyone and everything getting worked on. It appears our 6 months of travel, camping outside has warn a few things down and out. But certainly not our spirit. We still jones for the fresh air, quiet places, and conversation with friends and family, all the things that feed the soul.
Travel to Savannah
Our idea for blogging the Savannah scene was to focus more on what we tell people we like to do while visiting Savannah versus a daily blog of activities. Savannah and the area is full of history, dining, outdoor, and fitness opportunities. The city is best explored in the early spring and fall to get the best temperatures with the fewest biting insects to enjoy the outdoors. The summers can be brutally hot and the winters can be nice but can swing to the cold side preventing the comfort needed for the outside.
Historic Area
The historic area of Savannah is what brings in the tourists and rightly so. The place is beautiful and historically interesting. General Oglethorpe and the Georgia Trustees designed the colony of Georgia as a place to relieve the British jails of those who couldn't pay their debt, as compared to Australia where they sent the bloody criminals aka the Hunts. The City of Savannah was laid out in a grid, providing each colonist a small plot of land, each area having a center park for commerce and community. There are 23 of these parks that still remain, now full of large oaks draped with Spanish moss and large monuments serving as center pieces. All the streets run east/west, north/south with the Savannah River on the north end. On the south end of the grid is Forsyth Park with the well known fountain as center piece and a great place to recreate or get married. Note the parks outer path is exactly 1 mile around for those type A exercise enthusiast.
Attractions:
River Street, a touristy t-shirt shop of a place but a must see. Most business are constructed in old cotton warehouses along the old cobblestone street. Hopefully you'll be there at the same time as a large container ship passes as that is quite the scene. Also note that the west end has recently gone through a major renovation of a power plant by a well know hotelier. I can't comment on this space or how it changes the nature of the river front but should be worth a visit.
My favorite evening in the historic district started with a trip to City Market. It was constructed just as that, a market next to the now gone Famer's Market destroyed for a parking garage, now moved underground and repurposed as Ellis Square. It is a vibrant place to visit with walking space and usually live music. The market sits between Barnard and Montgomery Street, or Ellis and Franklin Square. This is where you'll find our favorite pizza which is a custom slice from Vinnie Van GoGo's. Sit out side and enjoy your slice on banged up metal plates with beer in plastic cups. And be forewarned, the slices are large.
Afterwards, slow-walk to Broughton Street and head east where you'll find Leopold's Ice Cream next to the SCAD theatre on the north side of the street just past Abercorn. This place was an institution back in the day as my dad loves to tell the story of going to Savannah Athletics minor league baseball games then to Leopold's for ice cream with his father. Stratton Leopold who made his money as a movie producer, returned to Savannah in the 2000's to resurrect the parlor which now serves this delicious treat to lines of visiting customers. An insider trick to avoid the line, I am told, is that you can go inside to purchase a pint from the cooler but you need to know your flavor in advance. If you miss it downtown, there are two stores in the Savannah airport. My favorite flavor is chocolate chewies and cream.
The walk of choice for me is anywhere downtown through the parks but my favorite is north to south from the north end of Bull Street south to Forsyth Park and then back. The stroll takes you down through some of the best parks with the end being through the center of Forsyth. There is a nice coffee shop, the Sentient Bean, and there are several restaurants at the south end as well. Along the return route, stop at the Gallery Espresso for a mid-afternoon snack or drink and sit outside if available to watch it all go by or for the start of an early morning bike ride on the weekends.
Again, the best time to visit Savannah is spring and fall as summers can be really hot and not conducive for being outside.
The Tybee Islands
The last blog will bring more detail to the Tybee experience.
Tybee Island is one of my favorite places as it is an old school beach community unspoiled by commercial development. The place was once a summer retreat for Savannahians but has grown up with condo complexes and a few hotels. It retains the feel of being real though with no chains, no large commercial development and no golf courses. The beach itself has a large low-tide shelf and large sand dunes. The south end is the main business area with smoky dive bars. Contrast to all of this is the South Carolina side of the Savannah River, aka Hilton Head, packed with commercial stuff, golf courses and fancy houses. Tybee retains its board short, flip flops, blue collar beach with a friendly feel.
The back river is my personal favorite as I absolutely love the natural view of Little Tybee from here. If at all possible, take a sea kayak tour or hire a boat captain for a fishing or eco-tour there. The place is a wilderness area, uninhabited, unspoiled, natural coastal place you should quietly visit. It is one of the most beautifully undisturbed places on earth.
The main beach along the east front of Tybee is a great place to enjoy. Make sure you pay the meters though as you will be ticketed. They have an easy to use app now that will keep you from making the run back up to the meter but is only allows hourly time chunks so it can get expensive. Dogs and glass bottles are not allowed. You can drink all you want from a can, but the fine for either of the others is $400 or more.
The north end is Fort Screven, an old pre WWI battery with the lighthouse as a center piece. Much of the concrete artillery bunkers still exist with a few privately owned and with homes built on top. There is also officer's row which consists of stately old Victorian era homes. We stayed at the Rivers End RV Campground which was one of the nicest RVparks we've had along our journey, it also has cabins, so check it out.
Lazaretto Creek which is what you pass over entering the island has restaurants and boat rentals. It also has a place we recently were turned on to that has fresh fish. BG's is located next to Bubba Gumps has a seafood counter where you choose the fish and they fillet it for you. We purchased the Sheephead and pan fried it in butter for a delicious meal.
Our favorite day on Tybee is to spend an afternoon on Alley 3 by the boat ramp on the back river. This is the launch site for kayakers, is a really small beach, with great view of the back river and Little Tybee. There is bonus if you have a boat or SUP with which to play in the back river. We follow this with a trip to AJ's for a beer, a pound of peel and eat boiled shrimp, and a bowl of crab stew. Enjoy the pesky birds that fly around squawking while waiting for you to drop a shrimp shell as a part of the annoying ambiance of the place. By the way, AJ's was the Tybee Marina when I was young and where we launched our small boat to play in this place. Great memories.
Other great places include North Beach Grill's outside bar, Docs Bar (where they and most bars on 16th Street still smoke inside), and of course Huc-a-poos.
The Water
Most people see Savannah's historic town beauty but few explore the water and marshes, which are really the heart of Savannah. The natural beauty of this place is amazing. Vast stretches of marshes, coastal birds and the frequent site of porpoises rolling in and out the rivers for feeding. If you are lucky to see one jump out of the water or play with your boat then feel fortunate.
Bluff Drive
Isle of Hope is another special place for me having lived there several times in my life. The community is tight knit, the feel and pace is slow, with an air towards maritime. Bluff Drive runs along the Skidaway river where boats follow along the Intracostal waterway, lined with docks, and where locals walk. Bert Reynolds drove it in the final scene of the movie, Gator, and Matthew Broderick marched it in the Civil War film, Glory. It is shaded by large oaks and has interesting mostly older Victorian style river homes. The lone business is the Isle of Hope Marina which I have enjoyed since I was 10 years old. There is an old house where we were taught as youngsters that a pirate chest was buried beneath the chimney which couldn't be removed as the house would collapse. I highly encourage you to drive to Isle of Hope, park your car at the marina and just walk it in both directions. It is less than a mile long in either direction but will make you a healthier person both physically and spiritually. Added bonus can be found catching a sunrise over the marshes.
Running, Cycling, and Aquatics
Savannah was not known as a fitness destination until recently. We spent years playing with the members of the Savannah Triathlon Team training, racing, and socializing together. They have an active Facebook Page if you are interested in some local ideas.
If running is your thing then check out the Savannah Rock-N-Roll in November. If you are looking for a group run, check out Savannah Striders as they have several weekly group events. One of my favorites in years past was a run from the southside of Forsyth park over the Savannah River bridge to the Maritime Conversation Center on Hutchinson Island, and back.
Running downtown and specifically Forsyth Park is a great start to the day. Add in a trip through downtown, along River Street and back for a few more miles. Link Forsyth Park to Daffin Park for a bigger day and trip south through the city as the architecture goes from historic to victorian to early 20th century homes built more for the automobile culture. And if you need anything running related, check out Fleet Feet.
Savannah has a vibrant cycling community that traces its history back to the Savannah Wheelman. If you are a cyclist visiting then make sure to stop by Quality Bike or Perry Rubber. There is a large group of cyclists that meet next to Perry Rubber in front of the Gallery Espresso Cafe in the historic district for a Saturday morning ride. The large size requires A, B, and C groups with speed and distances to match your level. Make sure you are able to ride comfortably and safely in a large group and can steadily hold a paceline before joining this ride.
Swimming is a great sport in this city whether it is recreationally done at Tybee, in one of the creeks or rivers, or lap swimming at the Chatham County Aquatic Center. The aquatic center has a 50-meter lap pool with great wide lanes, maintaining 78-80 deg water temperature. There is also a 25-yard recreational pool at 87-89 deg temperatures. It is always a treat to return to Savannah for a swim here.
Sea Kayaking
This is a favorite of mine so if you're in town and interested, check out the tours from Sea Kayak Georgia. They run daily trips from the back river beach on Alley 3 to Little Tybee. If you have your own boat and are a confident and an experienced paddler, then set off on your own journey there or from any of the many boat launches around Savannah. If you are interested in unspoiled Cypress forest and a swamp paddle then do some research on the Ebenezer Swamp. This will require a second car to ferry you from the end back to the launch but it is one of the best paddles I have ever done with spectacular nature. From what I recall, it is about 7 miles and ends in the Savannah River at Ebenezer's Landing.
Our Savannah Travel Highlights
Stuff in for repair, we washed everything from Toohey and dinnerware to our clothes and bedding. Toohey had vet appointments. The truck spent a good week at the mechanic getting all kinds of minor repairs to make it whole again. We reaffirmed the strength of family and friends. My birthday came and went and with it, we got a new travel toy, an inflatable tandem kayak. We ran, we biked, we walked the town. We slept in a king size bed with ac, ceiling fan, and a bathroom that was a short carpeted walk across the room, where we could navigate without having to dress and only used by us the entire time. I watched a short bit of TV when UGA played on Saturday afternoon. We did little planning on our winter travel finding a specific solution difficult as commitment is the natural enemy of a good wander.
Friends
We met up with friends for a swim at the Chatham County Aquatic Center. Swimming after 8 months of no swimming was for the first 50 yards a natural thing but soon became an effort with arms feeling like wet noodles loosely pulling through the water, and timed intervals that were way off from my already slow history in the water. The best though was meeting up with our friends and spending some time with them afterwards over breakfast. We would see them later in our stay as they invited us to their home for dinner and conversation which was so nice and appreciated.
The Vet
Toohey and I set off for his vet visit from all the ticks and need for more testing and medications. The veterinary clinic of choice, Southside Hospital for Animals, operated by a cousin whose father was the doctor who previously treated my long string of family pets and who was a childhood idle of mine. It was great seeing him and Toohey got A+ treatment. And from what I witnessed, the son has filled his dad's shoes quite nicely.
Family
Being with my son and his wife was great and reserved for the weekend as he is now a corporate guy having to travel to other cities during the week. Being Mister Manager is something we are all proud of. We spent time the first weekend with them enjoying my birthday Low Country Shrimp Boil at my dad's house followed by several other smaller dinners with fewer family members. One of my favorite evening was when the four of us did the Vinnie Pizza and walk downtown with drinks to go, great conversation, and time spent. It is always great to see them spending time now as adults together, and from a dad's perspective, it is best to see your son become a man and most important, to be happy. What more can you ask for?
Lysette's sister and brother-in-law who are fulltime travelers as well, arrived at Skidaway Island State Park with their RV and two dogs. Toohey and I stopped by to pick up dinner from Sandfly BBQ and returned to my dad's where we all gathered for great conversation, drinks and dinner.
The next morning, Lysette, Toohey and I ran over to the state park to meet the dog cousins and hike the state park trails. These are beautiful and interesting as they wind through the old oaks, pines, palmetto bushes, by rusted out old stills that had been axed by the feds, over old Civil War artillery mounds, oyster shell mounds, and along the marshes separating us from the Skidaway narrows section of the intercostal waterway. Their dogs, reportedly having never seen a tree squirrel, chased squirrels through the bushes, palmetto bushes, stared at them up trees and simply enjoyed being dogs. They also unsuspectingly became host to a large number of ticks of which will be a theme for the rest of today and a few more days.
The afternoon was spent with them getting their dogs bathed from the smells of animal dung and ticks while the plan for the evening was a boat rode to the dockside restaurant called, The Wyld. We picked them up at 4:00 and headed to meet my sister, brother in law and niece at the Isle of Hope Marina where they keep their 23-foot Albury Brothers crafted vessel. We set off as the sun was falling in the western sky, making our way through the calm waters, slowing for the no wake zones until we saw the dock and restaurant sitting just over the marsh. We also spotted dad who had made the decision to meet us by land.
Dinner was amazing as much for the ambiance and company as for the food. Drinks flowed and the night provided a moonless dark sky. With me at the helm, niece on bow with spot light, and sister in voice control of us all, we slowly motored our way through the maze of marsh that provided dark backdrops to the narrow creek. As it opened up a bit on the approach to Wylly Island, the dock lights provided aid to our vision which lasted until just past the Dutch Island community dock. At this point we started following the red and green navigation markers complimented by my sister's knowledge of landscape to point the bow in the right direction. In all, the team in charge made a seamless, errorless trip safely back to the Isle Hope Marina and with all hands on deck, secured the boat back into its reserved dock space.
Relieved to be alive, we said goodbyes to our boat host and drove with Lysette's sister back to their RV for some last shots of pure agave before making it home and bed.
We met up with Lysette's family at Tybee during their stay at the Riverside RV Park after they left Skidaway Island. We used this trip also for the maiden voyage of the new inflatable kayak. The day was mostly cloudy with the daily chance of rain. We made it Alley 3 and set up on the thin, high tide beach. In fact, it was at the peak of the high tide so from here the beach would get wider. We inflated the boat and I took her for a spin to check it out. First and most importantly, she floated. By myself, I had plenty of leg room and the large gunnels made a great place to wedge my feet for added control while paddling. The rocker is such that the boat maneuvers or spins quite easily, much like you'd expect in a white water boat. I did a quick loop out and then a few more times to complete her sea check. With all systems good, I returned so Lysette could take her for a spin. She did and managed it well. Now it was time for me and Toohey. With Lysette holding the boat, I went to the truck to retrieve the retriever. He jumped right in and sat at the bow with a few of minor adjustments, and we set off. As with the SUP, he kept an eye and nose on Lysette until he lost her. We slow paddled out and around, we floated among dolphins rolling through the river. Toohey's ears would perk up as they got close but not knowing what it was and their quick departure didn't give him time to get too nervous and bark. The fit with him was not quite as comfortable as now my feet were up on the gunnels making me think this might not work well for the three of us. But we had fun. At some point her sister and brother-in-law walked up on the beach. Toohey caught wind of them and Lysette and started barking. He simply laid on the bow with head above the gunnels reminding me a a seal on the dock barking for no apparent reason.
He and I finally came into the beach offering the boat to others, but no takers for now. We sat and drank a beer watching the police boat deliver three kayakers and their gear to the boat ramp from Little Tybee. After the boat dropped them off we had to ask. They told us they were off duty police officers and called them for a lift after realizing the rough surf from the winds and need to get home. It all was quite funny in the end and no one was hurt.
About the time we started to deflate the system, the rains started. We got it all loaded and decided to meet at their RV where we'd go for a golf cart ride around the island to check it all out. During the ride, I shared several personal stories as we toured the place while giving some island history to add to Lysette and her sister's 22 collective years there. We did all this in a downpour soaking us all. We finally returned to the Tacoma and RV park and made a quick change into some dry clothes. We also made a reservation at AJ's. We had some time so we found a place on 16th street for a drink and fun conversation. But not before trying several other dive bars to include Docs. All apparently allow smoking inside which quickly ran us out as it stunk.
AJ's, with good COVID controls, was ready for us, took our temperatures and sat us for dinner. We had great conversation as usual with these two, feasted on seafood, and me, facing the large TV, slyly watched UGA lose to the Gators. It was all a good day, memorable from the good times spent with family, being at the beach, and of course the weather. The drive home was easy, but being tired it was quiet.
This was the first time I had seen my dad since leaving after my mom's funeral in May. We talk lots on the phone and exchange frequent text messages. But there is no substitute for spending time with him. He allowed us to invade his space for three weeks. It was a needed time together to recharge the connection. Being able to help him with his medical procedure was also good for me even though seeing my dad in a jock strap was something I could have left out of my memory. We had great conversations, laughs, and built on already wonderful family memories.
Cycling
Cycling on flat surfaced roads is fun. Lysette and I rode around the Landings a few times and totally enjoyed it. On one Tuesday morning we got word from some friends of a meet up that left at 7:30 from the Methodist church just up the road from my dad's. With Lysette having a doctor's appointment, I set off to meet the group. They ended up with five other cyclists starting the ride which quickly broke up into just three of us. The ride being flat allowed me to manage it all by drafting off the wheel of these folks. The pace was a steady 18-20 mph which was a good aerobic effort. We would later meet up with my friends as he and her husband joined the paceline. Again, a fun way to ride at a good pace, a constant effort working the pedals with few if any need to shift gears. I would break off the group to return home just before the heavy rains started but with a soul full of enjoyment and good miles from the ride.
Duck Eggs for Breakfast
Enjoying good nutritious food is something we always seek. While in Savannah, I noticed the daughter and son-in-law of a long time friend post about their fresh eggs for sale. I messaged her asking for a dozen and she responded they'd be in the cooler behind the azalea bush by 10 am. The mix would be duck and chicken. Cool. We stopped by early in the afternoon for the eggs, left cash in the envelope, and went home. The next few mornings we would enjoy these eggs, some duck and some chicken, for breakfast.
The last two days of our Savannah stay were spent getting things ready for our departure. We had to buy some supplies, wash and clean everything, and then repack our lives back into the rig. We said goodbyes to all the family and on a cool pretty fall Monday morning, hugged it out with my dad and rolled out of the Landings, beneath the raised arm of the gates, across the Skidaway Narrows, Moon River Bridge to Highway 204, then south onto Highway 17. Our destination, the Okefenokee Swamp and Laura S Walker State Park Campground. Our current plans for now are to visit the Okefenokee Swamp, then south, somewhere.