"Even if my neighbour doesn't understand my religion or my politics, he can understand my story. If he can understand my story, then he's never too far from me. It is always within my power to build a bridge."

– The Alchemist," by Paulo Coelho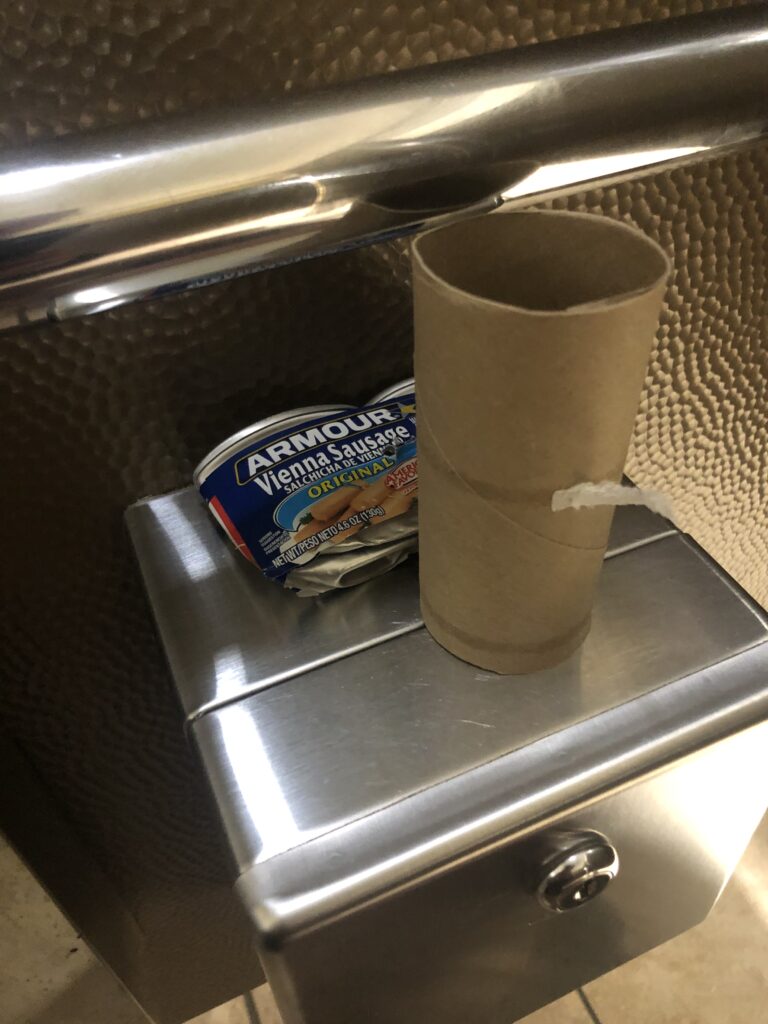 While sitting here, I noticed this. An empty, eaten can of Armour Vienna Sausages, and it got me thinking about diversity and the individual journey. The interesting thing about crossing paths with so many varied humans is the understanding that everyone is on their own journey, creating their own story. While walking Toohey through the RV park, I started wondering about the stories of each rig, license plate state of origin, and camp set up. From the 80's conversion van to the half million dollar motor coach, Nebraska, Oklahoma, California, Louisiana, Texas, to the yard art, flags, and "follow me" magnetic vehicle signs, they all have their own journey, dreams, and needs for which they are searching. So what is the story of the human who consumes a package of Vienna sausages while sitting on the toilet? I'd sure like to sit down with him. Maybe not after him….
The peace found with being disconnected is real. Being out of contact with the news and current events, in exchange for the beauty of nature and the exploring the world, is, for the moment, bettering our souls. Our current events, while exposing ourselves to nature, were a week of natural beauty, growth, and exploring our relationships with each other and the world within our reach. The circle of influence we control these days is small, manageable, and brings us contentedness and happiness. When we finally got internet service and started making contact with the world, we found out the new drama, crisis around race, riots, and no mention of the cooties. What if everyone stopped trying to change what was out of their control to focus on the world within their control, that we can manage? Pipe dream maybe, but a true non-pharmaceutical, happy pill.
STATS
From: Fish Lake National Forest, Frying Pan Camp, No. 11
To: No. J-11 Cover Wagon, Lakeside RV Park, Provo UT
Starting mileage: 145,704
Miles to destination: est. 150
Miles of shame driven: 0
Lowest documented MPG: NA
Temperature Range: 50-80's
Nights off the grid: 0
Cost of Camping: $45/night
Camp Host: Y
Connectivity: Good wifi once inside the RV park and the city of Provo, UT.
Lysette's favorite jacket: None needed
Reading list:
Lysette – Tales of Two Hemispheres by Peter Conrad/The Ultimate Guide to Raising Farm Animals by 6 authors – There must have been lots of alcohol consumed during the discussions on edits with 6 authors.
The Kemp – The Alchemist by Paulo Coelho
Interesting notes about the area: There are few interesting things about the area if not for it is beautiful. Use is mostly ATV's, shooting guns, and camping. Mostly, this is an easily accessible location from Heber City and all the Utah ski areas. We were there mostly over the week and it was quiet but Friday night started to get a little busier. There were a few other cyclist seen and it was ideal for getting miles, climbs, and descents on the gravel bikes.. Oh and there was one triathlete on his time trial bike cruising up the mountain.
Our activities: Life necessities of warm showers, laundry, provisions, and connecting with family and friends. We inflated the SUP and took Toohey for a ride. We enjoyed swimming with him in Utah Lake at the State Park.
First: Laundering a camera lens (see Learning Opportunities 1)
Next Up: Uinta National Forest, Heber Mountain
Learning Opportunities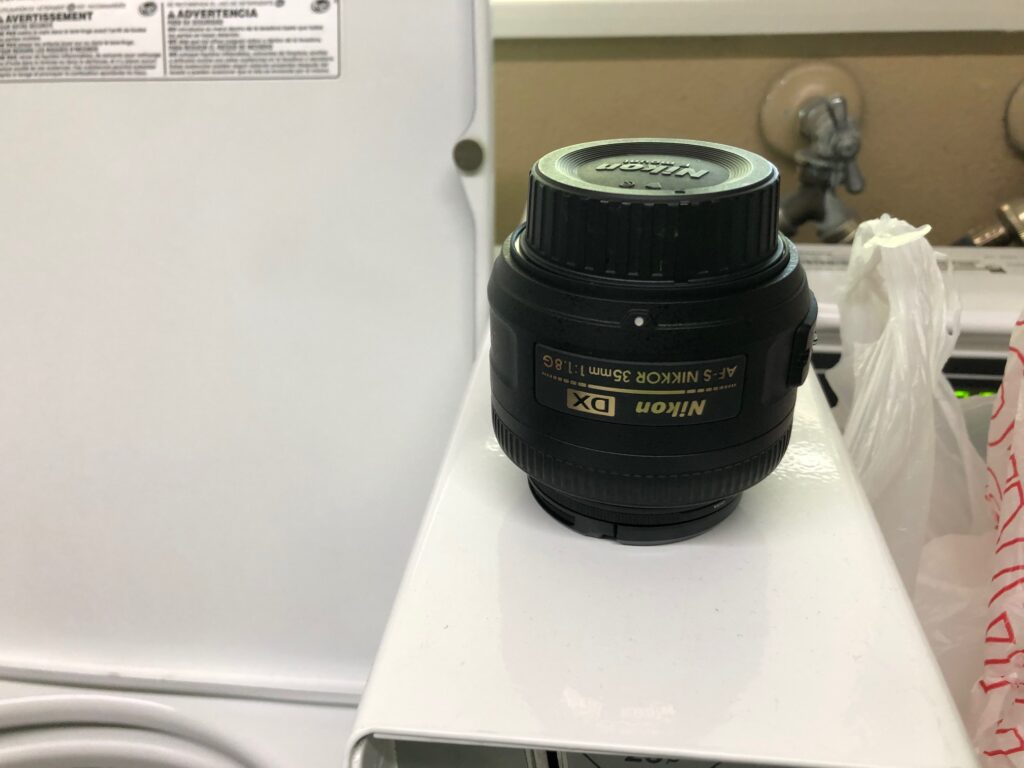 Storing camera lens in laundry bag is a bad idea. We now have a great deal on a really clean camera lens with permanent fog filter as Lysette inadvertently washed her camera lens with her laundry. Yep, it happened and she is determined to find a better place to keep expensive toys. Actually, she reports, "I have no idea how it got there."
Daily Summary
I just deleted a sentence about how good we are getting at hitching up the A-Liner, as superstitions are real things and will turn on you.
We hitched up the A-Liner to head north to Salina, the closest gas station. Have I mentioned I am obsessed with not running out of gas? Read on for the omen at our next campsite.
We made the decision to leave Fish Lake NF via Goosebury Road, which turned out to be good and bad. Good, as it was a spectacular drive, a pass at 10,506 feet, rolling meadows, more aspens, views, and best of all, no one there. Bad, as we want more of Fish Lake NF. But I guess leaving a place and wanting more is a good thing in the end, as I am sure we'll return.
As we drove down hill, we were delayed by two cattle drives. We love cattle drives. They are so much a cliche of Americana. Real cowboys sporting legit mustaches on beautiful horses with perfectly rounded lasso ropes, cows mooing in mass in protest of the riders whistles, cattle dogs working, all in a background of the amazing west. It is an unexplained euphoria for us to stop, turn off the engine, and just watch. As a bonus, we got fresh cattle poop on the trailer when we were able to pass once the cowboys had moved the last heifer into the old fence. I guess over time this could become similar to a train crossings, but for now, we'll take the time to sit and enjoy these events as something extraordinary.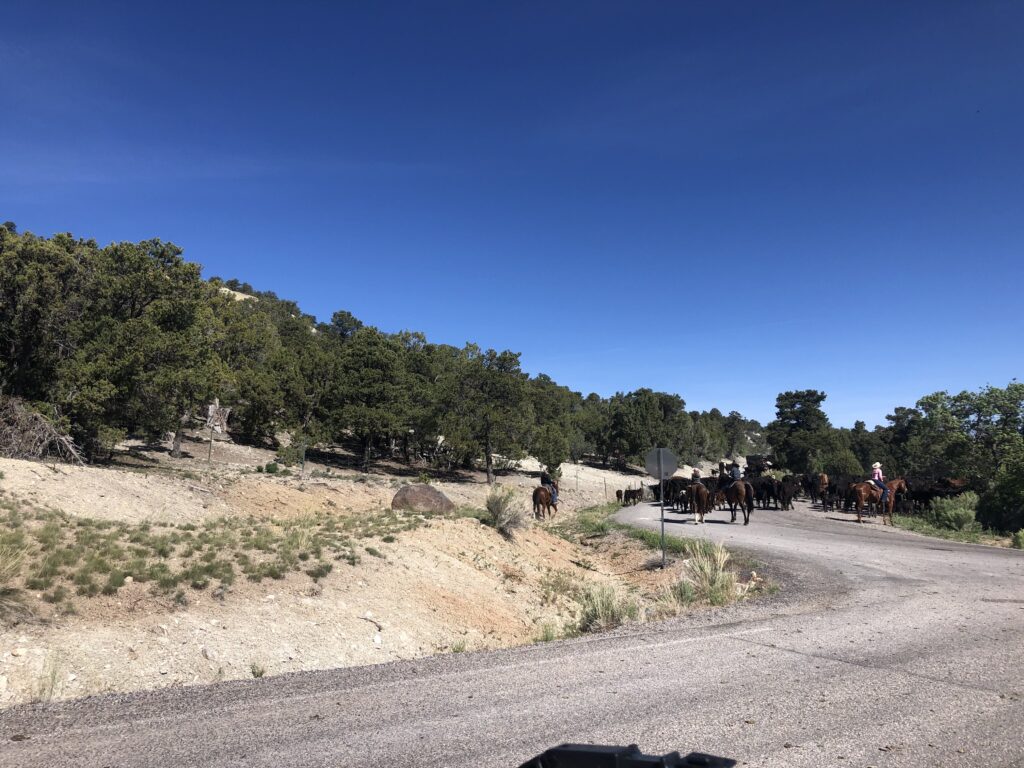 In Salina, we gassed up and started researching our route for what's next. We found a destination in the Lakeside RV Park in Provo, UT and decided on the smaller roads to get there which took us through town like Manti, Spring City and Thistle.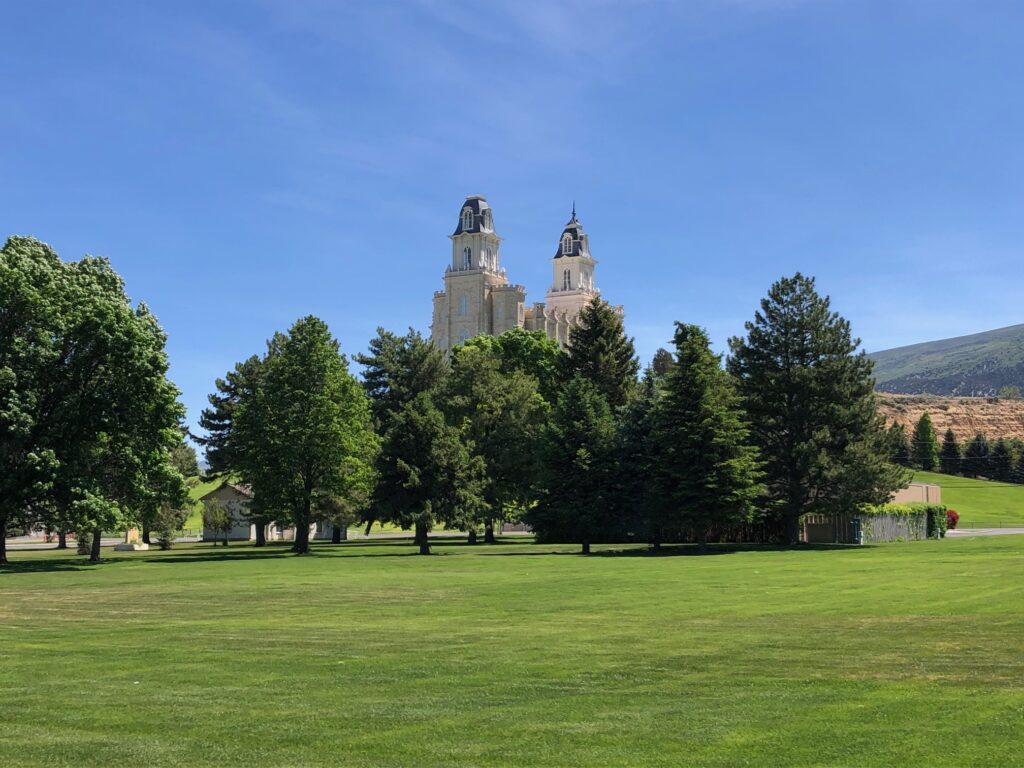 Manti has an amazing Temple in the center of town and according to a quick web search, was the 3rd temple constructed in the US and second temple east of the Mississippi. It sits high in the valley so you see it coming. Other than that, Manti could be Mayberry size with older somewhat ornate homes.
I don't remember much about Spring City other than it resembled typical small town America with a nice main street. Mostly, I included it because list work better in 3's and it was next in order of towns we passed.
Thistle is a modern ghost town having succumbed to a massive landslide that covered the entire place in 1983. We got there and passed it by after seeing a couple of homes submerged in earth.
The drive through the valley revealed lots of agriculture, loads of sheep herds banked in hills of scrub grass followed up by high mountains, green and snow topped, and just awesome views. As with the feeling of leaving Fish Lake, there is so much in Utah to explore and a year seems suddenly short.
We pushed on and found our campground, Lakeside RV Park. The place sits across the street from the Provo Airport, next door to a storage place with hundreds of old gas stations signs, and just up the street is the Utah Lake State Park. We didn't know there was a state park there with camping or we might have taken them up on it. But we are here on our spot of land, No. J.11 Cover Wagon, Lakeside RV Park, next door to a field of old gas signs.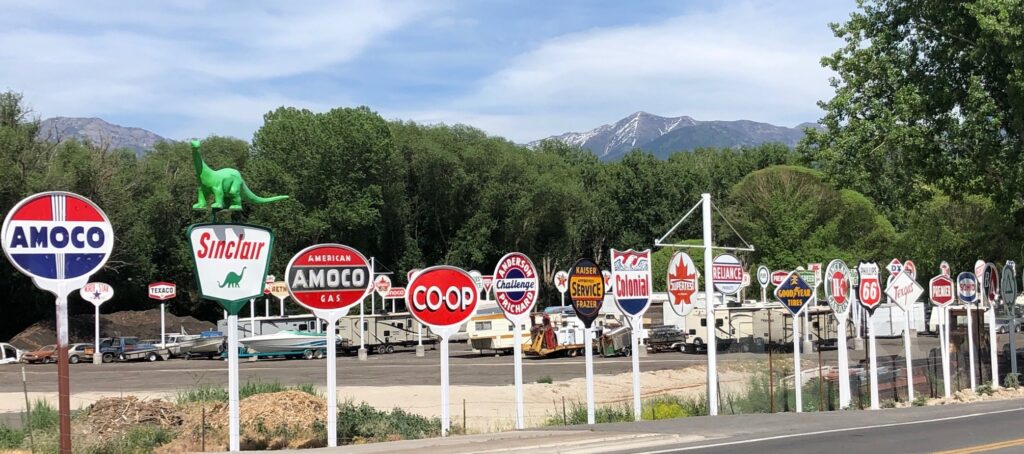 Our neighbors at No. J-11, 2 sites down, are camped in a 80's conversation van. They have an open sided tent outside the drivers side swing doors with a TV set up inside. Two small lap sized dogs spend the day in a portable 5×5 fenced dog run. From what we can tell, they came here to sit outside their conversion van, drink sodas, and watch TV. Oh, and chain smoke. I did manage a quick conversation with the guy and he said they were from Salt Lake City and just needed to get away from all the madness going on in the world. He would set his chair each day about 20 feet from his camp in the grass alone, doing apparently nothing. I guess everyone has their idea of away. And yes, this is their journey, not mine, so don't judge.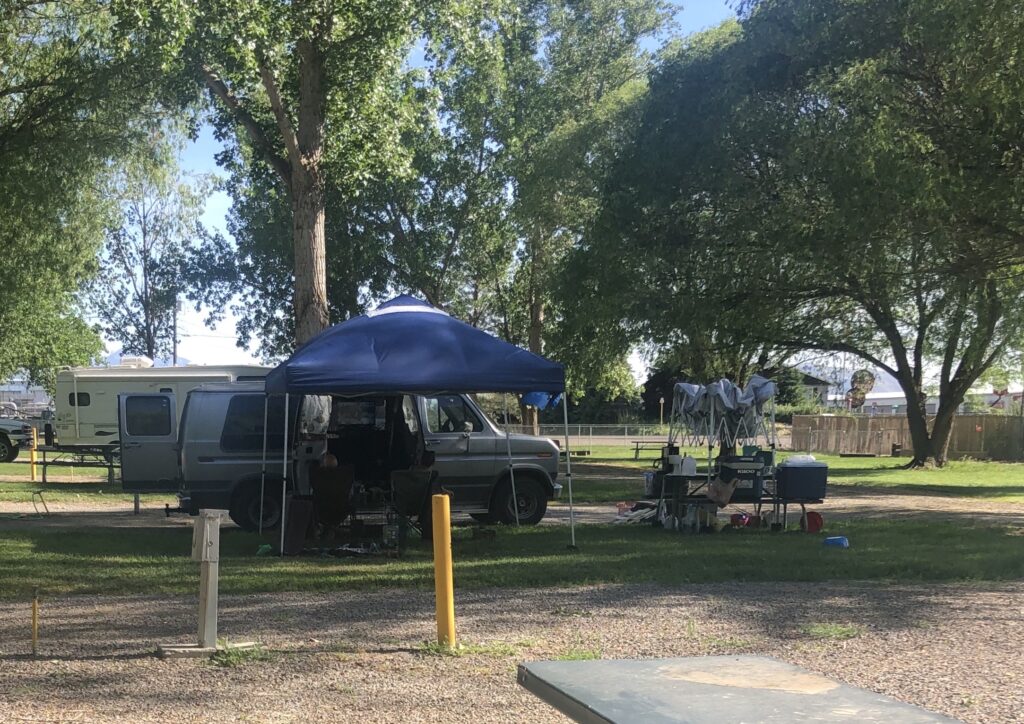 We showered, did laundry, and drove to the Sprouts Grocery store to buy food and a salad for dinner as it was getting late.
We both admit that being in this town brings some city stresses even though we haven't been out that long. Access to all the negatives in the world, the more crowded places, all have heightened our stress level from the moment we entered the area.
We did get some news from our friend in Golden that he and his dog Rue are driving out here to meet us for a few days of camping. We don't know where we are going yet but thanks to two transplanted locals that we know from Savannah, we have some good intelligence on camping spots east in the mountains. We have a day left in Provo before hitting the road, so what's next?
We woke up Tuesday morning and made plans to hit the last provision run (overlanders way of saying we are going back to the stores) for a few more grocery items, a nail brush for me, and beer and ice. We also wanted to shift some stuff from our forward storage which is more easily accessible to the rear storage beneath the bed for more efficiency. We sorted our clothes to reduce what we have to manage on a daily basis. It was amazing what we now have put away and don't have to move daily. While doing this exercise, I am reminded of the many through hikers, like my middle son on the AT, who toss out so much of what they thought they were going to need. We have been doing this daily since we left. You just can't substitute the wisdom of actually living it from planning it.
We ate lunch, had a FaceTime chat with my son and grandson, and decided to checkout the Utah Lake State Park to take our new swimming lab for a dip. The temperatures were in the mid 80's and sunny, so it seemed like a perfect activity, and it was. We paid the $10 entry fee for a dog friendly beach, inflated the SUP (Stand Up Paddle board) and had a really fun day. Toohey swam, chasing sticks and passing ducks, and learned to lounge on the bow of the SUP. It was a fun afternoon!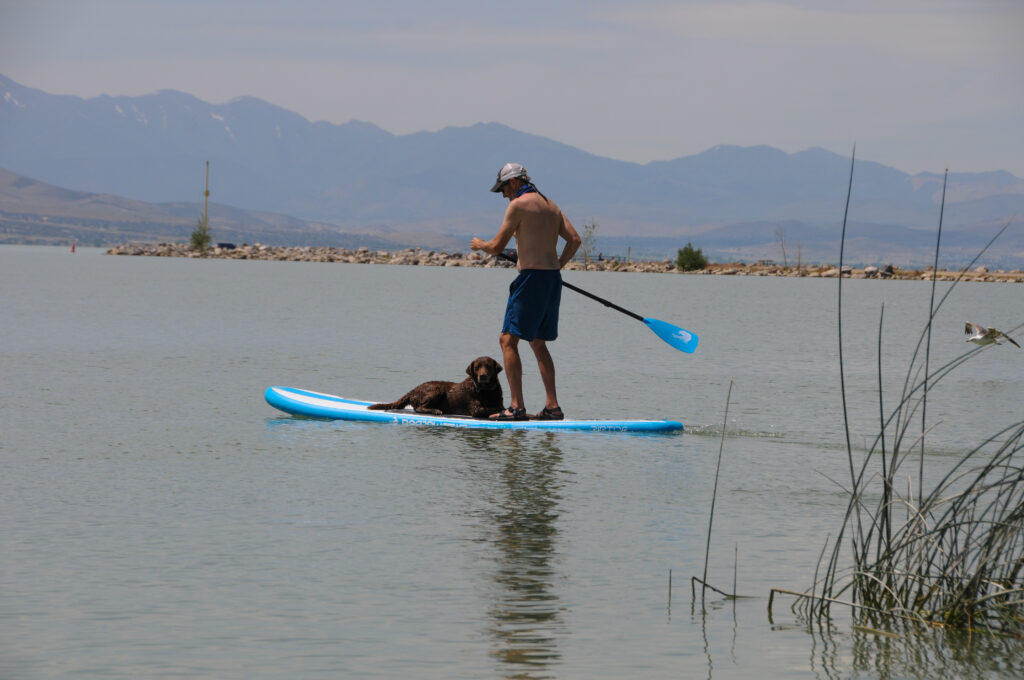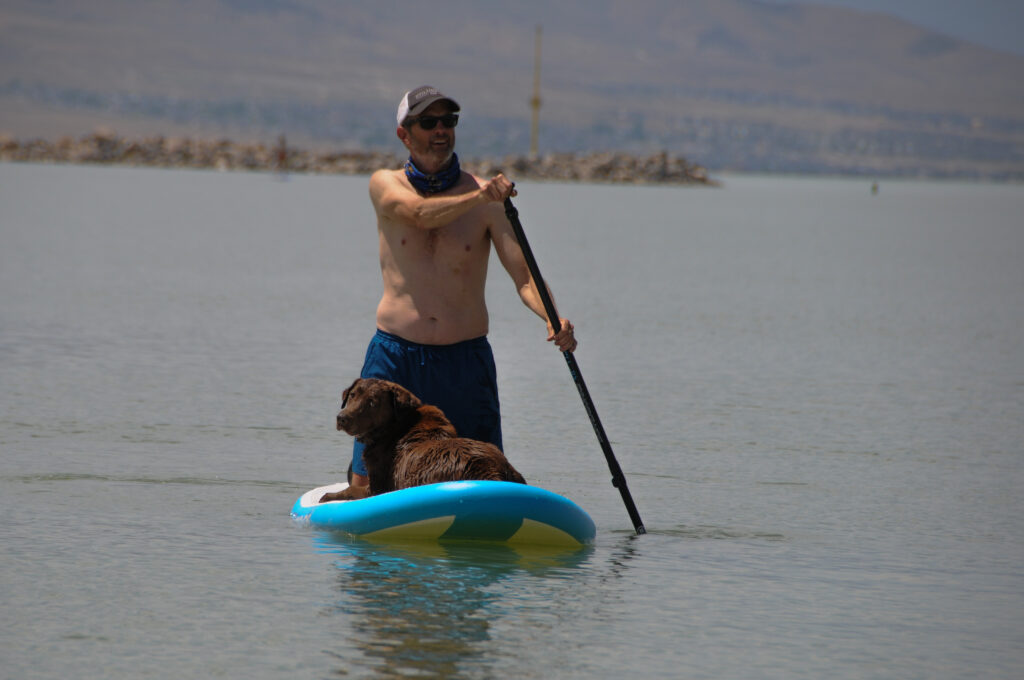 We returned back to camp and got a nice FaceTime video call from my dad, sister and brother-in-law in Savannah. Following that, we showered, our friend from Golden showed up, had dinner, and retired to the A-Liner for the night.
Tomorrow is a move date and we are currently planning to go to Strawberry Reservoir. Watching temperatures for the areas, it looks like possibility of rain and even snow and freezing temperatures around the corner which will drive us to lower altitudes. The water system in the A-Liner isn't designed for freeze nor do we want to be remote when it is wet or possibly snowing.