We left Bear Lake as we have with most places, wanting more. But also knowing it will be there next time and to get more would require warmer days. So we made our push north across the state line, our first deep dive into Idaho.
We drove into Driggs and made two moves included in this one post. The first was Rainey Bridge which we found on a boondocking web page. We spent 2 nights there then moved up into the mountains were we stayed another 3 nights. The move across the valley to the mountains was suppose to be to a National Forest campground up Teton Canyon but luckily found a free small camp just off the main road which turned out to be our favorite so far. More details in the Daily Summary section.
One benefit of long term travel is the appreciation of downtime. During this first few weeks, we have grown to appreciate just sitting, reading, talking, or even an occasional nap, just knowing we have the time. Short walks from camp at dusk are wonderful and allow for good conversation about whatever. There is also the need to allot time for managing life things like, paying bills, medical items, cleaning us, and personal items. This involves preparation and thought as not every place has what we need to get those things done. This week we decided to get Toohey's arthritis meds refilled at local veterinary clinic. This was an easy process as we prepared this by getting a hard copy of his prescription before we left Golden. We also anticipate that at some point we'll see a dentist, get the Tacoma serviced, work on the trailer, all within this long term lifestyle we have chosen. It's simply a part of the journey.
The other fun thing of this slow travel, or as Lysette calls it, sloverlanding, is reflecting on the varied landscapes we've already encountered. We began in the desert of the San Rafael Swell where we picked up red dust that is still traveling with us today. We quickly moved through the mountains of Fish Lake with altitudes at 10,000 feet that we still haven't surpassed, but having topography that is quite different. That mark at Fish Lake was large pine and aspen forests, deep lakes, swampy lakes, sea birds, and some big rock outcrops for views. The camp east of Heber City was over 9,000 feet, but with huge open alpine meadows with snow covered peaks as distant backdrops. At the same elevation, the Tetons provide much steeper mountains, dramatic rock features, waterfalls off rock cliffs, and really active wildlife. We can hardly wait for what's next!
STATS
From: Bear Lake KOA, Journey
To:  Rainey Bridge, Driggs, ID & Unknown right turn off Teton Canyon Rd just before Treasure Mountain Scout Camp
Starting mileage: 146,238
Miles to destination: 201 to Rainey Bridge. You can add another 20 something for the trip across to the Teton Canyon camp
Lowest documented MPG: 17! Attributed to no high hills, lower speeds.
Temperature Range: upper 30's – 70's
Nights off the grid: 5
Cost of Camping: $0
Camp Host: Not exactly – There was a yellow lab from a neighboring farm that showed up at Rainey Bridge each morning and stayed the day. He was always smiling, greeted every new car driving up with a bark, tail wag, and opportunity for them to play with him, moved constantly and briskly through the place to make sure he hadn't missed something. We named him Camp Host as his jolly, enthusiastic behavior certainly fit the description of most camp hosts we've met. 
Connectivity: Good cell service at Rainey Bridge and poor with no connectivity up Teton Canyon Rd.
Reading list: Progress but not quite there yet. 

Lysette – Tales of Two Hemisphere by Peter Conrad/The Ultimate Guide to Raising Farm Animals by 6 authors
The Kemp – The Alchemist by Paulo Coelho – last 30 something pages!

Interesting notes about the area: The stop in Driggs was good. Driggs was good. One thing we do in our wandering is think about the cities in terms of livability and Driggs certainly checks all the boxes. It's small, sits on the western side of the Grand Tetons and doesn't have the National Park, famous ski resort, or Jackson, WY. The valley includes Victor, the smaller town to the south where many enter the canyon, then Driggs. In the Caribou-Targhee National Forest boundaries you actually enter Wyoming, which is strange and begs the question, why didn't the Grand Teton National Park simply extend west as the place is equally as striking with many trails intersecting the park. We believe those who live here, and us, are glad they didn't. 
The main industry appears to be agriculture and tourism. The valley is visually lush and ripe for growing steaks and potatoes. The wildlife appeared happy to share the area with the good people of the valley. The moose population is reportedly thriving, of which we can attest to, at least at our camp in Teton Canyon. Most report black and grizzly bears in the area, but one older gentleman, who, while standing at the trail entrance to bear heaven proclaimed, "where there are moose there are no bears, so I don't carry bear spray." We proudly sport our bear spray cans on our chest as Mother Nature has a history of providing exceptions to the rule for over confident humans.
The people have been happy, friendly, and seem to appreciate what they have. The cost of living isn't cheap but is less than the east side of the range.  Access to open space and beautiful trails is abundant. One indication of the lack of a huge population is the trails actually say dogs allowed "off leash". They seem to respect the privilege as we never had to step over one lump of human pet ownership neglect, nor did we see any colorful full used poop bags left sitting trail side. We do dig Driggs.
Our activities: Bike ride west through the farm land into Horseshoe Canyon, enjoying the vast diversity of humans at the Big Rainey, and nightly Grand Teton watching. A 7.5 mile trail run on Teton Trail No. 27 and up Devils Staircase then another 2 miles for Toohey's hike back to the waterfall. A stroll down Main Street and, yes, a farmers market. A scenic drive up to Cave Falls in Yellowstone and Mesa Falls, through Ashton. The true highlight of the drive being the beautiful hills of green potato fields.
First: Moose in camp, Toohey chasing a moose, and the bonus was watching moose from bed day 3. 
Next Up:  Arco, ID KOA which is AOK and Craters of the Moon National Monument.
Daily Summary
The summary is broken down into subsections based on our movement through the area.
From Rainy Days to Rainey Bridge
We said goodbye to our neighbor Tim and his wife at Bear Lake. They provided us their names and contact information and asked that we say hello when we pass through Prescott, AZ.
Our journey took us north into Idaho through beautiful, healthy looking agricultural valleys stocked with cows, sheep, and horses. The town of Montpelier, ID was the first noted city. Founded by Mormons, it was best known for a bank robbery by Butch Cassidy and the Sundance Kid. We fueled up in Soda Springs where they harvest phosphate in large mines. We had planned to see a local geyser but simply forgot. From there, Highway 34 took us past Gray's Lake National Wildlife Refuge and into a canyon along the Tin Cup river. This dumps you into Star Valley which is surrounded by snow capped mountains and as with every valley we've driven, appears healthy and lush with active agriculture.
At this point, we have moved into Wyoming and made the decision to take the route down the Grand Canyon of the Snake River highway towards Jackson then back over the pass into Idaho and the Teton valley. Our choice of the canyon underwhelmed us but almost overwhelmed the Tacoma. The Snake River is spectacular and all, but at the bottom you enter Jackson traffic, lots of construction, and then the steep grade back over the pass to Victor, Idaho. The little Tacoma that could (note for parents: my mom used to read me the book, The Little Engine that Could, which likely had a profound impact on me in adulthood and what I always think about as the little underpowered Taco pushes and pulls up hills), managed a crawl up the 10% grades, being past at times by arrogant loaded dump trucks and little old sports cars, to the top. This heroic feat was accomplished with hazard lights blinking, lots of hopeful dashboard patting, statements of encouragement, and some good old Japanese automotive engineering.
We got over and down through the small town of Victor and into Driggs. There, we stopped for provisions where Lysette, actually realized underneath cootie masks, that the lady standing in the checkout line behind us was a friend from Golden. She and her friend were headed out for a 10 day boat trip down the Salmon River, which sounded so cool. We said our hellos and goodbyes, fueled up, and went looking for a quick and easy camp.
Lysette had researched a place called The Big Eddy at Rainey Bridge west of Driggs, ID. Comments in reviews included things like great views of the Tetons, river, flat, and someone stole my gas grill while I was fishing. So we thought, why not.
The Big Eddy delivered and we never had anything stolen. First, we were tired and needed out. The place was flat and level so we didn't have to unhook the trailer, so we didn't. The eastern views of the Tetons were clean, crisp and majestical. The river and boat ramp were full of fisherman and paddle boarders who floated down river to this takeout, so the vibe was fun.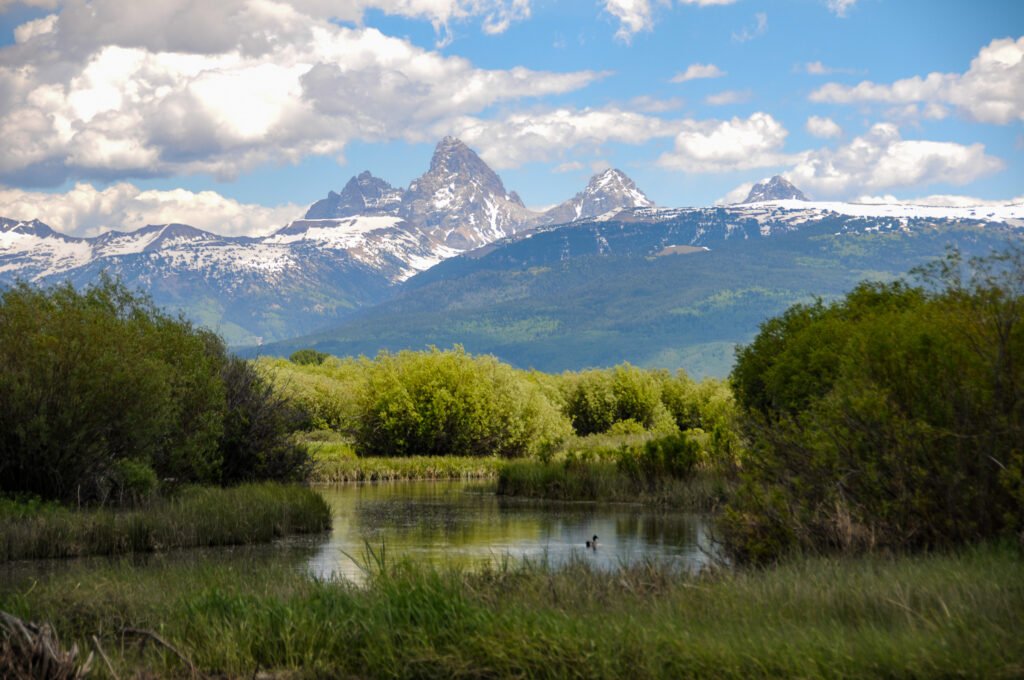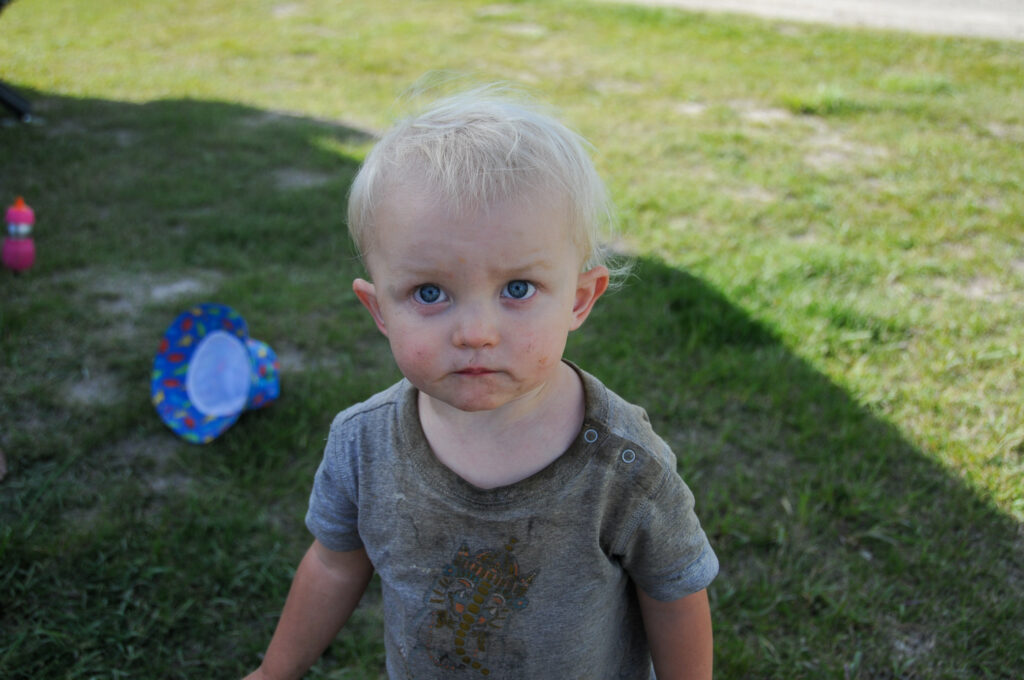 We grabbed a drink and tossed out the chairs to take it all in. Besides the view, we met a couple from Salt Lake City who had met a guy in a hot springs who told them about this place. The young couple were traveling in an older 15 seat passenger van, seats removed, with their 17 month old daughter. They had taught her to sign, not because she needed it, but because apparently children can sign to communicate before talking. Cool. The young mother, a harpist, came over to us barefooted, sat in the grass, allowed her daughter to explore, even if it meant face painting her mother's nose with mud and playing in our gray water bucket even after we repeatedly mentioned, that is our gray water bucket. An interesting person to say the least. Her husband and the other gentlemen, Tom, kept to themselves, deep in conversation around their camp fire.
An interesting man from the Seattle area was traveling alone in his truck camper. He had his camera set up on time-lapse to catch the color changes of the Tetons at dusk. He was well traveled, talked about his journeys through the North West Territory and the drive up the Darien Highway. And he was a birder. He knew a lot about everything. He had met several of the other couples at the camp including a traveling nurse. She and her husband had been moving for 2 years in their camper with their Golden Retriever. 
The interesting thing about Rainey Bridge camp is it is flat, and everyone pretty much faces the view. It reminds me of a concert in the park, where everyone has a chair in the lawn, with a drink in hand, but instead of an orchestra, we are all watching Mother Nature's performance where she is providing spectacular displays on an amazing backdrop. One that is the same, but different every day, with every passing second. It did not disappoint.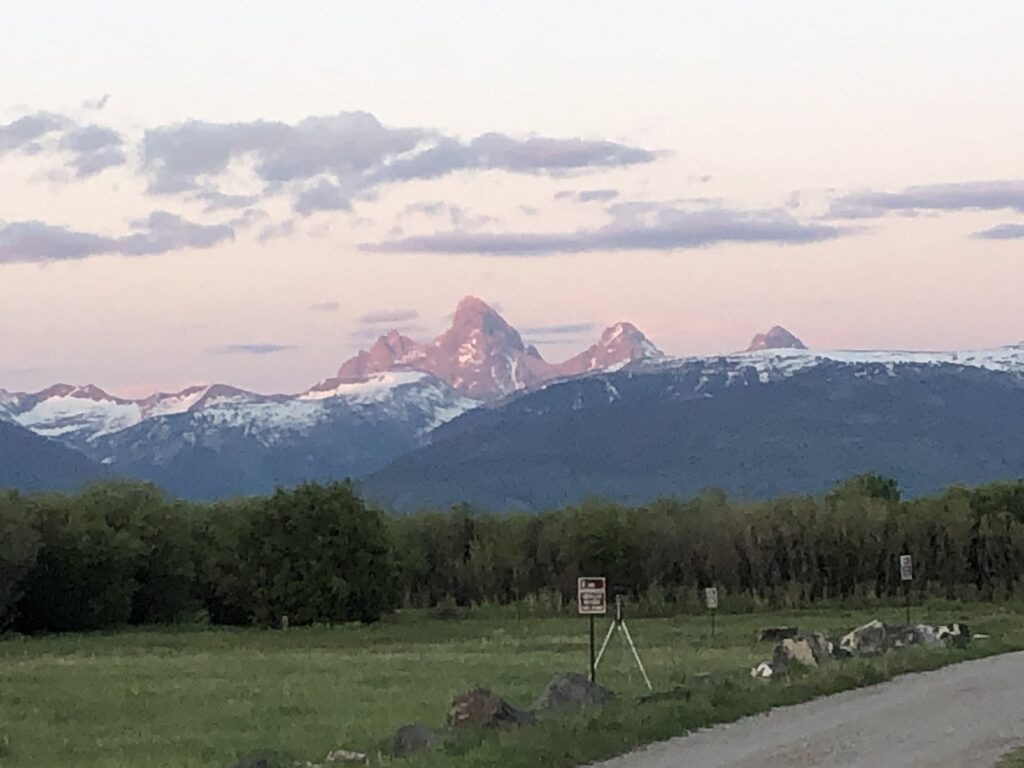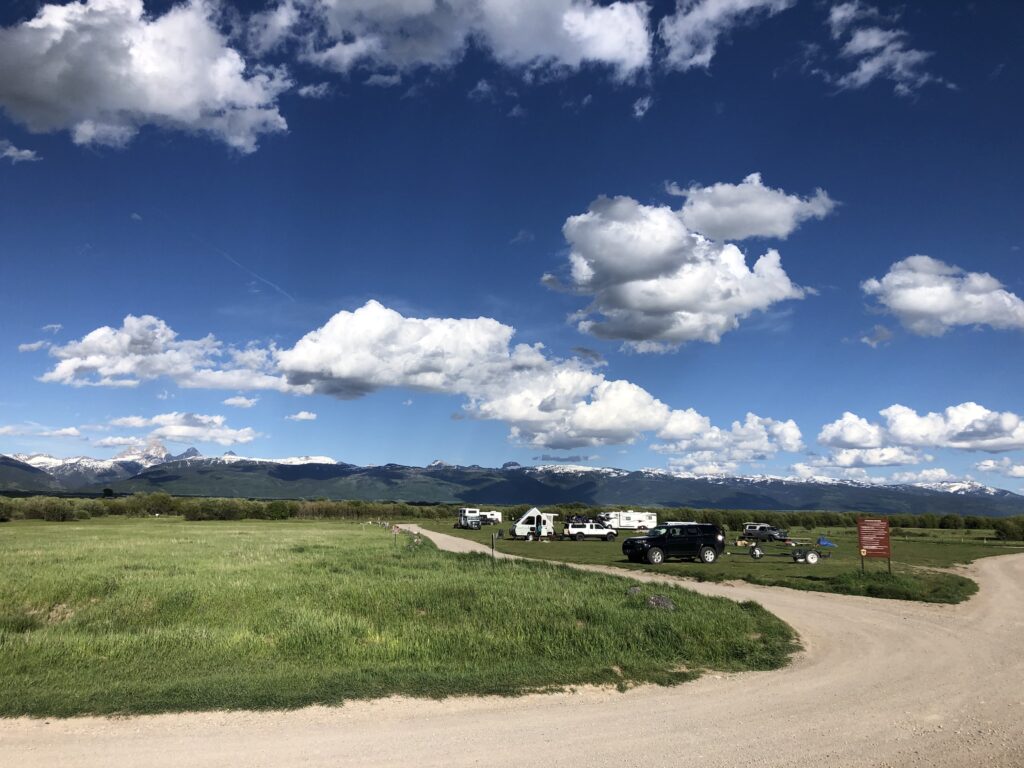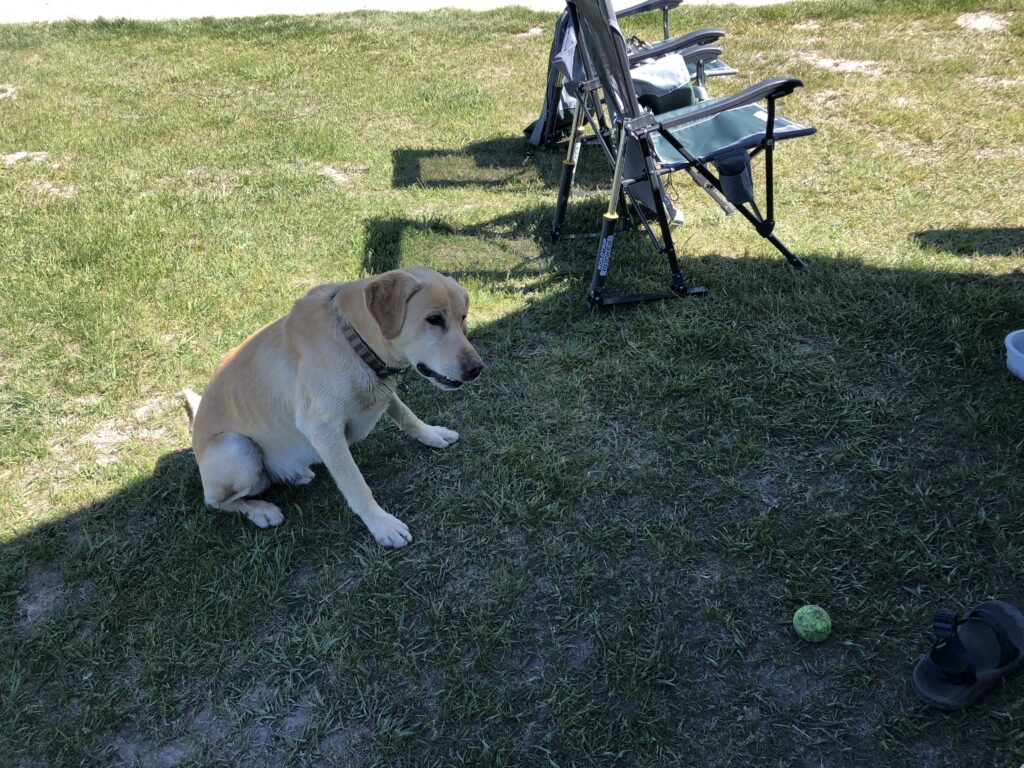 Another spectacular scene was that of two bald eagles taking a fish away from an osprey with the Teton mountain as a back drop. The eagles left with dinner as the osprey continued to fish. The osprey would flap its wings into the wind yet appeared to be a stand still, then would dive straight down into the water, to return up, shake its wings to clear the water and do it again. This side show to the main event was a special sight to watch.
The cold replaced the sun and we crashed early, ready for a day to explore some roads.
A young man from California and his girl friend at camp had a dog, Buddy, who persuaded Toohey to get off leash and run. The chase was on while we talked a bit. Turns out, he works for a local bike shop and was familiar with the roads. He had great suggestions on riding and encouraged us to get on them. 
We photographed his map, saddled up the bikes, and headed out with no real plan other than to go west, away from the Tetons, and towards the Big Hole mountain range. The roads out were hard packed gravel, surrounded by something growing in large, deep green, and well irrigated fields. We turned right, west, and again right, north, then curved left, west, up to a small canyon called Horseshoe Canyon. This road was a rough asphalt topped road that wound up a slight grade. Early on we passed some cows on the side of the road, an eclectic homestead with all types of rusted metal objects at the entry, and then the Caribou Targhee National Forest sign. There were several small mountain bike trail heads with only a few cars left behind. We reached an intersection, hung a right, and continued on for a few miles until hitting our time limit, needing to get back to give Toohey a break from protecting the assets. The views of the Tetons were now at our face for the fast downhill and were spectacular. We stopped for pictures on our cruise home, grabbed a little tail wind and enjoyed the freedom of being out on two wheels.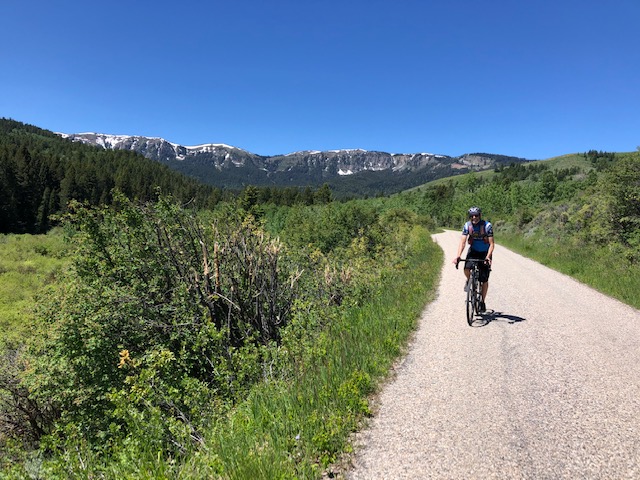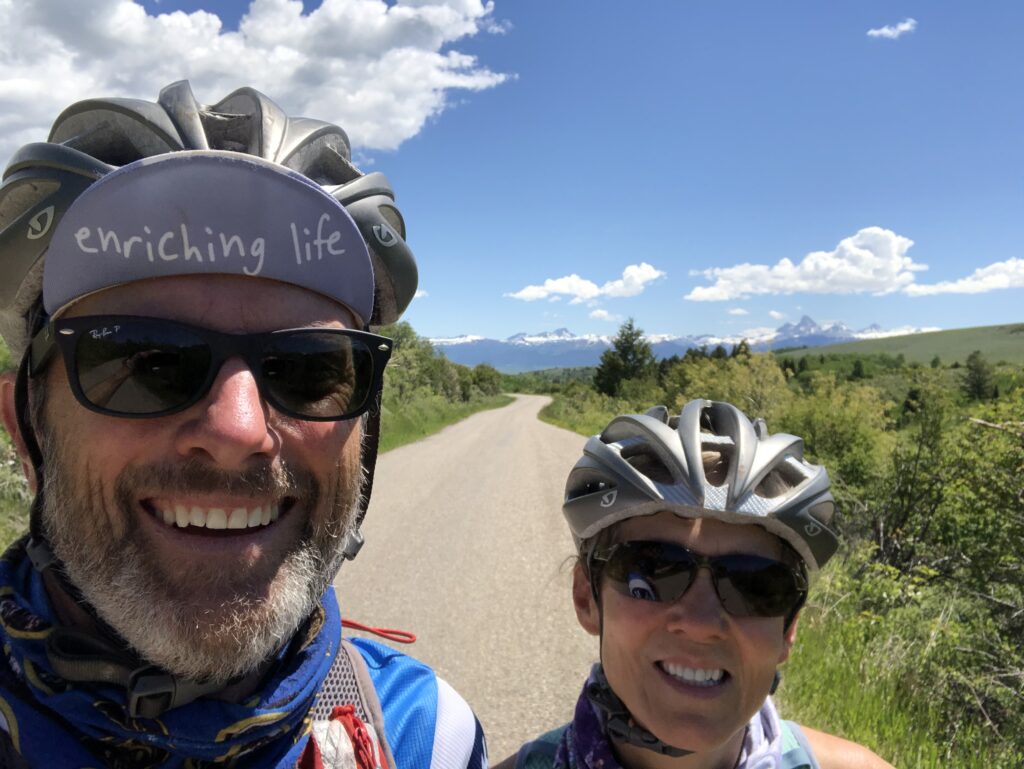 We ate lunch, relaxed for a while and decided to go for a truck ride up Teton Canyon located east and up the other side of the Caribou Targhee National Forest. Our mission was to scout a campground up there for another few nights and to find some possible hikes. There are a few National Forest campgrounds in the area. We liked the Teton Canyon Campground, which was mostly tagged with pending reservations, but had two first come first serve sites remaining. Our plan for the next day was to get up, float the Teton River on the SUP from Bates Road bridge to the Big Rainey, bike the four miles back to get Toohey and Tacoma, assemble gear and rig, then head into the Teton Canyon with hopes of finding a spot.
While having a nightly drink and watching the Grand Tetons perform, we met another neighbor. Actually, we had met her in-laws earlier in the day. We quickly picked up on the in-laws southern dialect and began a conversation about how they followed their kids here a few years ago. They were very nice folks, scared of camping where there are bears, and seemed to simply enjoy family.
The daughter-in-law was on her way to the toilets when we captured her in conversation. She is a civil engineer was interesting and interested. She talked about the struggles of being a mom in Jackson, WY. Long drives to terrible places in rough weather for her kids soccer games, the lack of good box store shopping, and her desire for a larger metropolitan area. She did say the school system was much better than the east coast where they left. She was very animated and entertaining in her presentation of all of that and we enjoyed the time spent. Before leaving she offered for us to come by their fire anytime to say hello, which was nice.
Interest in this place continues to deliver with the people and their personalities. There are a mixture of long-timers, mid-timers (us) and short-timers.
One long-timer was a high-end Airstream that is a 2-car home sitting in the farthest corner. We have only had a peak at these people as they have kept completely to themselves.
Other long-timers are young people who work in Driggs or Victor, and use this as a place to sleep free to save money. One couple next to us had been sleeping in their car and appeared a little more "homeless" than others. Last night a strange car pulled up to their camp and the young man who lived in the spot, jumped out to proclaim his car had died because his key broke in the ignition. He made his way over to our camp for a few minutes of conversation. We learned, after Lysette asked him about his accent, that he had speech issues from a brain injury which resulted from 150 foot fall when his chute didn't open while serving in the military. We had never heard that dialect before so we'll put that one as a learning opportunity. He went on to tell us that he quit his construction job that day because he hurt and he can't wait for COVID to end so he can get on with his taxi driving in Jackson, which he enjoys. He is extremely outgoing and pleasant, stopping as he walked away to offer his name. His girlfriend never made eye contact, never spoke, and spent her time inside the car or tent.
Finally, there are the nightly stop overs or short-timers, who show up sometime after dusk and leave early. We noticed a young couple tent camping from New York, a young couple in a white service van from Minnesota, and a local couple from Driggs in a sprinter van.
Again, the interesting people we have met is one of the beautiful things that we take in on our journey and the Big Rainey delivered.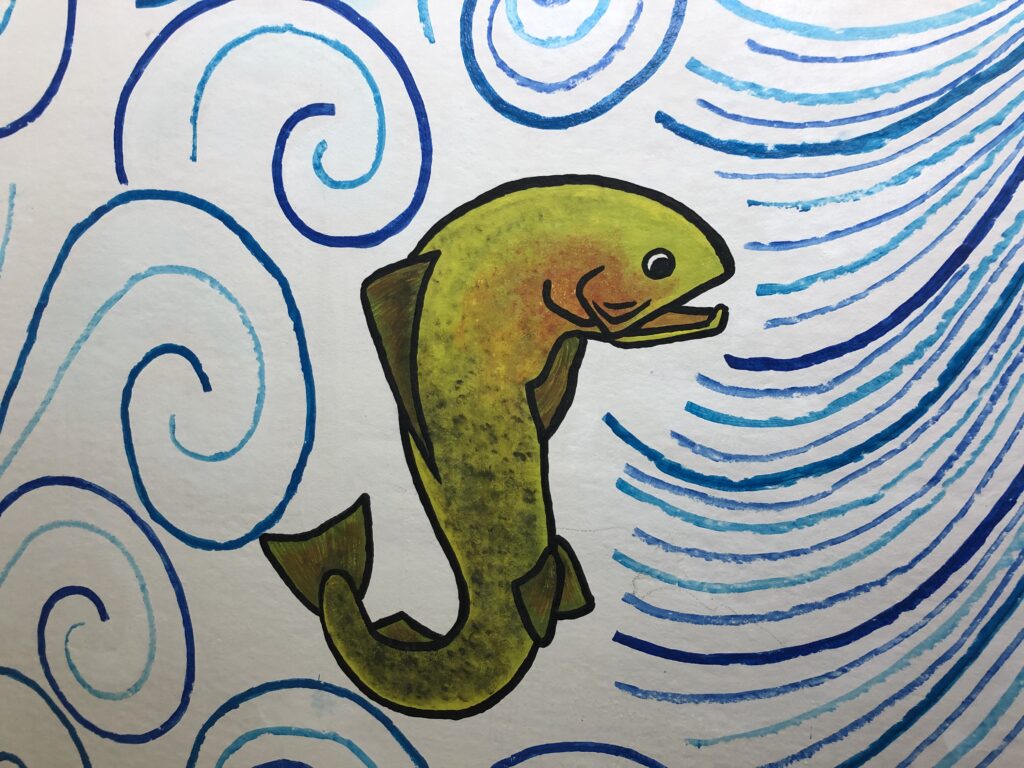 One last comment on the Big Rainey. This place must be the most well known overlanding camp spot in the valley based on the numbers of campers we saw daily and the number of times locals recommended it to us. You would expect the place to be used, worn out looking but there was no trash, the grass was nice, and the restrooms were clean, though we never saw anyone cleaning them. Besides a few picnic tables and rock fire rings, if it were empty you'd never know it was a camping spot. I believe this is representative of a place where people respect their backyard and do their individual parts to maintain the rich beauty. Well done citizens of Driggs and camping community.
From Big Rainey to Teton Canyon
We bailed on the paddle trip as the winds kicked up making it less than ideal. We hitched up the rig for the 20 something mile journey (about the range of the common mountain lion) across the valley west to Teton Canyon. On the way we stopped by the Driggs Veterinary Clinic to refill Toohey's arthritis meds, a pleasant experience. The lady who helped us was raised there, her dad worked at the Grand Targhee Resort, which is the local ski hill. She talked about loving the beach but this place was home.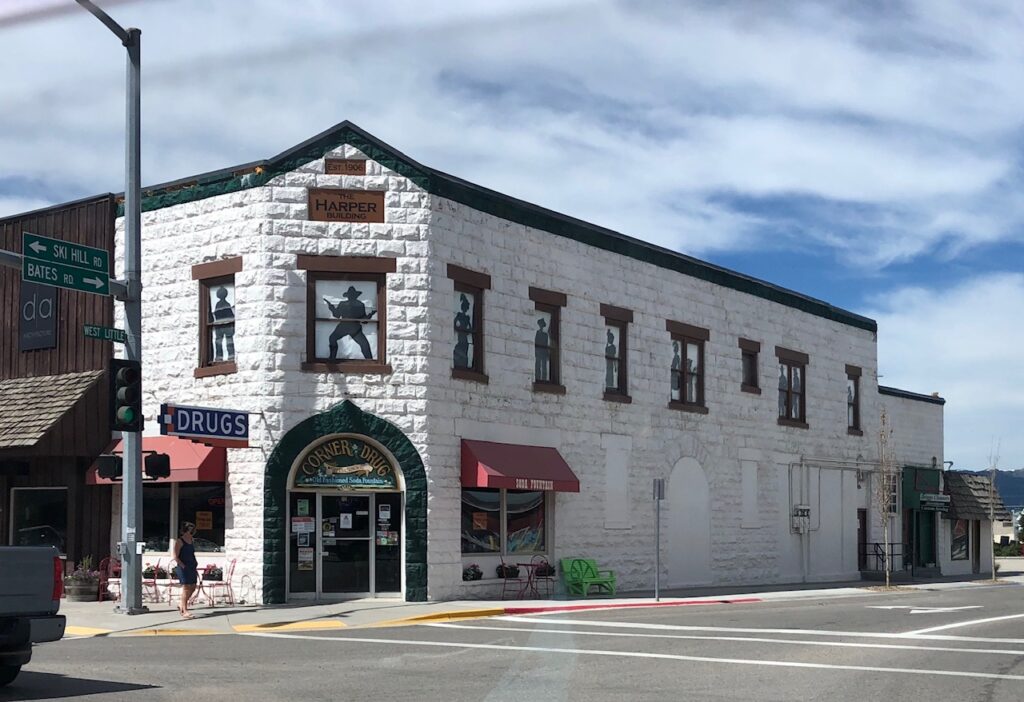 We completed the transaction and motored up the canyon and found a nice boondocking site about 1 mile before the Teton Canyon Campground and hiking trails. There was even a narrow view of the Grand Teton and a spectacular waterfall flowing off a mountain wall. We unhitched the wagon and drove back into Driggs to get a few other things done, like drop off the trash. While there, we came up on a farmers market. Seeing that was extremely warming, giving us a sense of normal life before cooties. As we approached, a masked lady appeared, drew down her face cover to reveal a smile, and explain that she had the worst job at the market which was to tell me the dog wasn't allowed. Kind of expecting this, I thanked her for her approach, eased backed to the Tacoma to let Toohey protect the assets while Lysette and I wandered through. From the farmers market we strolled through a local fresh food market and then the corner drug store. Toohey's new vet highly recommended their fresh lime freeze served at the original soda fountain bar. The soda fountain and bar was old and well maintained but we passed on the frozen drink. We got a few other provisions, dropped off the garbage at a local convenience store, after getting permission first, and headed back to the camp.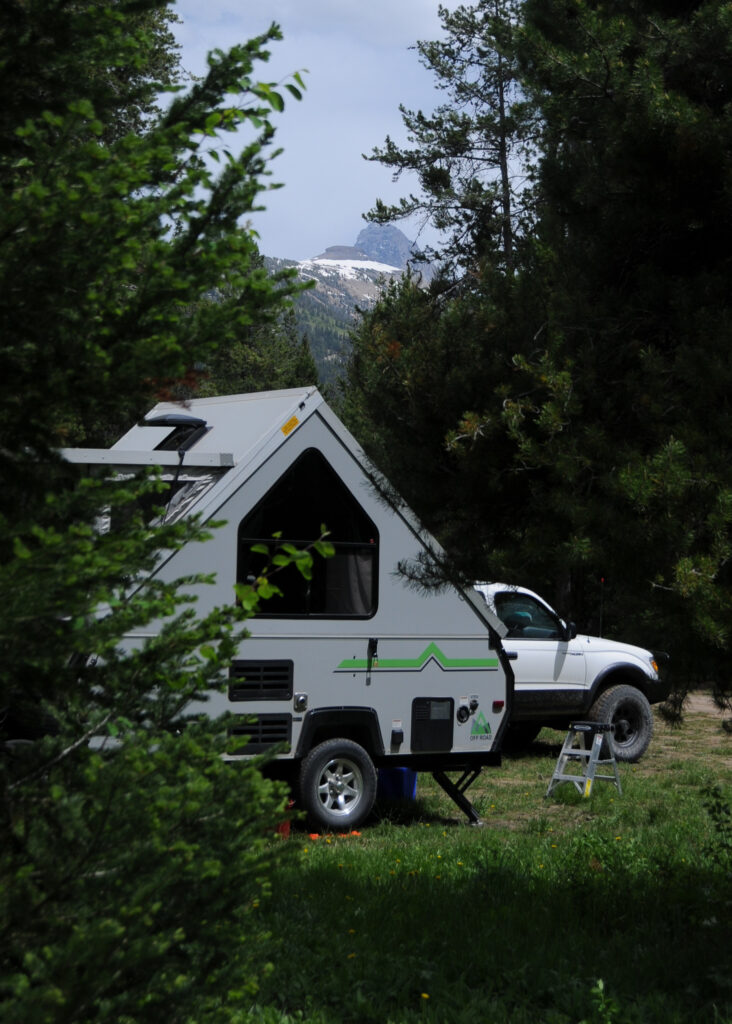 We stopped short of our camp for a quick 2 mile hike along a shallow meandering trail that crossed the Teton River, which was moving fast with lots of water, pushing along a cold burst of fresh air. At camp, we set up while Toohey relaxed next to the door. A forest ranger drove up and we shared a light conversation with him about the area. He said the area across the street had frequent bear visits last year and that they had to kill the bear. Interesting that he used the word "kill" versus "euthanize". Maybe they are taught that approach at ranger school, to make things sound more like murderers row/thug jail talk to get people's attention about managing camps in bear country. Well, it worked, as we walk around with our canister of bear spray for the rest of the time there.
We continued setting up camp while Toohey relaxed next to the door. Then suddenly, we heard Toohey's signature deep growl and charge, usually reserved for squirrels. As we looked up, there was a moose about 25 meters (27.34 yards) away looking startled as it turned and ran back into the woods. We yelled for Toohey, who obediently came back. Golly, now that was a first to have a moose in camp, close enough for Toohey, the asset protecting dog, to charge.
Later, after putting on running shoes, we cautiously peaked around some trees and followed moose hoof prints away, down a path to the river, but nothing. Toohey had, in fact, protected our assets.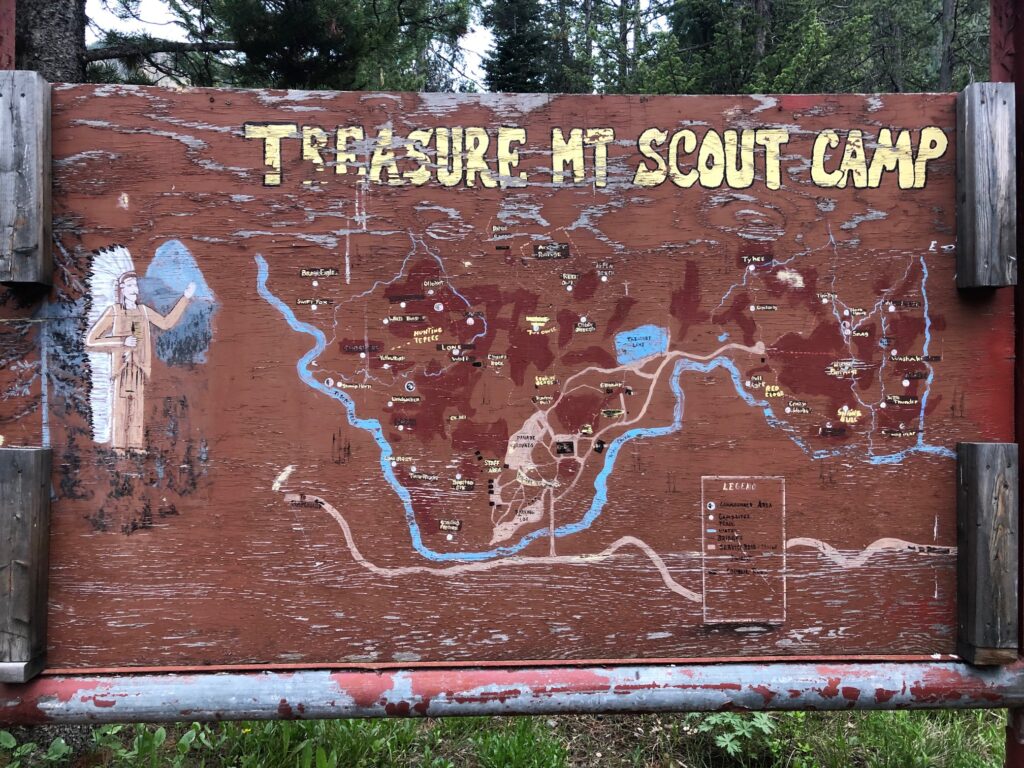 The evening continued with beer, dinner, and discussion of the next day's big activities. There was a lone doe that wandered in front of us and up the road. We strolled up the road to a Boy Scout Camp, Treasure Mountain, that is closed due to cooties but that the ranger encouraged us to enter and find the trail that leads to the hike we did earlier in the day. The camp was kind of like a scene from Walking Dead as is was overgrown in places, doors seemingly left open, and wheelbarrows sitting in the road, like someone just left. There is a small lake where you could almost imagine the sounds of the scouts swimming, canoeing, and having fun being scouts.
Sleep was sketchy as all six of our combined ears continued to work all night to identify new noises. The primary predator of concern were bears and Lysette was sure she heard something drag the gray water bucket from beneath the trailer, but whatever is was, it had great parents as it returned the bucket neatly to its place beneath the gray water drain by morning.
The morning came with no markings left by the gray water bucket stealing creature to be found. We had a small breakfast and prepared for our intended morning ruke (run-hike). We drove just past the Teton Canyon Campground to a parking lot with several trailheads. There were already a few cars there, the local die-hards who knew to be there early for the best temperatures and to beat the other visitors. We weren't sure of which trail to run so we consulted with a couple of locals and made the decision. We stationed Toohey in the Tacoma to protect the assets as we headed out 2.7 miles of the South Teton Trail No. 27 to the Devil's Staircase trail. The first section was remarkable as it extended up the valley along the river towards the Grand Teton, crossing several avalanche debris fields covered in a long mixture of snow and pine tree pieces. The sides of the valley where lined with snow topped rocks and many long thin waterfalls feeding the river. At one point, Lysette spotted an animal that turned out to be a porcupine, the second one spotted since leaving Golden. We passed one hiker who appeared to be local and held a brisk pace. As we stopped at the intersection for water and a decision on the next trail to take, he caught us and gave more great information. We decided to follow him up the steep ascent of Devil's Staircase which he said will lead to some snow covered areas but should be hard packed and likely traversable. Game on. We marched up stopping frequently to take in the scenic mountain views. About half way up, the two locals that gave us sage advice in the parking lot, stopped on the way down to tell us of the snow coverage (snow obstacle) up high which gave them reason to turn back early. They also told us of the 13 moose they counted in one section of the trail last year about the same time. Thirteen moose must have been quite the sight.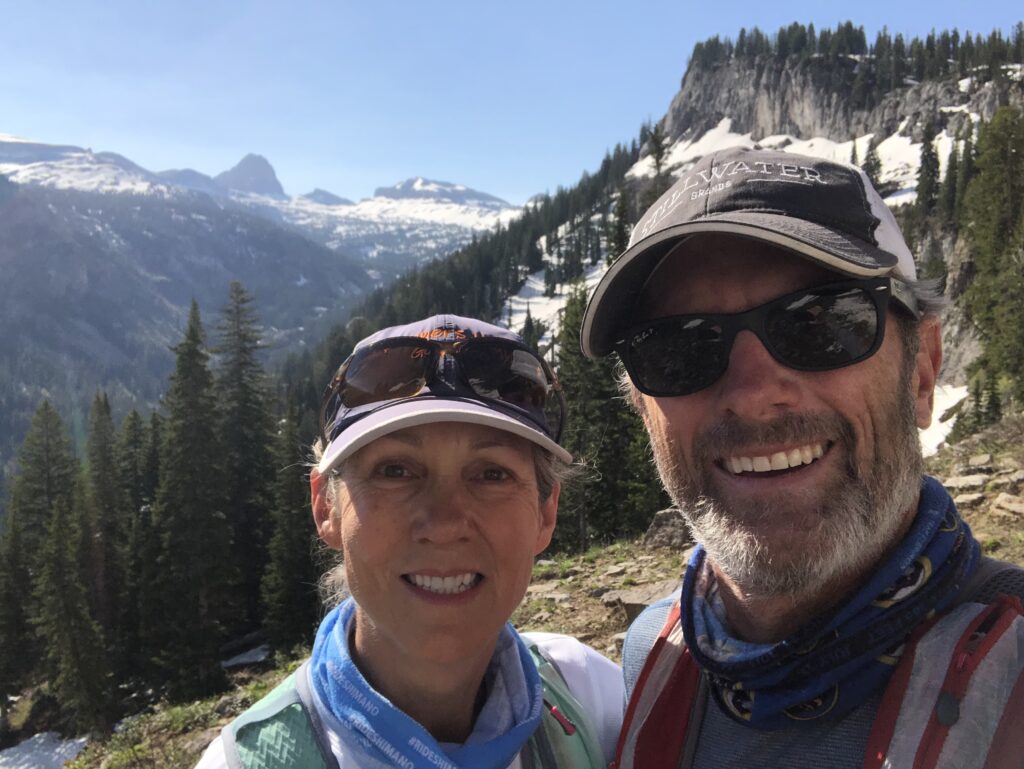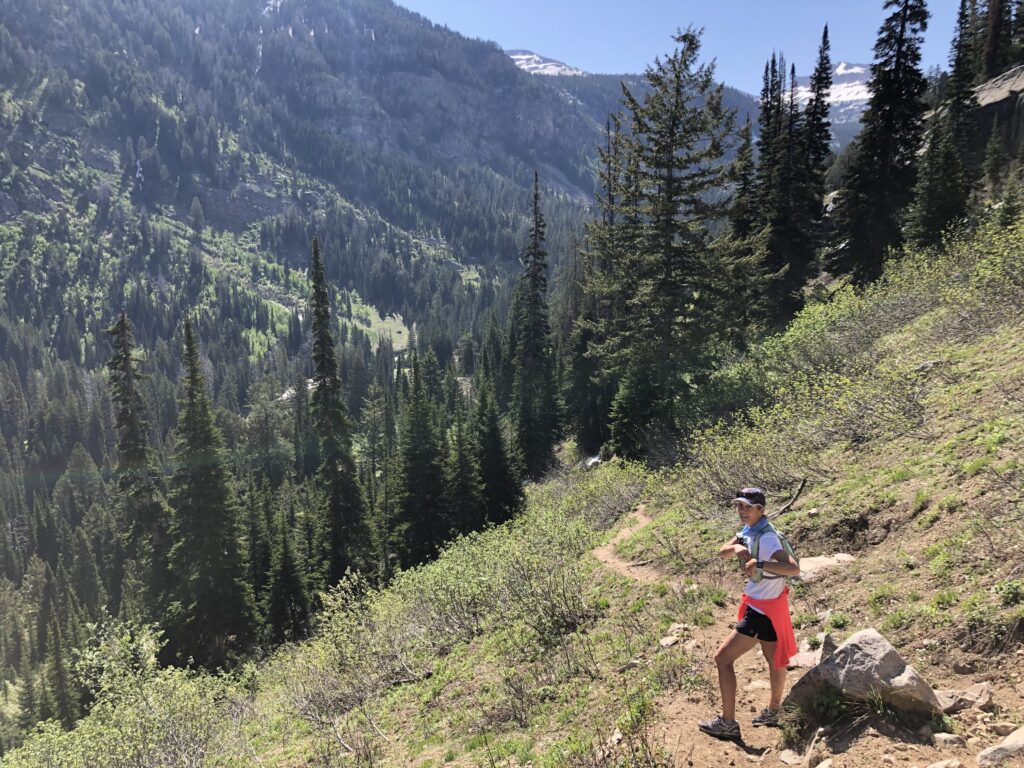 We made it close to the summit, where the trail meets the Teton Crest trail, before a snow field covering a ledgy cliff provided enough risk management data to make the decision to head back down. That, and we had been out for 90 minutes which was about the turnaround time we were thinking. We slowly made our way down, crossing several obstacles, muddy steep sections until we reached the intersection with the main trail. The final 2.7 miles stretch back to the parking lot combined was a much sunnier stretch this time, short periods of route finding over the avalanche debris, and a conversation with a pleasant family from Rexburg, ID, located about an hour west. They were full of information on the area, and packing lots of money in cameras around their necks.
We got back to the Tacoma, relieved Toohey of his duty, and readied him for a short hike back up the trail to a stream so he could drink fresh mountain water. We added a short stretch up a side trail to another waterfall which was nice, especially as the sun was warming things up. We made it back to the car and camp for a snack lunch and downtime for the early afternoon.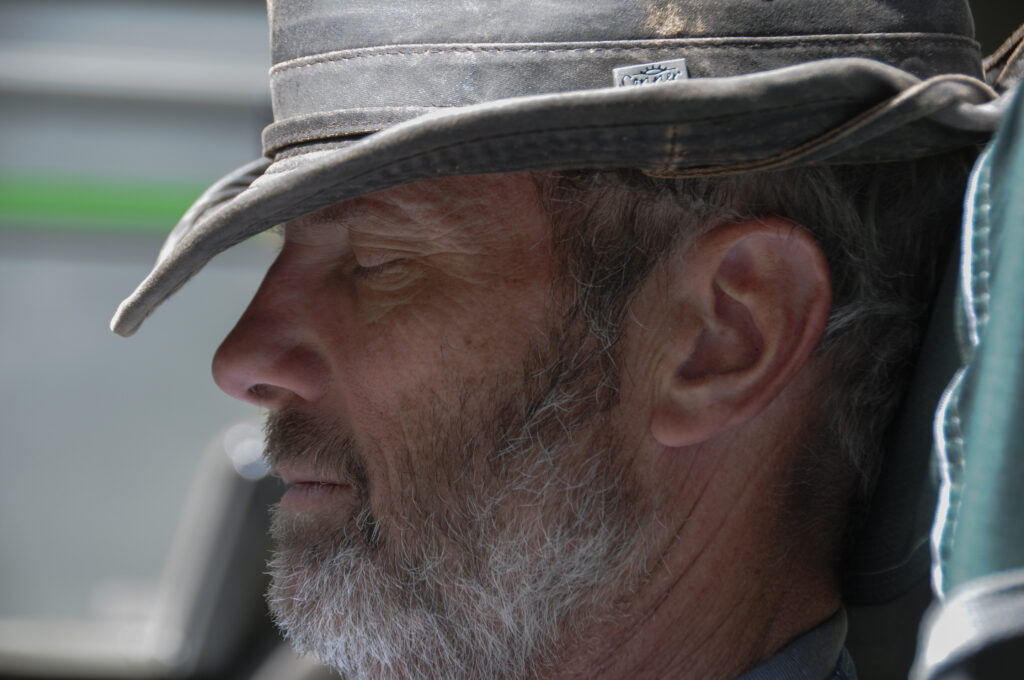 We had our downtime and it was nice and needed. We caught up on some reading, discussed next things, and napped a bit. We had a light dinner as we are running low on food and went for another walk around the empty Boy Scout camp. We crawled into bed early to look at some of our photos and read.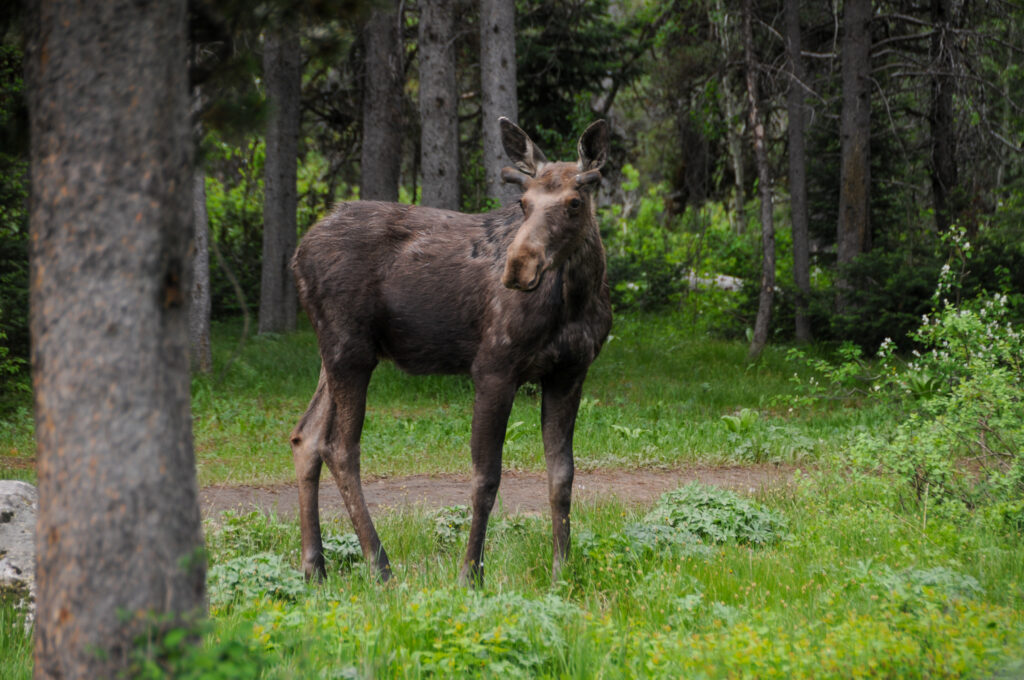 The morning came with the decision to take drive up near Ashton to a back entrance to Yellowstone to the Cave Falls and then back out to the Mesa Falls just east of Ashton. But before we could leave we were completely entertained by two moose circling our camp while eating leaves off the tops of bushes. We can never get tired of watching these amazing animals.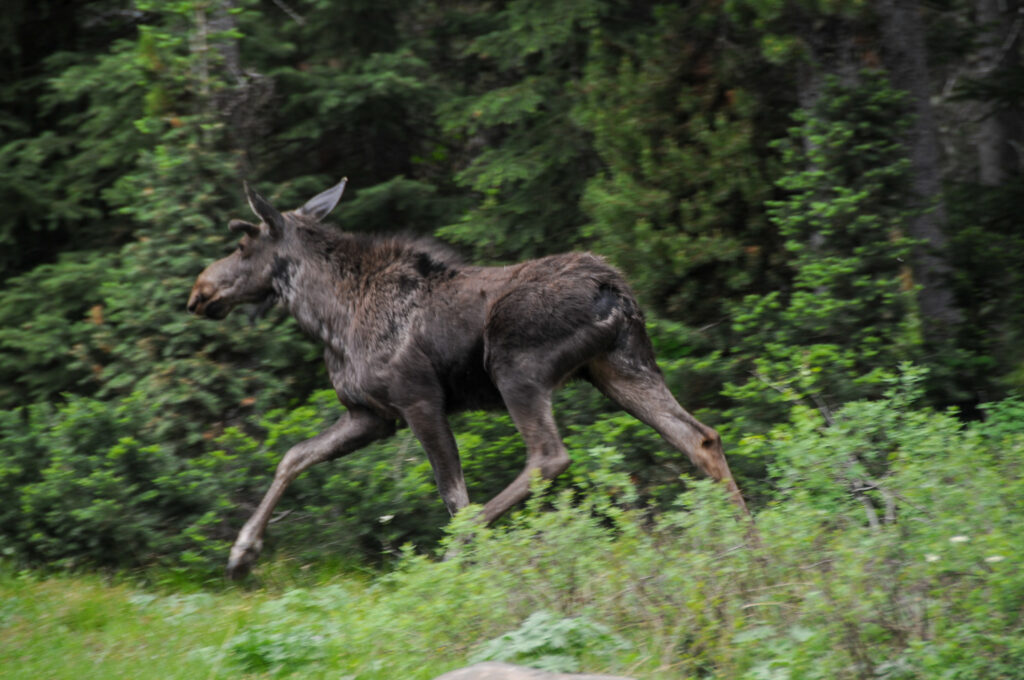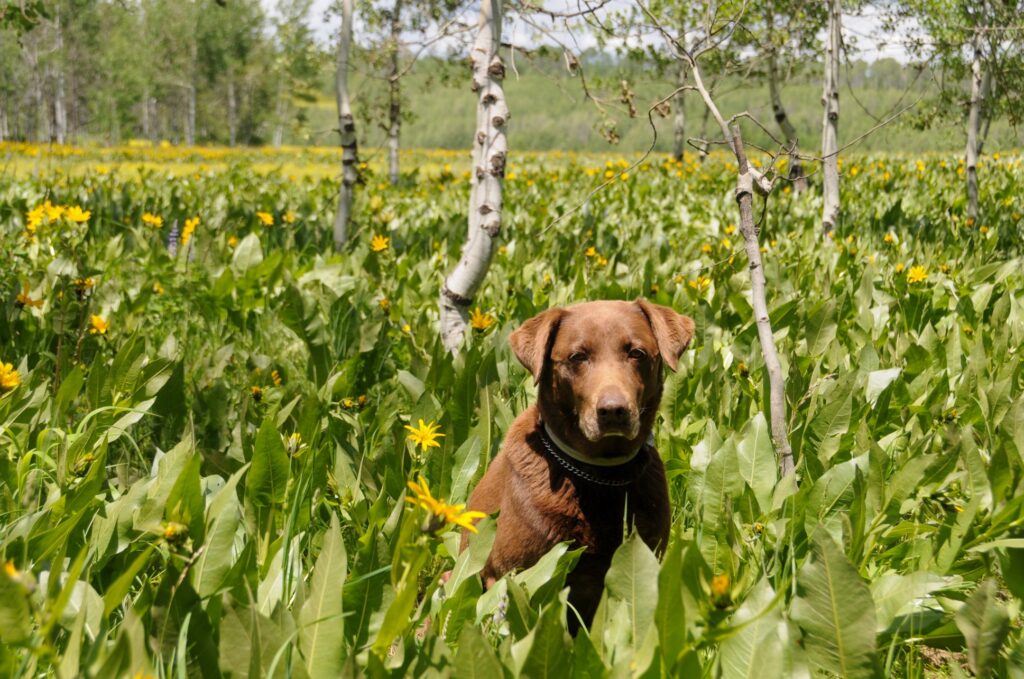 We drove 30 something miles north through some incredible potato farm country, with rolling, lush green fields. The backdrop, like everywhere we've been in Idaho, was of snow capped, rocky peaks. We then had another 14 miles on a gravel, washboard, potholed road to the double top secret back entrance to Yellowstone. The Cave Falls are pretty cool but the size of the Fall River was to me, remarkable. Where does this amount of water come from? We later crossed paths with a Park Ranger and he answered this question. Much of it comes from snow melt but also a bunch of springs feed it as well, keeping the flow pretty consistent throughout the year. He did mention that they have been fighting the pressures of damming some of these rivers for years, thankfully successful.
We made our way to the Mesa Falls (and thought of a friend's dog who recently moved on) which had two entrances, the upper and lower. We breezed through the lower falls then moved about a mile to the upper where we were met with a fee and line of cars to pay the fee. A quick U-turn and we were headed back south where we could see infinite numbers of spectacular free waterfalls for the price of a hike.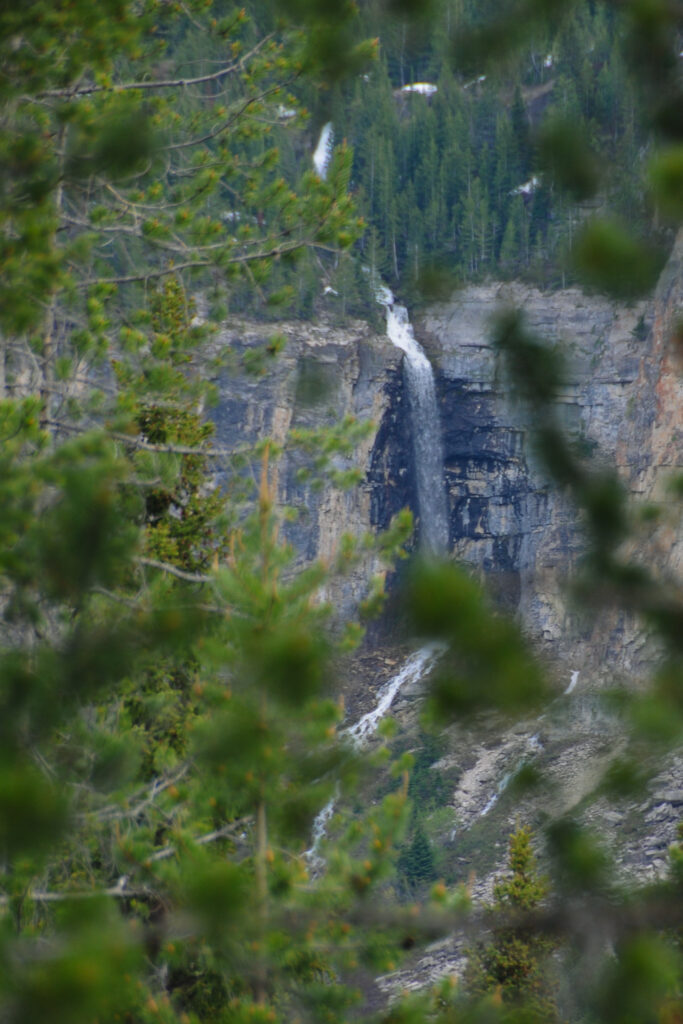 We made a quick drive through the main street of Ashton where the most remarkable thing was the photo of every senior for the high school class of 2020 hung from a street lights. It made us proud and can only imagine how their parents must feel about them.
We stopped several times along the way home to photograph some beautiful farm scenery. The fields are quite interesting in the rolling hills, the lines shaped by the planted potatoes, and the combination of all this with the back drop of the big sky filled with clouds.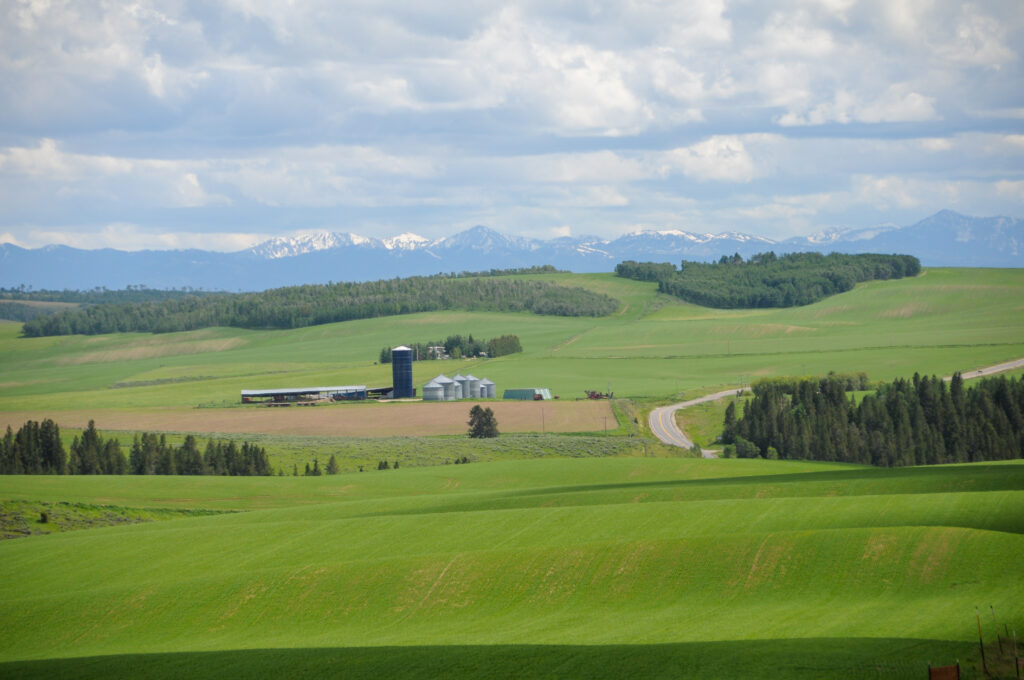 We made it home to the A-Liner in time to feed Toohey. We walked down to the river to check the water level as yesterday the river was over the banks but today, back in, based on cooler temperatures.
Back at camp, I made a fire, Lysette photographed stuff, and we talked a lot about next steps, projects, and growing. Dinner was light and we laid in bed to go over Lysette's photos of the day and read to sleep.
We woke up and first thoughts were of when the moose would return. Lysette sat up and low and behold, the young male was about 20 meters outside our window. We watched from bed as he mosied along eating fresh young leaves. The entertainment took about 10 minutes before he disappeared into the woods.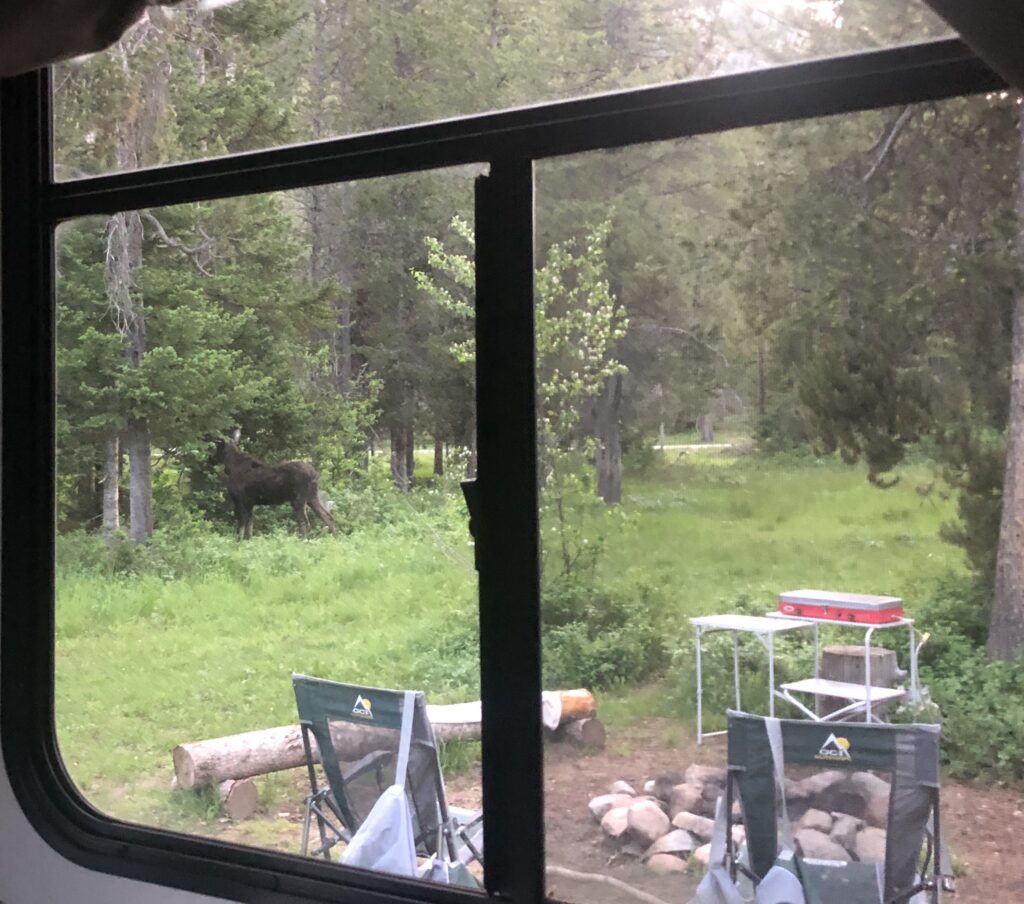 Our plan today is to leave this camp and the Driggs area, heading west towards Arco where we have reserved a KOA, which is AOK, for a klean up and restock. We'll start with a grocery store stop as we are running low of food, then pass through Rexburg and Butte City. Arco sits just on the edge of Craters of the Moon National Monument and Preserve which we have been told is a must see. Other than that we are open to be amused by whatever it has to offer, after a warm shower and laundry.