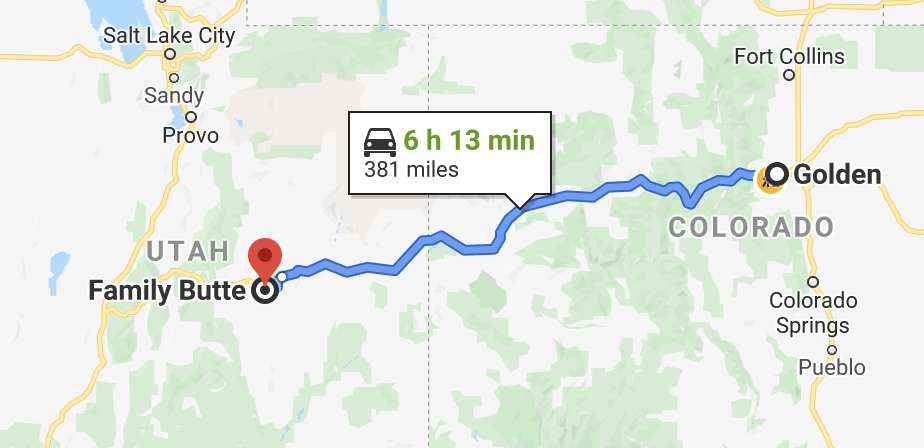 We call this the "slow break" as we used this first stop as our easy button to transition into the trip of unknowns. It was easy because we have become familiar with the San Rafael Swell area after 3 years of camping here over Thanksgiving holidays. We also had a couple, (acquaintances) from Golden join us so we were able to socially slide away from our connections into, just us. From here, we have general ideas mostly focusing on west with zero real life knowledge of the area we are driving to next, so stay tuned.
Stats
From: H-1, Dakota Ridge RV Park, Golden CO
To: Red Canyon Overlook, San Rafael Swell UT – 1.5 miles past Family Butte, UT
Starting mileage: 144,805
Miles to destination: 372
Miles of shame driven: 92 (refer to learning opportunity 3 below)
Lowest documented MPG: 11.7
Temperature Range: low 40's to mid 70's
Nights off the grid: 5
A-Liner Systems: Gas, battery with Zamp solar, and water. All worked well.
Connectivity: Poor – 1 bar of cell service and no wifi
Lysette's favorite jacket: OR Poncho for protection from outside.
Interesting notes about the area: Abundant off the grid camping in BLM land, amazing views of interesting landscapes, and dry and arid desert environment. The night time sky is amazing with no moon during our time so we were able to see the Milky Way and gazillions of stars during mid night bathroom scrambles. The area is mostly used by ATV, motorcycles, and overland enthusiast, slot canyon hikers, petroglyph viewers and mountain and gravel bikers. There is a 28 mile loop that includes Reds Canyon and Hayes Flats marked on the map that is off the charts scenic, especially if you enjoyed Road Runner cartoons as a child (note, we avoided all the falling ACME anvils). Old abandoned mines are prevalent. Notable features include Temple Mountain, Family Butte, Square Top Mountain, Little Wild Horse Canyon and other slot canyon hikes, and Goblin Valley State Park. Also spotted were wild burros, wild horses, one lone antelope, and an aggressive hummingbird. Oh, and the unidentified fuzzy bug resembling a bee with no wings in the photo below..
Our activities: We rode gravel bikes, had drinks around the camp fire, and shared the experience with Golden friends for 2 nights. Lysette introduced the 5 Tibetan Rites to the trip which is a daily routine of 5 exercises reported to be 2500 years old with several benefits including balancing your chakras. Google it for more. We hiked Chutes Canyon, a 6 mile out and back river bed, with minimal elevation. We had 3 short gravel bike rides. There were small colors with the spring bloom of random desert flowers.
Several days of continuous winds made for tough conditions especially during the night as everything made noises and there was the sensation that the little A-Liner would blow over like a tumble weed with the big gusts.
First: Gin, the card game. We had not played cards before much but this has become a pre-sleep thing and Lysette is a humble beast at beating me. I set up an outside shower area after a bike ride and was able to completely wash, including my hair, for the first time in 3 days and boy was it awesome.
Next Up: We are planning to break camp and drive west. The destination at the moment is Ely, Nevada but maybe a stop at an RV park so we can refill water and propane, grab a shower, grocery shop, and clean the red dust off everything we own before heading out. The next closest town is Salina, UT about a 3 day horseback ride away, (80 miles) so we will see what that place has to offer. The town sits in the valley of Fish Lake National Forest. The best thing, if it works, is it links up to Highway 50, The Loneliest Road in America, which will deliver us to Ely.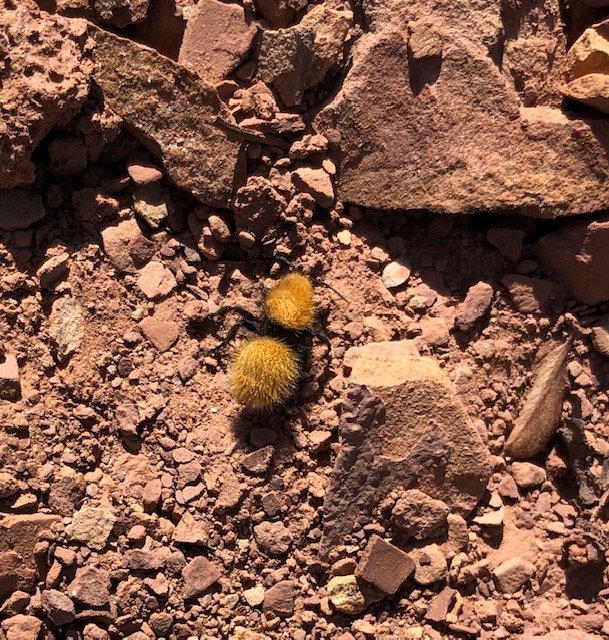 Learning Opportunities
Dropping the trailer
Exploding hard boiled egg
Ice and gas, gas and ice, ice and gas
Dropping the trailer on day one was huge and almost, huger. (If dropping the trailer is all you need to read then skip the remainder and move to the exploding egg in number 2). We struggled to disconnect the A-Liner and get her level. While disconnecting all the hitch gear we noticed that the trailer wouldn't level front to back as it needed more leveling pads beneath the trailer footing. We had already disconnected from the ball, and the truck and trailer had shifted so that the ball and hitch were no longer aligned to reconnect. As I lowered the hitch It sat on the front edge and I wrongly thought it would fall onto the ball if any movement occurred. As I screwed up the support it shifted right towards me and fell to the ground. We had dropped the trailer on day 1. Thankfully, our friend was there and with his ingenuity, we were able to lift the front of the trailer up enough for Lysette to place the leveling wood beneath it. We properly reconnected the trailer to the truck and positioned it on more level surface. Major disaster averted but future set ups will not cut corners as this could have damaged the trailer or worse a foot.
Exploding hard boil eggs in face. While in Savannah, my dad showed us how to hard boil eggs by bringing them to a boil then turning off the flame and allowing them to sit for 15 minutes. This was something we did inside the camper in Golden before we left and it worked amazingly. I repeated this process the first morning out but did this outside in cooler air and at a higher altitude. After the allotted time, I removed one to check on it before pouring out the water. Our method for peeling a hard boiled egg is to peel the top then use the pressure of our breath blowing into the egg to loosen the remaining shell. I learned that when you do this on an undercooked egg it will explode all over your face. Toohey was quick to remedy the food on the ground and the remaining carnage was eaten.
Ice and gas, gas and ice, ice and gas…. I said this over and over in my head morning 2 after making the 94 mile round trip drive of shame back to Green River for ice. We, I was suppose to get ice at our last fuel stop before getting to camp an hour away. Never again will I fill up the tank and forget to get ice for the cooler. Ice and gas, gas and ice, ice and gas….
Daily Log
We left the Dakota Ridge RV park on 5/21/2020 for our first day of our new life as travelers. The excitement was big. We left hours before our friends who were joining us for a few nights of camping. We left first, as we fully expected to learn what slow driving up long mountain passes with hazard lights flashing, would mean. Speeds at times were a crawl going up as our little Tacoma was and will be under-powered to pull this rig against the gravity of a hill. So slow, steady, and safe is the game.
Our friends timed it perfectly meeting us at the last fuel stop in Green River Utah. From there, we climbed over the swell pass with 6% grades and then a few miles to the Temple Mountain Road exit where we traveled another 30-45 minutes on maintained forest service roads to the camp site. These roads are dusty but provide an arid back drop to herds of wild horses and burros scattered along the road side.
We got to camp around 4pm and found the site we have previously camped at to be taken because, as I also learned, this is Memorial Day weekend. But we found a site close with the same amazing view of Square Top Mountain and Reds Canyon.
The A-Liner set up created another lessons learned and near miss. But we prevailed and had an amazing spot. The solar panels were plugged in, tables and cook gear set up, and trailer organized for the stay. We drank a few beverages, cooked and ate a ground chicken, broccoli, and onion stir fry and enjoyed a nice camp fire.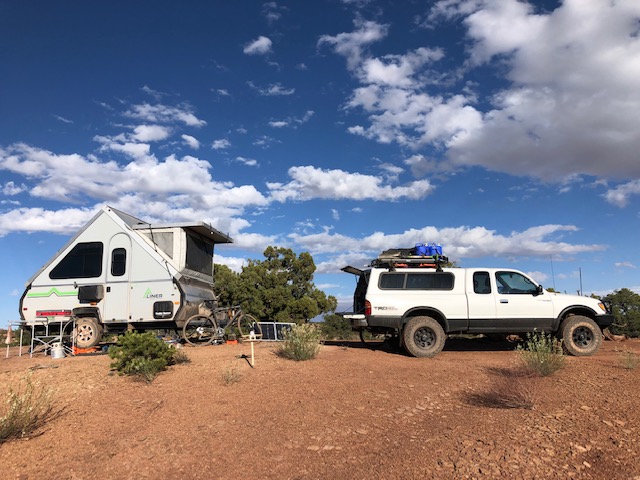 Sleep was amazing until around 4am when we both got up to view the spectacular night desert sky. This is one of my favorite reasons for camping in this area. The Milky Way was as sharp as I have ever seen it and the temperatures comfortable to stand staring up at the sky.
We woke and did all the morning stuff. I got a run in before heading back to Green River to pick up ice which we completely forgot the previous day. Lesson Learned 2. But the drive was much faster and easier without the trailer in tow so all in all, we are now set for a few days off the grid.
Following my trip to Green River, everyone relaxed into their own world for a hour during the afternoon. I sat in the camper and typed thoughts while other read, studied their camera and tinkered with stuff. Later in the afternoon, we all got on our gravel bikes for a short afternoon ride. It was a first gravel bike ride for one friend who spent a few minute in the road after getting into some soft sand.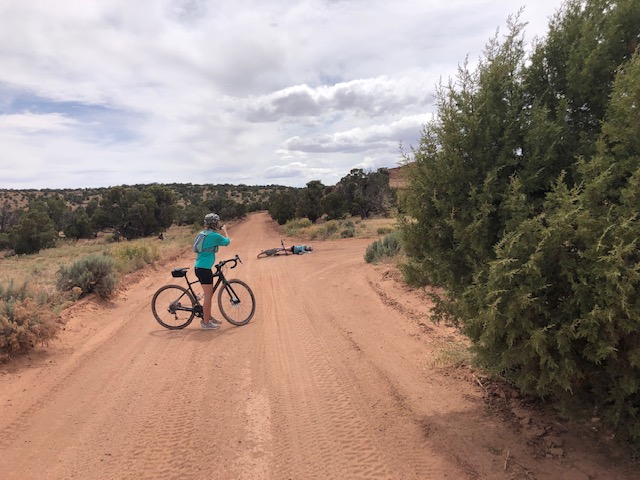 Our friends turned back a bit before us. We pushed up a steep climb which required some short hike-a-bikes to the top. This ledge overlook offers some of the most spectacular lookouts over Red Canyon. We took some photos and rode back to camp as the winds steadily increased.
At the end of day 2, I still haven't quite relaxed into this trip but am fully ready to exhale now that we are set up and have ice.
We awoke day 3 to the same wind that blew all night, shaking the camper. At some points it seemed that every single piece of material surrounding us made a noise with the winds relentlessness. The suspension shook and I lay there wondering stuff like, has the trash bag been blown off the truck, what's become of the camp table, and so on. Upon further investigation, all was good and the wind actually revealed a sock that had gone missing the day before. How is that for glass half full.
The big casualty of the wind was that our friends, who sleep in a roof top tent, had to retreat to the cab of their truck to try to sleep because of the wind. They didn't have the advantage of using the wind to find missing clothes and made the decision to leave us a day early. Especially when the forecast was for another windy day.
They packed their gear and we said quick goodbyes sending them off with a starfish wave. After they left we made the decision to ride our gravel bikes down into Red Canyon. We have done this several times in the truck but never on bikes. It was a great ride, beautiful scenery, big decent, and long climbs. Toohey happily kept the truck and all assets secure while we were gone. Good boy.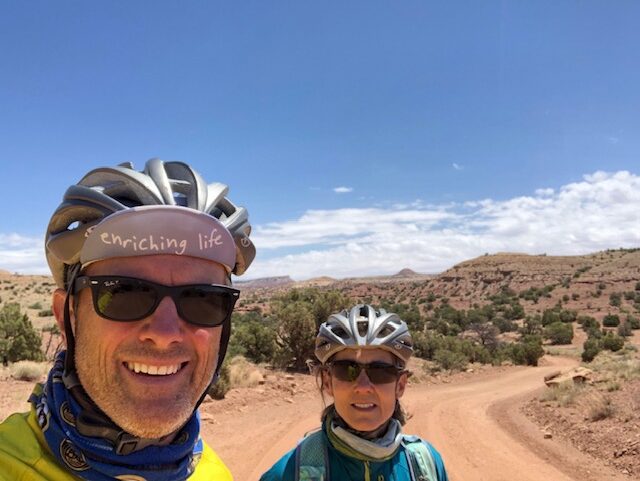 Following the ride we were both completely dusty. I had been jonesing for a shower and to at least wash my hair. I set up a shower area behind the A-Liner by running some bungee cords and clips between the camper and a bushy tree. The shower was amazing and likely the first of many more.
The remainder of the afternoon was spent writing notes of the trip, while Lysette worked on her projects, hanging around the campsite together, watching the sun set over Square Top mountain, and best of all, starting to relax into this thing we are doing.
The winds were much calmer for the morning of day 4 and the sunrise beautiful. We woke to the mystery of the gas and why the heater comes on every morning even though it is off. (We realized a couple of days later it was actually never turned off.) As we have started each day, we sipped coffee and watched the sun light fall down the face of Square Top Mountain flowing gently into Red Canyon. Lysette took her camera out for some morning photos while Toohey did his thing.
Today we made the decision to drive the ~10 miles to the San Rafael Reef to hike the Chutes Canyon. This is a river bed with high cliff walls on both sides that winds through the reef. It never gets tight like Little Wild Horse Canyon but was a good 6 mile hike with few other hikers. Toohey managed the hike but was really struggling at the end due to the length and heat. We kept the pace easy with several stops for water in the shade of the overhanging rock face.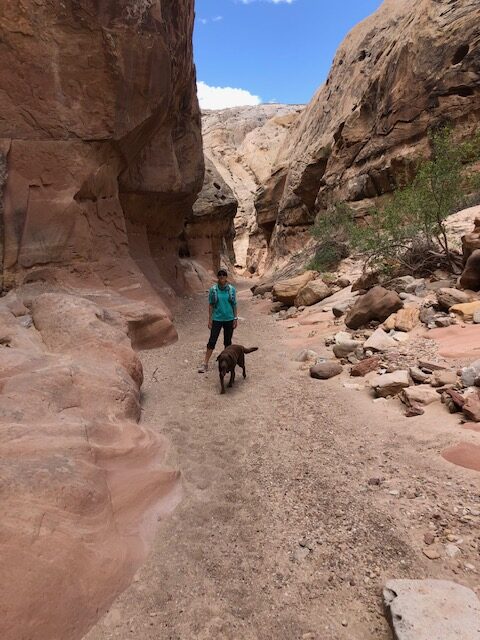 The roads and camp sites on the east section of the swell were packed with Memorial Day weekenders and there was a steady stream of ATV's, four wheel drives, and motorcycles. It was nice to move west and get more remote and away from all these people after our hike.
The camp was as we left it. The afternoon winds started to pick up as we concluded the day much like the previous, by washing, happy hour to watch the sun retreat off Square Top Mountain and resign to the A-Liner. We got in a couple of hands of Gin, which Lysette modestly dominated, and crawled into bed for a short read, to watch the remaining day light disappear with the sliver of an early setting moon in the night sky.
Day 5 is Memorial Day and we both woke up following a solid sleep. The same start to the day is on with zero drama. All systems are charged and working to include our morning blast of heat. Toohey slept really well, and in fact, didn't even join us for the midnight bathroom break and star gazing. Last night's star show was spot on.
We have decided to unleash the bikes for a ride. We rode up and around the Red Canyon overlook and did a short walk out to a point near the end of the canyon. The ride took us around the San Rafael Knob which is a tall slender rock feature which some might refer to as a natural falic symbol. The ride was fun with mostly rolling hills and no technical bits.
We returned to camp to find Toohey sound asleep in his truck bed and not interested in getting out. We hung around the camp, read, took naps, did our daily Tibetan Rites and were just lazy. It felt good.
Today, Tuesday is day 6 at the San Rafael Swell and will be a move day. We have a bag full of laundry, are low on LP gas, and need eggs. Not to mention it is getting hot over the next few days and that doesn't bode well for our mark of 70 degrees average daily temperature target.
I mentioned eggs. Eggs are the current gauge for needing a grocery store run. We probably have another week plus worth of food stored in cans, potatoes, peanut butter, and whatnots but eggs are the way we like to start our day. Oh and potato chips…
The slow break into the new life has been just what we both needed. I had the mental image of getting here and slowly exhaling after all the last few months had tossed at us. We haven't seen any news focusing on the issues of the day and instead, have focused on our new center of influence, Toohey, Lysette, and me, as we live daily to adjust to our new world.